Ronbei Adjustable and Portable Baby Bassinet Review

By: Mitch | Last updated May 25, 2021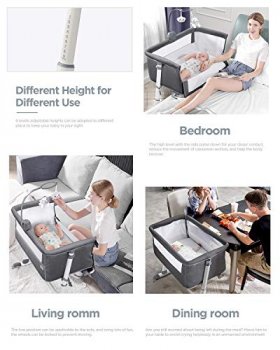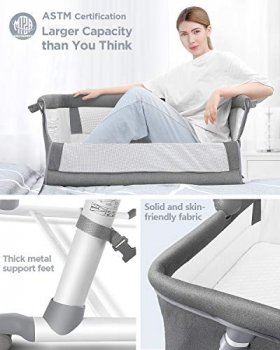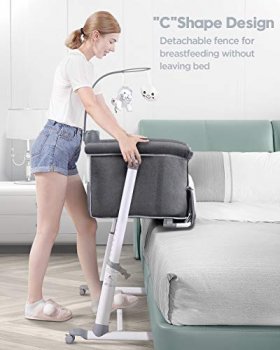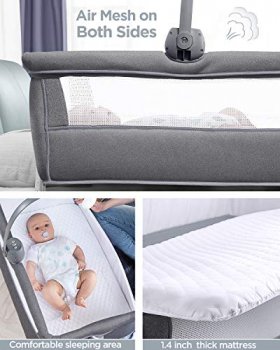 Our editorial staff evaluates products and services independently, but Best Review Guide may earn money when you click on links. Read our advertising disclosure.
PROS:
Made with washable and breathable fabric
Lightweight


Allows you to keep your baby closer to you
CONS:
Lack of wheels
Some users have stated that sheets were hard to find for the mattress
Not as versatile as convertible cribs
SUMMARY:
During the earliest months of the baby, it is important for parents to keep them close. This is because they will be sporadically needing diaper changes, feeding, and comforting. If left alone in their nurseries, parents may find it annoying to constantly have to switch rooms to take care of them. Because of this, mini cribs and bassinets are recommended to be used because of their small size and their bedside attachment capabilities. These come with durability, extra features, good design, and more to ensure the best sleep for the baby.
If you still want to sleep near your child, then the Ronbei Bassinet is the best solution for you. From newborn until up to four-months-old, your baby should sleep in a special mattress, and that is what bassinet is. But unlike cribs, it is usually lighter so it's easy to move around.
COMPLETE REVIEW
Features of RONBEI Adjustable and Portable Baby Bassinet
Compact size. With a dimension of only 35.5 x 21 x 6.75 inches, it could certainly fit into rooms with any size, no matter how small. With only 26.2 pounds, it is lightweight too. This means you could move this bassinet around wherever you want. With this size and weight, this bassinet offers the ultimate portability for both the child and the parent.


Easy-of-use. This bassinet is easy to assemble and it is also very easy to use. You would understand how to use all of its features instantly. It has lots of options and features that you could easily set up to suit your particular needs.


Adjustability. There are two things that you could adjust in this bassinet, the height and the length of the feet. You could easily change the height of the bassinet according to your needs. Whether you want it to stand on its own, or sitting by the bed, or maybe beside the sofa or the table. You could adjust it however you see fit. To add balance and stability to the bassinet, you should also adjust the length of the feet whenever you change the height.

Comfortable fabric and washable mattress cover. Every fabric used in this bassinet was made to be comfortable to a baby's sensitive skin. There is also open mesh along both sides of the bassinet to allow more air to circulate inside. To add another layer of safety and hygiene, the mattress cover is also washable. It is easy to take off and you can even use a washing machine to wash it.


Safe and healthy for your child. This bassinet from RONBEI has received health and safety certification both from CPSC (Consumer Product Safety Commission) and ASTM (American Society for Testing and Materials). These are some of the toughest evaluations for consumer products, especially one that was made for babies. With this certification, RONBEI has proven that this bassinet is objectively safe to use by your child.


Music box and detachable toys. As some nice additional bonus, this bassinet also comes with a music box and detachable toys. The music box would play some nice and calming tunes for your little one while the detachable toys could make him excited and smile while in the bassinet. This is by no means a must-have feature but it is still a nice gesture regardless.


Modern design. RONBEI adopted a modern minimalist design for their Adjustable and Portable Baby Bassinet. It comes with a soft pastel color with streamlined form and simplistic looks. This kind of design would make it seamlessly blend to the rest of your furniture while still looking stunning by itself.


Affordable price.

One of the main reasons why this particular bassinet has gained so many raves from customers is because of its affordable price. When I write this article, this bassinet from RONBEI is priced at $198.99 before shipping ( but on sale right now). In a market full of hundreds and even thousands of dollars of cribs and bassinets, this price tag combined with its rich features makes it the best bang for your buck.
Pricing
This unit is usually on sale for $198.99, but you can sometimes get a sale that is $10 off. For a begginer bassinet/crib it is somewhat expensive as it is only to be used until the baby is 4 months old.
Performance
n Amazon.com, the world's biggest online marketplace, this bassinet from RONBEI received a score of 4.6 out of 5 stars with over 1000 ratings from customers all over the world. Over 75% of customers grace this product with a five-star score, showing how universally praised this bassinet is.
Most customer reviews revolve around three features, the size/weight, the ease-of-use, and the built quality. Customers found the compact size and its lightweight to be of great importance, especially for parents who currently work at home and need to take care of their child while working. They also noted how surprised they are with the sturdiness of this bassinet and how easy it is to use.

Overall we found that this bassinet, not truly a crib, was great for a very specific need. IF you need to have your baby very close to you when you sleep for 4 months then we suggest this, but compared to convertible cribs it just can't justify the price for the long term value that they provide.
Help/Support
Support is accessed via Amazon, or your point of purchase.
Our editorial staff evaluates products and services independently, but Best Review Guide may earn money when you click on links. Read our advertising disclosure.
SEE ALTERNATIVES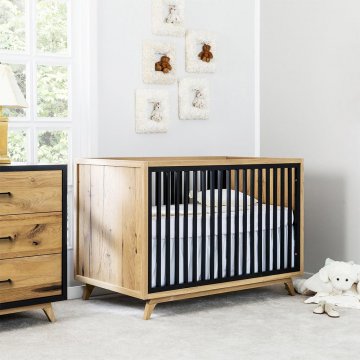 Romina Uptown Crib
Read Review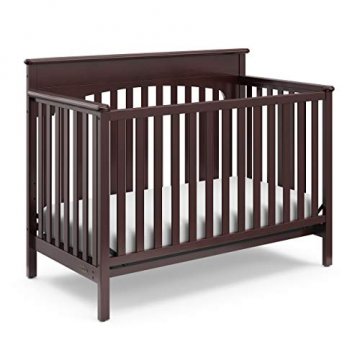 Graco Lauren Convertible Crib
Read Review
Delta Bentley Convertible Crib
Read Review