The Mountrax Shiatsu massager provides a high level of relaxation with easy to customize settings that should be able to address the needs of a wide variety of users. With its quality finish and color, it doesn't look out of place in the room and feels like it is built to last. The materials, both in look and feel, are of very high quality, and you can tell the build quality as soon as you pick it up. Overall, this is one of the best foot massages we have tested.
COMPLETE REVIEW
As people who are always on the go, we understand the importance of finding the perfect foot massager to ease pain and promote relaxation. After researching various products on the market, we were introduced to the Mountrax Shiatsu Massager Electric Product. With its high satisfaction rate on Amazon, we were excited to test it out to see how it compared to similar products we have reviewed.
Equipped with two independent rolling heads and full-coverage air compression, this product offers customizable modes and an optional heating function for added comfort. Whether you're looking for a way to alleviate pain or simply unwind after a long day at work, this product is definitely worth considering.
Hands On Product Review
The very first thing that we noticed was that this foot massager had a bit of weight to it. Not in a way that would hurt you to move it, just in a noticeable difference from some of the other products we have reviewed, which isn't a bad thing by any means. As soon as we took it out of the box, we were really impressed with how it looked. We received the gray version, which was a nice and deep color that suited the curvature of the machine very nicely. Coupled with the black liners for your feet, it was really a nice piece of equipment to look at and we were excited to plug it into the wall to start the testing process.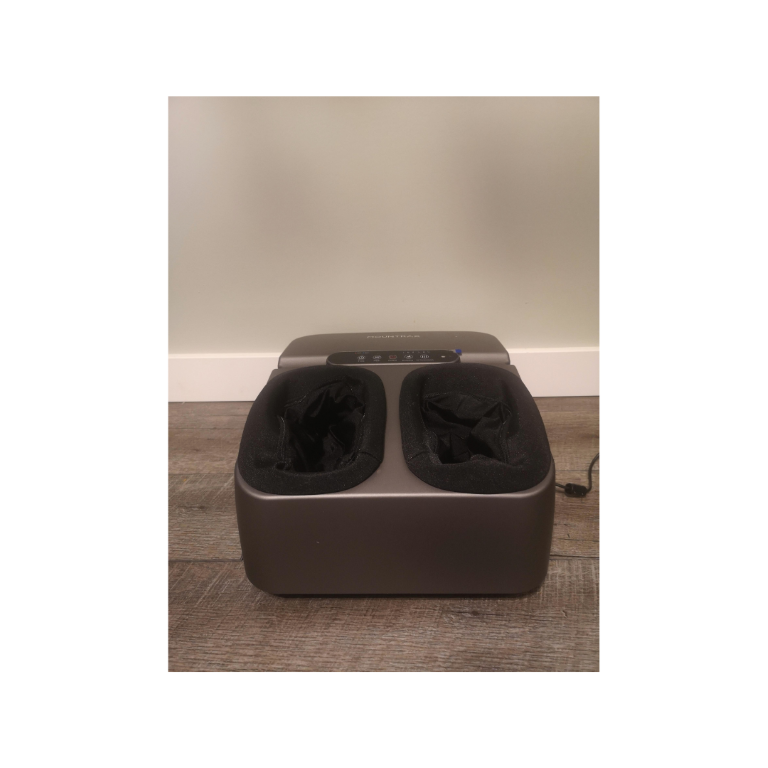 The Mountrax Shiatsu Massager is equipped with two independent rolling heads that have multiple ergonomic small massage heads for a comfortable experience. The full-coverage air compression ensures a deep kneading and squeezing massage that targets your whole foot. So what does that mean for your feet? Essentially, having two roller heads will make sure the two main areas of the feet are getting massaged at the same time but independently. This avoids the feeling of the exact same spots getting massaged at the exact same time every rotation.
This model comes with nine customizable modes—three kneading and three air compression intensities each—that can be easily controlled using the touch panel or the remote control. There is also an optional heating function that can be turned on and off individually depending on your preference. The kneading levels were great because you could feel the differences between them, and the low level was very mild while the highest level really gave a thorough massage. The compression aspect did take a bit of getting used to for some users, but once they did, they enjoyed it. For both of these options, we would suggest starting at the lowest level and working up to a higher level if you feel you want more intensity in the specific aspects.
We liked this because when a couple of people tried out the product, there were different levels that users seemed to gravitate toward. If you had really sore feet from work all day, then the higher intensities really did the job, but we did hear from some users that it was a bit too strong to enjoy. But with the three different levels, we found that every tester was able to find something that they found enjoyable. There is also an auto-shutoff timer, which was just a bit of a reminder that you'd been getting your feet massaged for a bit.
As we briefly mentioned, there is an option to turn the heating on. In testing, we actually found that it was split between people who liked it and people who preferred for it to be turned out. It seemed as though the testers with previous foot injuries or pain from constant use preferred for the heating to be turned on, as it seemed to relax their muscles more.
Usually, when there are a couple of options that you want to test out, it can be a bit of a pain to find exactly what you want, but with the remote, you don't have to move from your seated position to try the different settings. The remote worked well, and we never had to wave it around to get the machine to change settings. And if, for some reason, you misplace the remote, you still have the ability to go through the settings with the touch menu on the top of the massager.
This area for your feet can fit up to a men's size 12, but it doesn't feel awkward for people with smaller foot sizes. There was a bit of adjustment needed for foot placements, but again, everyone who tried it out was able to get a good foot massage with minimal adjustments. providing consistent use that helps with foot tightness and injury prevention.
Overall, the Mountrax Shiatsu Massager is an outstanding product that delivers what it promises: relaxation for tired feet, and with the options for customization, we found that every tester could find a setting that suited their needs.
Things to keep in mind
If you're considering purchasing this foot massager, it's important to note that some users have experienced uneven massage on larger feet. While the machine fits up to men's size 12, those with bigger feet may not receive an evenly distributed massage. This isn't something that was a drawback for our testers, but it is something to keep in mind before ordering.
Additionally, while the heating function is optional and can be turned on and off individually, some users have noted that it may not be strong enough for their liking. It's recommended to start at a low intensity and adjust as needed. For our testers, we were more than satisfied by the heat level, but if you are looking for a very high heat output, as in extreme heat, you might need a more specific unit. In comparison to other units we tested, the heating was as good, or better, than any other product we reviewed.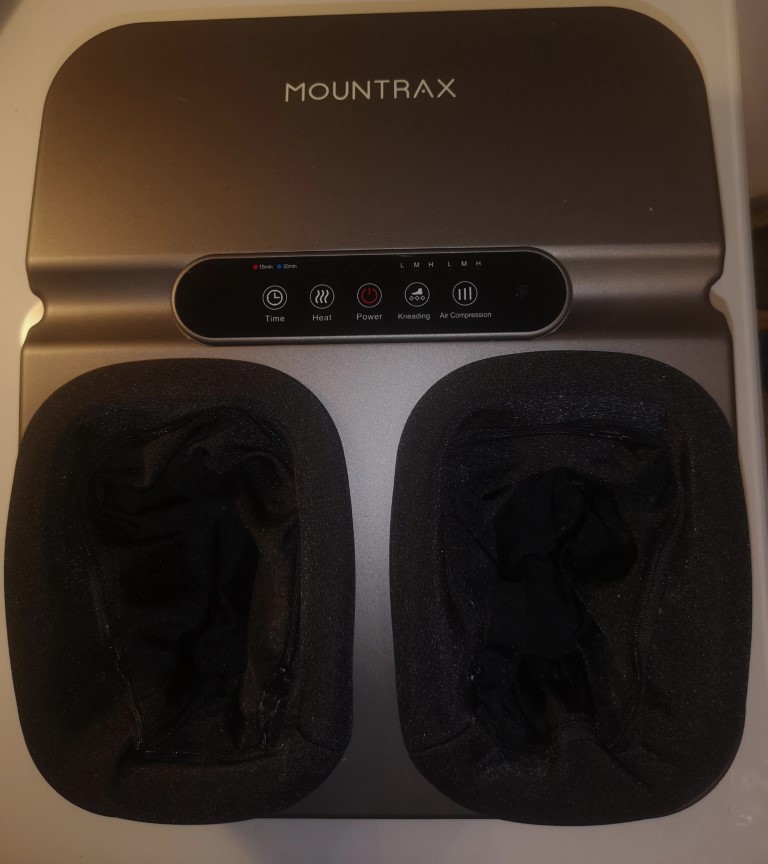 While there are a few potential drawbacks to consider before making your purchase, they are pretty specialized and specific to a more narrow type of user. We had several different testers try out the massager, and there were no negative reviews from anyone.
The one thing that we did get was that it looked like a very expensive unit, because we do not share the cost of the product prior to some testing to get honest feedback on the performance. At the price point it sells for, we are really impressed by not only the build quality but also the look of the unit. It has a very nice shape to it, and we really liked the depth of the gray color.
Customer feedback via Amazon
As we had finalized our feedback, we did take a look at the public reviews on Amazon, which were pretty positive overall. The product currently has a 4.5-star rating on 844 reviews, so there are enough reviews to have faith in the overall consensus.
Many users have reported that the Mountrax Shiatsu Massager has helped with their plantar fasciitis and other foot issues. Some have even found relief from Achilles tendinitis. However, some reviewers noted that the massage was uneven on larger feet, so it may not be suitable for everyone.
Several users praised how easy it was to set up and use the Mountrax Shiatsu Massager. Additionally, they appreciated the timer options of 15 or 30 minutes and the adjustable intensity settings. It's recommended to start at a low intensity and adjust as needed for a more comfortable experience.
The heat function received mixed reviews, as some users felt it could be stronger, while others found it helpful in increasing blood circulation in their feet.
As you can see, the possible drawbacks were for some pretty specific user needs, but for getting close to 1,000 reviews, we would have to agree that its current rating is well deserved.