The Bitvae S2 Electric Toothbrush is an electric toothbrush with a great battery life, great features, and an overall high value proposition. This toothbrush has received the ADA Seal of Acceptance, has a great ultrasonic motor, and has all the modes you will ever need to ensure your teeth are clean.
One of the standout features of the Bitvae S2 is its versatility. It offers five distinct brushing modes, including Clean, White, Soft, Gum Care, and Smart. These modes cater to various oral care needs, allowing you to customize your brushing experience. When you couple this with its battery life of up to 100 days on a single charge, this toothbrush eliminates the hassle of frequent recharging. Add in the waterproof design, and this is a great option if you travel or brush your teeth in a rush and need something that can stand up to some drops. Here is a picture of the travel case that is provided in the S2 Bundle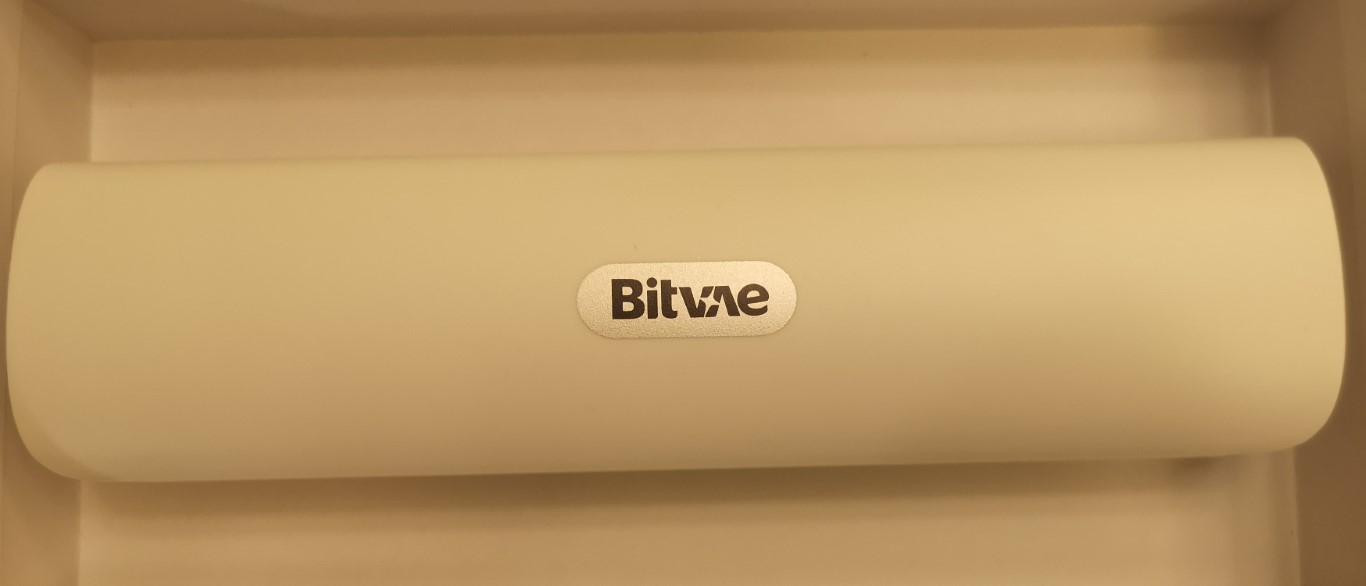 The other main point about this smart device is its Bluetooth connectivity. By connecting to the Smart App, you gain access to a wealth of valuable information. You can effortlessly track your brushing habits, monitor your progress over time, and receive helpful reminders to maintain consistent oral care. While this might sound like something that isn't needed, the truth is that some people will benefit from this type of feedback to ensure their teeth brushing is as thorough as possible.
COMPLETE REVIEW
We all know that brushing our teeth is crucial for dental hygiene, but let's be honest with ourselves: it's not the most exciting task. That's why electric toothbrushes have become so popular in recent years; they take some of the effort out of cleaning our teeth and often provide better results. They let you clean your teeth faster and better, and as technology continues to advance, they will add additional features that manual toothbrushes just can't offer. From Bluetooth connectivity to pressure sensors to apps, as each year passes, the features that come with these dental hygiene tools increase.
Included in Our Package
1 Travel Case
1 Bitvae Smart S2 toothbrush
6 regular toothbrush heads
2 Gum Care Toothbrush Heads
1 USB charging cable
Design and First Impressions
The Bitvae S2 is packed full of features, so we will start with the first things that we noticed. As soon as we opened the box, we noticed that all the pieces that were included had their own boxes within the sleeved product box. This made sure that none of the toothbrush heads had bristles that were bent out of shape and that there was no damage to the product at all.
The S2 comes in three different color options, which are black and white. We chose the white option, and it has a nice look to it as it has a bit of a matte finish to it.
As soon as we held the base unit, we noticed that it had a decent weight behind it and that it had a bit of a textured feel to it. This is great if you are in a rush, as there is a noticeable grip to the unit, so we didn't drop it a single time. The ergonomic grip ensures a comfortable and secure hold, even when brushing for extended periods of time. One thing to keep in mind is that while it isn't a heavy toothbrush, there is a bit more size and weight to it when compared to some of the smaller units. We are assuming that this is due to the size of the battery needed to hold a charge that long. We weighed the unit by itself, which came out to 130 grams, which isn't heavy by any means but maybe heavier than some people might expect.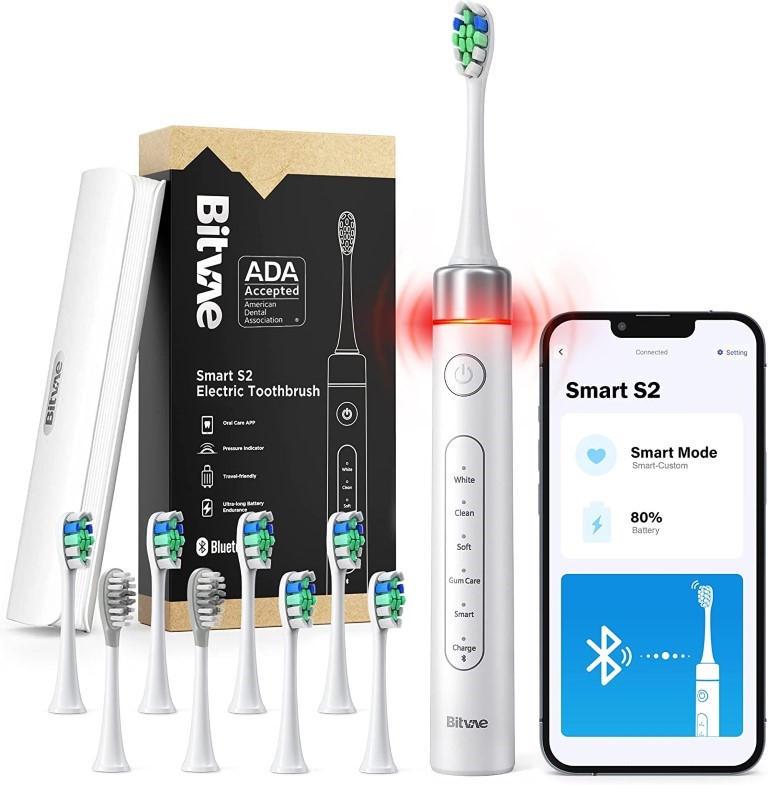 Product Details
The Bitvae S2 electric toothbrush features sonic technology that delivers 40,000 strokes per minute for an effective clean. We found that it was efficient at cleaning and had more than enough power to clean our teeth. The one thing that we did like is that it didn't have the high-pitched sound that can be found in some electric toothbrushes when their motors are put on the highest level. Its ultrasonic motor generates up to 10 times more plaque removal than a manual brush.
The smart app is another great feature of the Bitvae S2 electric toothbrush. It has a quadrant reminder that guides you through a deep clean and ensures you don't miss any spots. We know that it might seem like there is an app for everything, but the truth of the matter is that sometimes apps can really help improve the quality of life for some people. While we have been testing electric toothbrushes for a long time, we have our methodology down when it comes to getting a good clean. But for some people, they might not be brushing enough or in the right way to get the cleanest teeth they can. This is where the value of connectivity comes in handy.
Along with the app, there is also a built-in pressure sensor, which is helpful for people who might not be used to electric toothbrushes or just need a reminder to be a bit more gentle. It is possible to cause irritation to your gums and actually damage your teeth if you press too hard, so this is a feature that can help ensure you are brushing your teeth in the most optimal way possible.
The S2 comes with five different modes of cleaning and eight brush head options included in the package. While this might not be needed for every user, it is great to have options. You can customize your brushing experience to suit your needs, which is better than not being able to find what works best for your teeth. Whether you have sensitive teeth or need extra whitening power, there's a brush head option for everyone.
Finally, with an IPX7 waterproof rating, this toothbrush can be safely used in the bath or shower without worrying about water damage. A fully charged battery can last for up to 100 days of use and only takes three hours to fully charge. This toothbrush also won the 2022 IF Design Award in Germany, which again speaks to its well-thought-out design.
Pricing
Performance
Bitvae S2 Key Features
With its sonic technology delivering 40,000 strokes per minute and ultrasonic motor generating 40,000 microbrush movements per minute, this toothbrush can remove up to 10 times more plaque than a manual toothbrush. Its smart app with quadrant reminders for guided deep cleaning further enhances the user experience.
One of the biggest pros of the Bitvae S2 is its charger, which lasts for 100 days with just three hours of charging time. This means less hassle in terms of maintenance and more convenience for users who are always on the go. Additionally, it comes with eight brush heads, five modes, and a soft bristle toothbrush, which gives users flexibility in terms of customization according to their needs. If you give it a full charge, it can last up to 100 days, obviously depending on your brushing habits. The charging indicator on the toothbrush lets me know when it's time to charge again. This feature is particularly helpful, as I don't have to worry about running out of power unexpectedly.
The only drawback to the charging aspect of this package is that there is no plug base for the charger. The USB-powered charging cable is great because everyone has at least one or two of these charging bases around; it is just something to keep in mind that this unit does not include it.
Its waterproof construction allows for safe use in the bath or shower without having to worry about damaging the device. Furthermore, the easy-to-use interface makes switching between modes a breeze, ensuring that anyone can use this toothbrush with ease.
One of the nicest features of this package is the carrying case. While not a toothbrush feature, it is still a great addition to the set. If you are taking your toothbrush on a trip, you get peace of mind knowing it is protected, as there is nothing worse than finding a broken electric toothbrush when you need it the most.
Overall, it's clear that Bitvae has put a lot of thought and effort into designing an electric toothbrush that not only performs well but also looks great doing it. From its ergonomic grip to its waterproof construction and intuitive interface, every aspect of this toothbrush has been carefully considered.
Cleaning experience
So now that we have gone over everything about the design and features, we will get down to how we liked the product and its performance. Overall, the product is good. We liked how long the battery lasted and the volume of the motor. We found that it did a great job cleaning, and the only drawback that we really had while using it was that it was a bit bulkier than other toothbrushes. As we mentioned above, it isn't to the point where it is heavy for no reason; the truth is that in order to have such a long battery life, the battery has to be bigger. With this additional size and weight, there can be a bit of a difference between this and some other products that we have reviewed.
The features like cleaning modes, pressure sensors, and apps are great. They are in line with several other products we have reviewed, so Bitvae has done a great job of including not only needed features but additional nice-to-have features. We found that it did a great job cleaning, and it was nice to have options with the heads. They were good quality, with bristles firm enough to provide a good cleaning but not so firm as to damage our gums or teeth. At its price point, it is a great introduction to electric toothbrushes and worth trying out.
Customer Reviews
Customer reviews, user feedback, and expert opinions have also been overwhelmingly positive about this electric toothbrush. Many users have reported experiencing cleaner teeth and fresher breath after using the Bitvae S2 consistently. Others have commented on how easy it is to use with its smart app feature that guides you through your brushing routine with quadrant reminders.
On Amazon, the S2 has a 4.5 average rating on over 700 reviews. It is a large enough sample size to know that the majority of users are very happy with the product and its performance. It is commonly seen as an Amazon Best Seller for its category, so we are confident that other people share the same positive interactions with it as we have.
Another great aspect that we really like with Bitvae and their customer interactions is that there are multiple ways to contact them such as via email and phone.
Conclusion
If you're looking for a toothbrush that delivers deep cleaning and can remove up to 7X more stains, the ADA-approved Bitvae S2 is a good choice. The carrying case is a great accessory and overall the features are good for those who might need some tips on how to get the best brushing routines and habits.
Help/Support