CoreCommerce is an American company founded in 2001, based in Tennessee. It launched its web-based e-commerce software in 2008. It currently hosts over 20,000 stores worldwide and it keeps on growing.
COMPLETE REVIEW
CoreCommerce is a hosted platform that allows you to build and administrate customizable online shops, without being a tech savvy.
This ecommerce solution offers various pricing options.
There are 5 plans to choose from: Pioneer, Advanced, Professional, Premier and Enterprise.
Except for the Enterprise, all the other plans have limited storage, which is a drawback for CoreCommerce. You may want to keep that in mind before signing up, because CoreCommerce plans are not suitable for businesses that need a lot of storage, have downloadable items or too many videos on their websites.
The company offers 15 day free trial, with no credit card details required. In order to sign up for the free trial, you have to fill in a form on their website. You have to type in your full name, email, phone number, your store name, your role within the store, the specialization of your store and the business type. You choose a password and then you're all set.
The interface is user-friendly and simple. All plans have access to the same features, the differences lie in the bandwidth, storage and number of products or email accounts included.
They offer more than 100 free templates to help you design your website the way you want. The templates are also customizable and in case you have problems getting started, there is a helpful tutorial which is pretty useful, at least in the beginning. When you first log in you will be greeted by a setup wizard that will guide you through all the configuration process. Of course, the wizard is optional, so if you don't want any help, you can just skip it.
There are only free 17 mobile responsive themes, which is not an impressive number, considering that they have over 100 non-responsive ones.
With CoreCommerce you can add, edit and organize your items, interact with your clients, accept credit card payments, etc. The platform integrates with FedEx, UPS, Canada Post and others. Customers can post your products on their social media channels, leave comments and reviews. You can also view store statistics, add inventory and many others. They integrate with up to 50 payment gateways: PayPal, Authorize.net, Google Checkout, FirstData, Stripe, Virtual Merchant, CyberSource and many others.
In terms of browsing, you can leave a breadcrumb trail at the top of the page. This way, users will navigate more easily, by keeping track of their location on your website.
You can sell digital items, but again, be aware of your storage limits.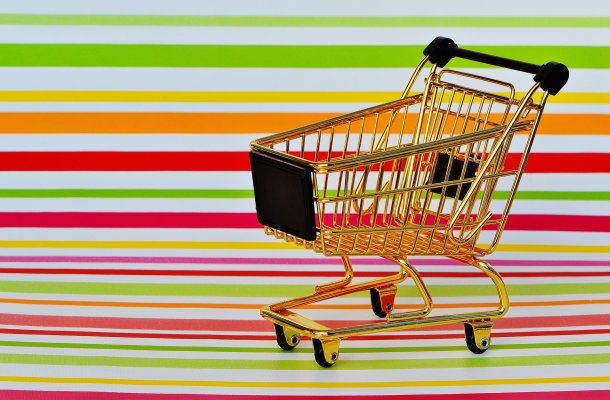 CoreCommerce lets you create various types of discounts: based on the number of items bought, based on category, general ones, etc. You can also add gift certificates, but you have to create each and every one of them manually, which may get a bit frustrating.
Inventory management is one of the biggest strengths of CoreCommerce. There are a lot of tools that help you keep track of your inventory, by product, variation, etc.
In terms of SEO, the platform includes various features. It integrates with Google Analytics, all the pages have search engine friendly URLs, etc. The content management system will also generate meta tags automatically.
If you want to see the complete list of add-ons that can be installed, you have to go to your admin – settings and plugin settings. Here are some of the most important ones: MailChimp, Facebook, Google+, Twitter, Amazon, eBay, Shopzilla, Yahoo, Bing and many more.
Security wise, CoreCommerce offers you free shared 256-bit SSL. If you want a dedicated certificate you have to pay extra. They also include fraud protection, firewall protection and automatic admin logout.
There also daily backups for all plans and automatic updates.
Pricing
There are 5 plans to choose from: Pioneer, Advanced, Professional, Premier and Enterprise.
The Pioneer starts at $36/month. The plan includes up to 300 products, 5 email accounts, 4 GB bandwidth and 1 GB storage.
The Advanced plan is $81/month and includes up to 2,000 products, 10 email accounts, unlimited bandwidth and 5 GB storage.
Your next choice is the Professional, for $123/month. It comes with up to 6,000 products, 15 email accounts and 10 GB storage.
The Premier is $176/month and includes unlimited products, up to 25 email accounts and 50 GB storage.
The most expensive plan is Enterprise, for $528/month. For this price you get unlimited products, email accounts, bandwidth and storage. Customers who choose this package also receive semi-dedicated hosting.
Help/Support
CoreCommerce has great customer support. You can reach them via live chat, email or phone, from 7 a.m. to midnight Monday through Friday and 8 a.m. – 5 p.m. on Saturday.
Phone: +1 615-550-5523
Social media: Twitter, Facebook, LinkedIn, Pinterest
Facebook: https://www.facebook.com/CoreCommerce-97847857574/
They also offer a free 30 minute onboarding session and a 45 minute integration consultation. Their customer support is US based.
There is also a comprehensive knowledge base on their website: an extensive FAQ section, video tutorials, a user forum and a blog.
You can also find them on Facebook, Twitter, LinkedIn and Pinterest.