Restoro is a relatively new repair software on the market, but has managed to quickly grow its client base in less than 2 years, since it was launched. If you are struggling with a slow Windows PC that crashes and freezes constantly, this software may just be the solution to all of those problems. Restoro repairs, optimizes and boosts the speed of your device, without reinstalling the operating system and without losing any important data you might have stored on your drive.
COMPLETE REVIEW
System optimizers apps are not always seen with the best eyes. Whether it is due to marketing practices that are too aggressive, or simply because people don't exactly know how they work and what they can do, repair software is somehow controversial. Not only do some users avoid them, but the internet is full of tutorials on how to remove them from your computer, because they are sometimes deemed malware.
This skepticism is not entirely unjustified. There are many malicious apps out there that claim to fix and improve the performance of your device, when they are in fact hiding malware. When you download the installer, you also risk downloading a virus with it and you can easily infect your computer. That is why it is important to always download programs from secure sources. Make sure that the app you want to download comes from a reputable and trust-worthy provider and only use the official website as your downloading source, as much as possible.
Having cleared all of these aspects, you should rest assured that Restoro is definitely one of the "good guys". It is a well rated and reliable system repair software developed by the company with the same name and launched on the market in 2018. While it is indeed a newbie in the industry, Restoro has already managed to gain a good reputation and build an impressive client base.
The team that developed the software consists of skilled and experienced programmers and Restoro is an award-winning program.
Restoro only works on Windows devices running any Windows version from XP and up. You also need at least 512 MB RAM, if you want to use Restoro at its full potential and at a normal speed.
The software works by scanning your computer to identify all the issues that make it run slow and buggy. The software fixes all the operating system issues that cause your PC to be unstable. It also restores registry values and system settings by getting rid of all the entries that have been compromised by malware such as viruses, worms, spyware, trojans and so on. All the actions taken by Restoro make your computer faster, more secure and more stable, without requiring you to reinstall the operating system and risk losing any important data.
Restoro is "powered by Reimage patented technology", as claimed on the official Restoro website and if you look at the features of the software you will indeed notice a lot of similarities with Reimage Repair.
Restoro replaces all the damaged files in your system with clean, secure and genuine files from its huge online database. This database contains more than 25 million "updated, authentic and pristine Microsoft files", as stated on their website.
How do you use Restoro?
The first thing to do when starting to use Restoro is to download, install and open the app on your device. As we already mentioned it above, this software is compatible with devices running Windows XP, Windows Vista, Windows 7, Windows 8 and Windows 10. At this point, you don't have to license the software yet. Restoro allows you to run PC scans for free.
The role of the scan is to identify all the stability, security and hardware problems in your system. The scan process takes around 5 minutes to complete and it will display all these errors for you. Some examples of stability problems that can be detected are the programs and apps that cause your PC to crash the most. You will also be shown how often these programs crash. Some examples of security issues that can be found are malware threats of all sorts, such as viruses, Trojans, root kits, worms, spyware and so on. Some examples of hardware issues are a low memory, temperature issues, a low hard disk speed and more.
Once you get a clear picture of what you are dealing with, you have to buy a license, in order to be able to use the repair and optimizing tools that Restoro has to offer. You opt for one of the options we detailed for you under the Price section and you are good to go.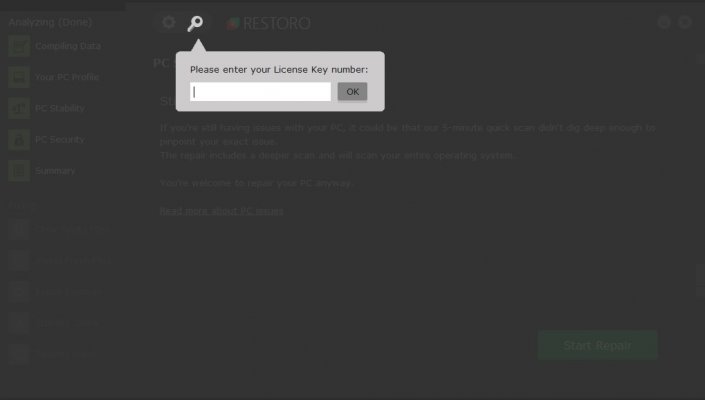 What can you repair with Restoro?
Restoro's repair process consist in removing all the infected files and damaged/corrupt/compromised registry values in your computer. These have to be removed, because they are the ones causing all the annoying errors, freezes and crashes and they make your computer sluggish. Once the broken files are removed from your computer, they have to be replaced with new, healthy, uncompromised ones. They will be taken from the extensive online database we mentioned to you above.
Computer crashes, blue screens of death (BSOD) and freezes are all problems that can be fixed with Restoro. These are fatal system errors that cause your PC to crash. In other cases, certain programs might suddenly stop responding and working properly. They will completely "freeze" and most of the times, the only way to revive the system is by restarting the program or the computer altogether.
Damaged DLLs (dynamic link libraries) can also be fixed with Restoro. DLLs usually get damaged because we continuously install and uninstall programs, overwriting deleted DLLs with new versions. Sometimes, the program needs the old versions to work properly and since they have been removed, you will experience crashes and errors.
Restoro can also fix the damage caused by viruses and other types of malware. A clarification has to made though: Restoro does not protect you from malware infections. You need an antivirus program for that. Restoro should be used in addition to an antivirus. While Restoro can detect malware, it can only repair the damage left by malware, after the infection has been removed. What Restoro fixes are basically the "side-effects" or consequences of viruses, not the viruses themselves. Again, just like with any other issue, Restoro will remove the infected files and replace them with healthy, fresh files from its Microsoft database.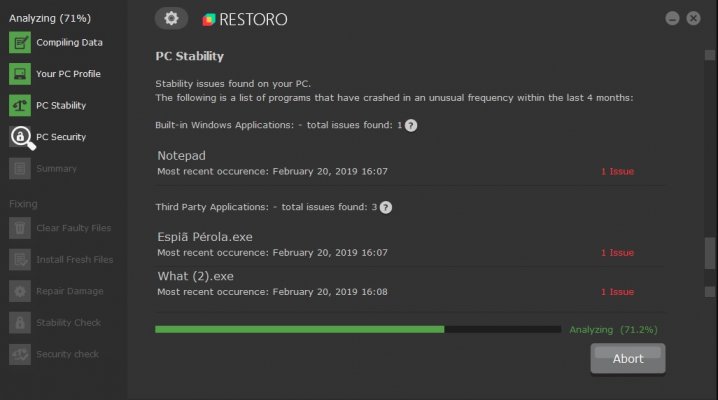 The best thing about Restoro is that it can recover your operating system without losing any user data and without reinstalling Windows. Without a system repair software, when a computer becomes too cluttered and full of Windows errors, the most efficient solution is to reinstall the operating system. However, this can be a tedious and time-consuming solution. You have to backup data, you have to install a lot of programs, drivers, recover license keys and passwords and so on.
With Restoro, you can forget about reinstalling Windows ever again, because it can fix all the Windows system files, restore the compromised settings to their normal values and revive your PC, with just a few clicks and without losing any important data.
Is there something Restoro can't solve?
There are some limitations as well when it comes to Restoro's capabilities. For instance, don't expect it to repair any third-party programs, meaning those that don't come with Windows. On the bright side though, there are cases in which by fixing the Windows stability issues with Restoro, third-party apps that share Windows files will start to work properly, too.
Also, as we've mentioned it already, Restoro doesn't protect you from viruses and other malware threats. It does fix the damage left by malware, but you have to use an Antivirus program to make sure your device is secure and protected.
Restoro can't repair hardware issues either, but it can be useful in identifying the hardware issues in your system, such as CPU problems, hard-drive problems, RAM problems and so on. Restoro can also give you recommendations in terms of components that could be replaced if you want to increase the performance of your computer. If your system needs help fixing something that Restoro can't fix you can always request a refund, and take it to a computer shop as with anything in life; sometimes you need a pro.
Conclusion
No matter how powerful your PC configuration is, sooner or later, your PC will become cluttered and compromised. That is normal considering that we regularly download content, install and uninstall programs, delete, copy and move data around. If you are tired of reinstalling Windows every time you want to restore your computer to its full performance, you should definitely consider using a system repair software and Restoro is just about the best option you can find.
Restoro is complex but easy to use and most of its features can be enabled with a simple mouse-click. The software has tools that can be used to repair all the system settings and any damage that might have been caused by malware. By using Restoro on a constant basis, you will have a PC that is more stable, more secure and faster. Restoro is affordable and you can test the software before buying a license. You can run scans for free and get familiar with the program's interface before purchasing a license. You can also choose between several types of licenses: for 1 PC, for 3 PC, for a year or for just a one-time repair.
Download Restoro Repair Tool to see if it can help with your system.