Restoro is a system repair software that can resuscitate your computer and visibly improve its performance. The software is compatible with Windows devices and comes at an affordable price, considering the generous number of tools it offers for the money. From cleaning junk to fixing virus damage and stability issues, Restoro is a must-have repair kit for any Windows user. We have updated our review for 2021 and it continues to impress us with its optimization features. Download Restoro Here!
COMPLETE REVIEW
Restoro is a system repair software developed by the company with the same name. Restoro is relatively new on the market, as it has only been launched in 2018. The company that developed it is renowned for its web-based system repair apps, which are award-winning products and well received by their customers.
Restoro is only compatible with the Windows operating system and works on every Windows version from Windows XP and above, including Windows 10. In order for the software to move at a normal speed, you should only use it on computers that have at least 512 RAM. You should also have high speed and reliable internet access.
The software is a very complex one and it uses a huge database of more than 25 million clean, updated and authentic Microsoft files. All the broken, infected files in your PC will be repaired or even replaced with a pristine, up to date file from that database.
In order for Restoro to be effective, you may have to use it on a regular basis, especially if you spend a lot of time on your computer. Over time, our systems get cluttered, disorganized and messy from all the usage. The fact that we continuously download content, copy, move around, delete files, install and uninstall programs, leaves a mark. Some programs don't get removed properly and leave behind entries in the Windows registry for instance. Or you might get infected with malware on the internet, which can cause a series of problems.
There are other reasons why your system might get unstable and start to malfunction. The effects will be visible and frustrating: you will experience a lot of crashes and freezes, blue screens of death (BSOD), your PC will become very slow and so on.
Restoro is a complex system repair tool that can help your PC in several ways:
It cleans the junk files in your computer and frees up space on your disk
It can remove malware from your computer
It can keep you safe from online threats by detecting websites that are not secure and notifying you on them
It repairs and replaces damaged Windows files with pristine ones from its large database
It improves the performance of your PC and much more
Restoro is a reliable and trust-worthy repair software. It respects your privacy and only uses your information (the data you provide when you purchase the app) for the transaction process and for repairing your PC. They clearly state on their website that they don't sell your data to third-parties.
How do you use Restoro?
Restoro can and should be downloaded from the Restoro official website. The program can be downloaded and installed for free. Restoro allows you to take it for a "drive", so you can test the interface and features of the app at no cost. You can also run a full system scan with the free version, which can be very useful, because you get to see Restoro at work and see what kind of issues your PC is dealing with.
The scanning process takes around 5 minutes to complete and once it is done, a full "diagnosis" of your system will be displayed. Restoro detects and divides the found issues in 3 categories: hardware issues, security issues and stability issues.
Hardware problems that can be detected by Restoro:
Low hard disk speed
Low memory
CPU power and temperature issues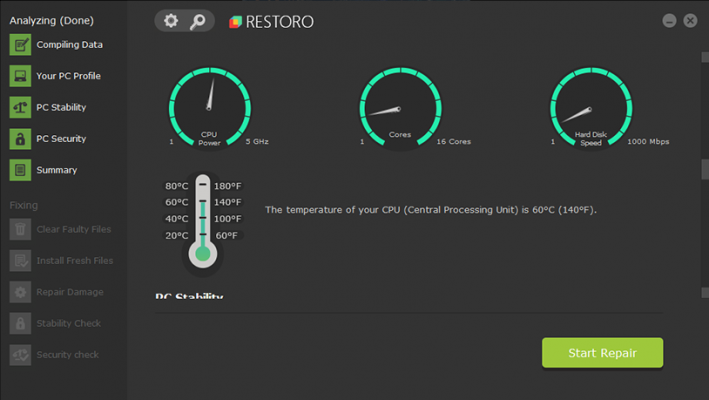 Security issues:
Viruses
Trojan horses
Spyware
Root kits
Worms
Dishonest adware
Crimeware and other types of malware
Stability issues: Restoro can identify and show you which programs that are installed on your computer crash the most often and how often they crash.
Interface
The Restoro interface is straightforward and well organized. The available features are displayed in a left column, in two categories: there is an "Analyzing" section and a "Fixing" one. Under "Analyzing" you will see the PC stability and PC Security issues and a Summary.
In the "Fixing" category, you'll have tools such as: Clear faulty files, Install fresh files, Repair damage, Stability check, Security check.
Restoro will show you all the issues found during the scan and it will give you a worldwide average so you can compare the results. The program works by comparing your PC to a new system with the same configuration, but with one that functions properly.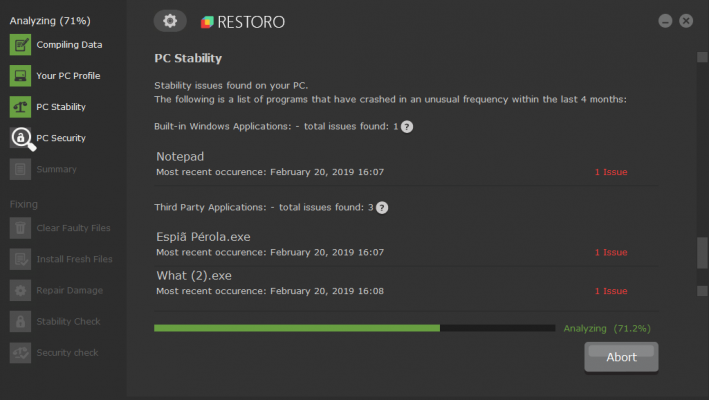 If you want to fix any of the issues, you have to register the software and for that you'll need a license key. The software will even display a message window prompting you to "please enter your License Key number".
The free version of Restoro can be very useful to learn the program and familiarize with the menu, features and settings.
If you decide you like it, you can purchase a license for a one-time use, or for an entire year, which entitles you to unlimited use. If you have more than one computer that you'd like to repair and optimize with Restoro, there is also the option to buy 3 licenses for a year. We described all the options in the 'Price' section of our review.
Once you've registered the software, you can start repairing your Windows device. If your computer is infected with malware, Restoro will first disable the malware and then quarantine it. All the damage will then be fixed by replacing all the corrupted registry entries, DLLs and so on with healthy files from their database. The database is always updated with new Microsoft files.
If you suspect your PC is infected by viruses, if it has a lot of pop ups and so on, you might want to run Restoro in Safe Mode with Networking. Running the software in safe mode is very easy, all you have to do is go to Start, choose the Restoro program and click on "Run in safe mode". This way the software will do its job faster, because in Safe Mode, the programs that normally run at Startup will be bypassed, allowing Restoro do run more smoothly and uninterrupted.
In order to enjoy a healthy, high-performance PC, you should use Restoro on a regular basis or each time you experience any 'hiccup' in your system.
What can Restoro fix?
Restoro can fix all the common issues users have to deal with.
Computer freezes are very frequent in a 'sick' PC. They can occur when a certain program doesn't respond anymore. In worse scenarios, your entire system might become unresponsive. In most cases, rebooting is the only way to 'defreeze' the device. A common cause is the RAM memory and this manifestation may hide a hardware issue. You might need to upgrade your RAM memory. But it can also be a software issue and Restoro can help you identify it and get rid of it.
Windows errors and BSODs can also cause annoying problems such as computer freezes and crashes. Unless you address them, they can affect your entire system over time, causing it to become sluggish or unresponsive. You can get at the point where you won't even be able to run certain programs in your PC. Restoro is very effective in solving various Windows issues and errors. The database of over 25 million of Microsoft files can easily replace all the missing or broken Windows files in your computer. The results will be a faster and more stable system.
Other problems that can be solved by Restoro:
Damaged DLLs (dynamic link libraries) that usually occur from constantly installing and uninstalling programs on your device and also manifest through crashes
Virus damage: when your PC gets infected with a virus, simply using an antivirus software won't do it; even though you remove the threat, you still have to take care of the damage it's produced; errors can still appear and that is why Restoro can be a great healing tool; it can identify all the harmful files in your PC by using more than one virus engine at the same time; Restoro has a partnership with Avira and uses that engine along with its own custom engine; after identifying and eliminating all the viruses, Restoro pinpoints and replaces the infected files with healthy ones from its repository; however, Restoro should not be used by itself for virus protection; you should always have a reliable Antivirus installed and running on your PC as well
Is there something that Restoro can't fix?
Restoro can help you fix a lot of problems in your Windows PC, but you shouldn't expect it to do wonders. You can't expect it to fix just anything. As we've mentioned it already, you can't use the software as your main or only protection tool against malware.
Restoro can't be used to fix third-party programs, such as MS Office apps, web browsers such as Firefox, media players such as Winamp, iTunes and so on.
And although Restoro can pinpoint hardware issues in your system, it can't fix them, too.
Conclusion
Windows PCs require just as much maintenance as any other system. And while there are things you can do yourself to improve the performance of your system and repair certain OS issues, it is best to leave this job to a software that was specially designed for it and is human-error free. Restoro is one of the most complex and reliable system optimizing programs you can find and it can save you from the tedious task of reinstalling your Windows in order to repair your PC issues. Restoro can refresh your entire system with a few simple clicks, making it virus-free, faster and more stable.
If you are looking for an easy way to keep things up to speed on your system then Restoro is our top choice. Just like you can do an oil change at home or take it to the drive through, you could do some of what Restoro does on your own but it would come at a risk of damaging valuable system files in your computer.