All About Photo Book
We live in a digital era. From music to e-books or digital photographs, everything looks, sounds and feels better, crisper and longer lasting. But even though technological advancements are unquestionable and groundbreaking, they also make everything seem less tangible, more impersonal.
It is the case with photographs, too. Even though gadgets nowadays can take pics at an amazing resolution and store hundreds and hundreds of gigabytes of precious memories, more people start to miss the good old printed photo books, especially when they want to immortalize special moments in their lives, such as weddings, birthdays, graduations and so on. Moreover, information stored on hard drives, DVDs and the like can get lost. DVDs can get scratches, hard drives can crash.
That is how photo books appeared. Despite the times we live in, they continue to boom and become more and more popular. Photo books are simply printed books with digital photographs inside them. They come in a variety of shapes and sizes, they can have dust covers, a hardback, spiral bound, etc. They are significantly better than old school photo albums, because the quality of the photos is unquestionably better, the photographs won't continuously fall out, you can print more copies of the same book to send as a gift, etc.
There is a whole photo book industry out there, with more and more companies that offer online photo book services. Publishers such as Mixbook, Shutterfly and others offer a wide range of online tools and features that can help you create your perfect photo book. You can add, edit photos, choose the type of paper and cover you want, decide on the number of pages, add text, make a custom layout, etc. The possibilities are endless and the result is a professional, personalized, physical printed photo book.
How does it work
Publishers have an online interface where you can create your desired photo book. There are usually tutorials that get you started and teach you how to edit, crop, arrange the photos and the more advanced editors also offer the possibility of adding text, with different styles and fonts. For those who are not that experienced, there are predesigned templates that can save them a lot of time.
You can import your photos directly from your computer or from an online source (including Facebook, Instagram, etc.).
Once you are set with the design, you can then choose between the numerous cover options (hard, soft, leather or fabric, and so on). Prices vary depending on the size, paper quality, number of pages, the type of cover and the delivery time. You can pay $13 for a 7X7 photo book with 20 pages and a soft cover, or $50 for a 13X11 inch photo book with a hard cover.
Kids' photo books are usually 8X8 inch square and family albums, 11X14 inch.
Some people might argue that paper is not durable, but you shouldn't be too worried. Today's photo books are solidly built and the quality of the paper and cover will preserve your images for years and years to come.
Photo books are usually processed, printed and shipped in up to 5 days, but there are publishers who can deliver them overnight. You can either wait for them to be shipped, or you can pick them in store, if possible. There is also a money-back guarantee and international shipping available, for those interested.
The advantages of photo books
There are numerous benefits to making a photo book with digital photos. First of all, as we already mentioned, photos stored on electronic devices can get lost if the system crashes. DVDs are also fragile, can get scratched, can break, etc.
The fact that the photos are preserved in a tangible, physical album, makes them more personal, real, while the fact that they are digital saves you the trouble of digging through dozens of loose photographs in a crammed box. The photo resolution is also significantly higher than in the past, so you will have a memorable experience every time you shuffle through the book.
Photo books make lovely gifts, especially because they can be customized to meet your expectations, so that's another aspect to consider.
The best services let you choose between multiple backgrounds to apply to your pages, sometimes even hundreds, tailored for various events (weddings, baby photos, holidays, school events, pets, special moments with friends, etc.)
Photo Book Publishers – What To Look For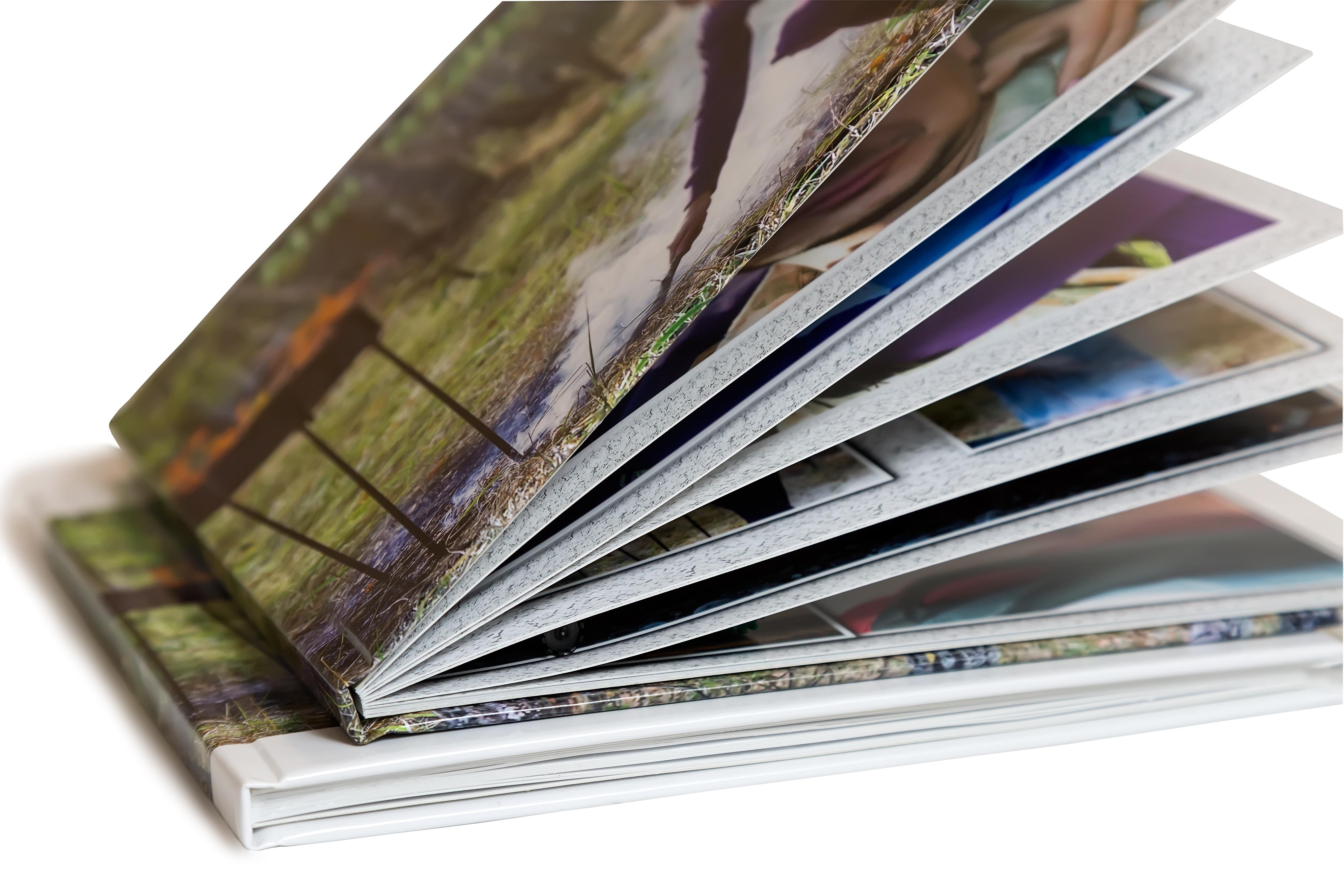 Creating the perfect photo book is a complex and subjective process. It is a matter of taste and it depends a lot on the event it's trying to capture. There are a lot of special occasions in our lives that worth being immortalized and just as many ways in which to do that. Here are some useful tips that might help you choose the right publisher for your photo book:
Decide what kind of photo book you want to make. Is it going to be a wedding photo book, a family, or a birthday one? Knowing the theme of the photo book will help you form a general idea about its content, design, number of pages, etc. All these are factors you should have in mind when browsing through different websites, because you will know what to pay attention to, in terms of design options, materials, prices, and so on. You might need more advanced photo editors if you want to add text, you might need more backgrounds available in order to customize your photo book to match the event you're trying to capture, you might need the publisher to offer overnight delivery if you are in a hurry and you want the photo book to be a gift and so on.
Make a budget and compare publishers and offers. This one is pretty self- explanatory. Depending on your desires and wallet, you should know how much you are willing to spend and orientate accordingly. Compare prices (paper, cover, shipping, etc.) and go with the best option.
Choose an interface that is easy to use. Select some of your photos (either from your computer or an online photo sharing website such as Instagram, Flickr, Photobucket, Facebook, etc.) and upload them on different websites. Try to mess around with each interface and see which one is more user-friendly, which one has more options in terms of templates, editing tools, available book sizes, backgrounds, covers, etc. You should also be honest with yourself when it comes to your tech skills and choose a service that is in tune with your abilities. If you're not that good with editing, make sure the online interface comes with plenty of ready-to-use templates.
The more customizable, the better. No matter what kind of theme you want for your photo book, it's always better to have as many options as possible at your disposal, for both the inside and the outside of your photo book. Look for publishers that offer multiple backgrounds, for different events, pay attention to the editing features and the printing options as well. There are a lot of available sizes (5X7, 8X8, 10X10, 12X12, 8.5X11, 11X14, etc.) and cover options (hardbound, softbound, lay-flat, leather, dust cover, fabric cover, etc.). Another useful feature you should look out for is the ability to invite your friends or family to add and edit the photos. Not all the publishers offer that possibility.
Available upload sources. You should also check and see how easy it is to upload your photos, and what kind of upload sources does the publisher offer (hard drive, online photo sharing sites or social media sites or others: Instagram, Flickr, PhotoBucket, Facebook, SmugMug, Picasa, Google Photos, Dropbox, etc.)
Money Back Guarantee. Nobody wants to put work and hope into a project and then have his expectations crushed. But should the worst happen, you have to make sure your publisher provides the money back guarantee option and it is trustworthy.
Customer support. This one is also an important service. Make sure the publisher has a good reputation when it comes to customer support and you can reach them through as many channels as possible (phone, live chat, email, forums, FAQ, etc).
Print quality. The print quality depends on a lot of factors: the image resolution of the photos, the printer, the paper type, etc. Do your homework before choosing your publisher. Look for samples of their work, pay attention to details like color, clarity, contrast and find out what kind of paper and printers they use.
Processing and delivery time. Processing and shipping time vary from overnight to 8 working days or sometimes even more. Find out what the shipping time of your publisher is.
Tips that help you create your perfect photo book
The quality of your photo book very much depends on the publisher you choose but that is not the only factor. Your creative and artistic abilities play an important role as well. No matter how highly customizable or user-friendly the interface you're working with is, if you don't know what kind of photos to use, which ones are more suitable for your event, or what their order should be, everything is in vain.
Make sure you select the right images. Digital photography has the huge advantage of permitting as many shots as you'd like. When storage is not an issue and you don't have to worry about changing your film, you tend to get carried away. Make sure you restrain from using all the photos you took at a certain event and keep in mind that you have a limited number of pages, so fill them up with the most memorable pictures.
Arrange the images in the right order. Think of the narrative aspect of your photo book when determining the order. Your book should tell the story of the event, only in images. Make sure you have a start and a finish and the pages have a natural flow.