All About Camping Lanterns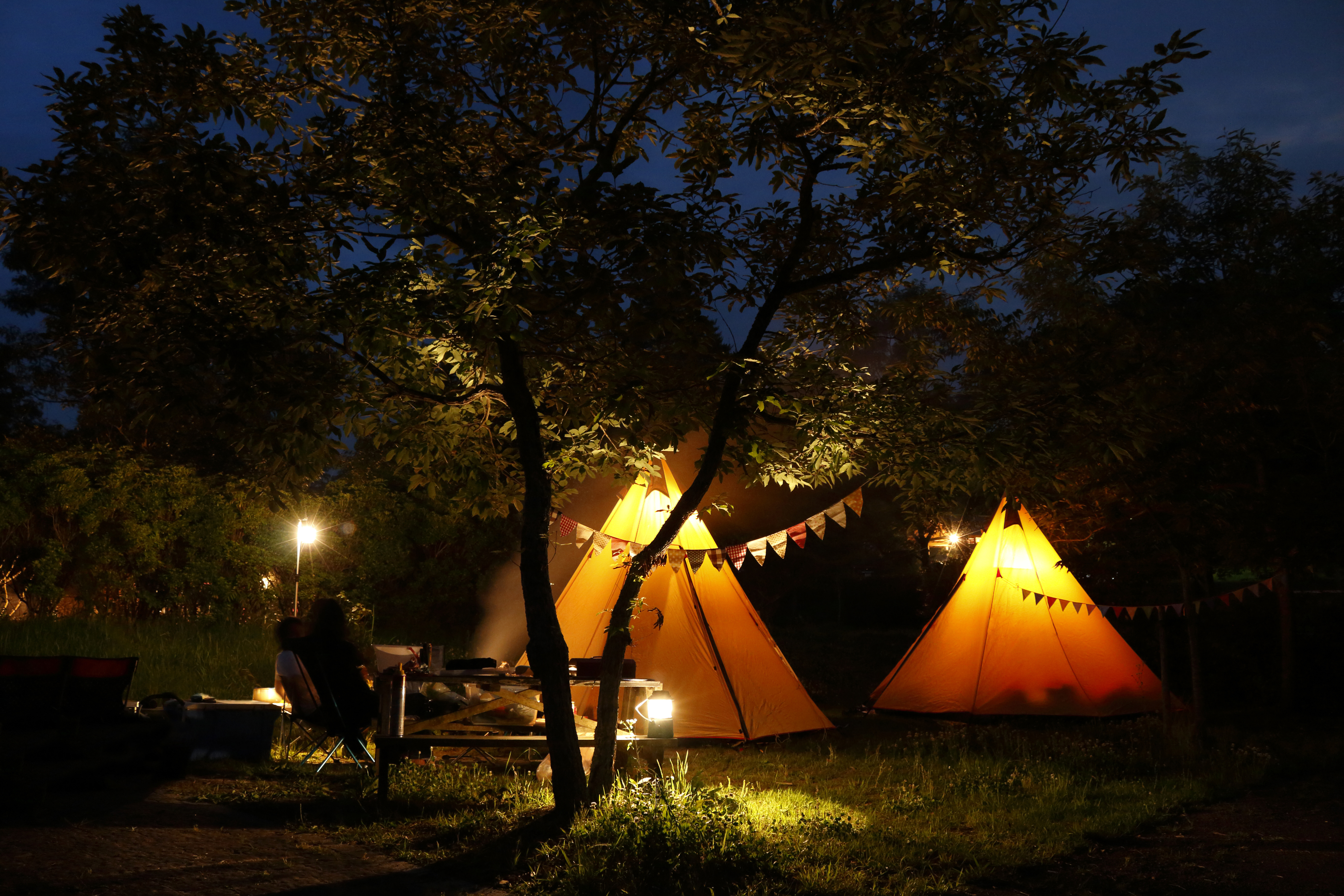 What is more fun than taking a break from the city turmoil, throwing your backpack on and leaving all the noise and pollution behind you? Camping is one of the most popular and embraced outdoor activities and it can be done in any combination: by yourself, with your loved one, with your kids, friends or family. You get to sit around a campfire, do some hiking, breath some fresh air for a change and relax.
However, no matter how much you want to free yourself from anything 'man made' and reconnect with Mother Nature, you'll still need some equipment with you, for basic necessities. One of the main components of any camping kit is a light source, because nature's 'electricity' might not be enough for you during nighttime, bad weather and so on.
Camping lanterns are a must for any outdoor enthusiast. They've developed considerably over the years and nowadays, they don't exclusively rely on gas anymore in order to operate. They can also be completely flameless, safe to use even around children and they can prove to be a valuable addition even to your home, for times when the power goes out. Lanterns are also useful in case of bad weather, storms, etc. and should definitely be a part of any survival kit.
Because they evolved a lot since the first models, lanterns are now less bulky, they last more on a single charge and they are more durable. There is also a wide variety of camping lights to choose from: from plain old flashlights, to headlamps and lanterns. The main difference between them? Well, flashlights are designed to project the beam of light at a distance; the most professional ones have a throw distance of more than 1,000 meters. They are smaller than camping lanterns/gas lamps, easier to carry around and come in a myriad of types, sizes and models, each with its own complex set of features. Headlamps are exactly what they sound like: lamps you put on your head. Their main advantage is of course the fact that they free your hands, so you can do/carry something else with them. Headlamps are even smaller and lighter than flashlights, they can easily be mounted on your head and while their light is not as powerful as that emitted by flashlights, they do have their benefits and are especially practical for individual purposes than for larger groups.
Camping lanterns are the biggest and most static type of camping lighting gear. You can still find lanterns that are gas-powered (with either propane or liquid gas), and while they do provide the best light, they are also heavy, pretty expensive and more difficult to use. There are also plenty of electric, solar and mechanical lanterns to choose from, depending on the size, type of the batteries and style you prefer.
Camping lanterns are specifically designed to be used outdoor. They are not easily breakable, they are resistant to the elements (water and more) and they provide a 360-degree field of view, meaning you can see pretty much everything around you. That does affect the brightness and you can't really focus the beam on a specific spot, but that's why there are flashlights out there too. Another great benefit of the camping lantern is the fact that you can place it upright and the lantern lights up your surroundings.
Camping Lanterns - What To Look For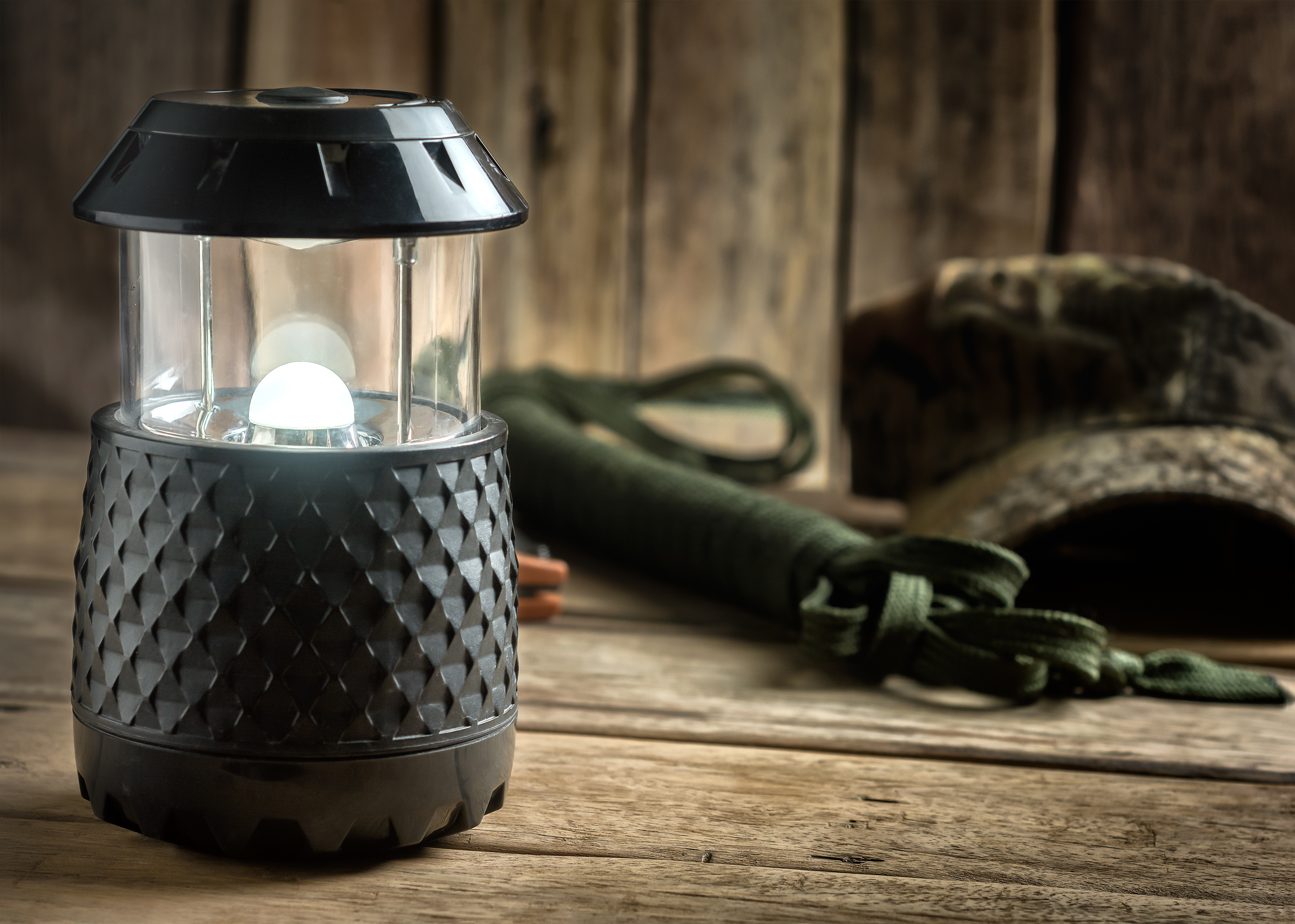 There are several things you should take into consideration when shopping for a camping lantern. You should first familiarize yourself with the terms used to describe a lantern's capabilities: lumens, size and weight, power type and consumption, run time (hours of use), features and more.
Lumens are units of measurement for light, along with candela and lux. In easier words, lumens basically determine how powerful the light emitted by your lantern is. A lumen is defined as a measure of the total quantity of visible light emitted by a specific source of light (Wikipedia). What should that mean to you? The more lumens your lantern has, the brighter the light. Take it like this: a candle has somewhere around 12 lumens. Camping lanterns can go from 40 to even 1,000 lumens. The brighter lanterns are the gas-powered ones, such as the Coleman Premium Dual Fuel (861 lumens on its highest mode and it can last for 7 hours). For your information, a tent can have more than enough light with even under 100 lumens. With 300 lumens you can have a real party on the entire campsite.
The power type of the lantern also varies from lantern to lantern: you can have gas-powered lanterns, solar ones, hand-cranked or electric ones. If you are going with the latter, more options arise: do you want one that has to be plugged in, one that works on batteries, what kind of batteries, how many, are they rechargeable or not. If you are going camping near your RV, you can go with a model that requires an outlet. Battery powered lanterns are also a popular choice. You can go for alkaline, lithium or lithium-ion rechargeable batteries. Lanterns that use alkaline batteries tend to lose from their power when temperatures go below 0, unlike lithium ones, which cope better with cold. You should also see how many batteries the lantern uses, what type of batteries are they, how common and expensive are they?
Gas-powered lanterns might be a wiser choice if you are going in a remote place, where you don't have access to electricity and you can't buy batteries on every corner. It might be smarter to just have an additional can of fuel and just eliminate the need for batteries or electric power. However, gas lanterns are more expensive and they require some experience in using them. They can also emit toxic fumes, so you might want to be careful when using them inside a tent, or better yet, don't use them inside the tent at all.
Hand-cranked models are mechanically powered lanterns that work by winding, shaking the lantern's handle or performing other repetitive motions. While they don't require any batteries or fuels to operate, it can be pretty exhausting to keep working your muscles in order to get the lantern to work, so they're mainly suited for emergency situations, when you don't need continuous light for a longer period of time.
Another aspect to take into consideration, and this is a really important one, is how many hours of operation can the lantern provide. How much can you use the lantern with a single charge, be it fuel, battery and so on. Camping lanterns can go from just 2 hours and a half to almost 300 hours of use on a single charge. Lanterns powered by batteries have the longest run time, while hand cranked and solar ones are on the opposite side. You have to pay attention though to the adjustment of the brightness feature, because if you use a lantern on its highest level of brightness, you're going to run out of juice a lot faster.
The dimensions and weight of the lantern are another important factor. It is very important to know exactly where and how you are going to use the lantern: are you going hiking? Are you climbing rocks? Are you just going camping in your backyard with your kid for fun? Are you going by foot or by car? How big is your backpack? How much room does the lantern need, etc.? Some camping lanterns can be quite bulky and heavy (more than 3 pounds) and you want it to be a helpful addition to your camping kit, not a burden, especially if you know you have to hike for 12 miles to get to your campsite. Don't forget to take into account any additional batteries or cans of fuel when you calculate the final weight. If you know that size and weight are an issue for you, try to go for a lighter model, a collapsible model or one with folding legs, to save up some space (for instance, the Black Diamond Apollo).
Other aspects to pay attention to are the cost of the lantern and the quality of the materials. You know your own budget, but also be aware of this: if you just pay a few dollars on a lantern, you will only get a few dollars quality lantern, so don't be too cheap, because you'll only end up spending more on the long run.
Last, but not least, you should browse through the features of the lantern. There are a lot of offers on the market and you have to know what your priorities are before making a choice. Is the lantern water resistant? Does it come with those indispensable hanging hooks? Does it have folding legs? Can you adjust the brightness level on it? Does it have a USB port? Some prefer lanterns that have one, so they can charge their music player or smartphone from it. How about the colors of the light? Some lanterns come with a yellow light so it doesn't attract insects, others have a red light, suited for night vision. Does it come with an SOS mode to be able to signal in case of emergencies? All these and more are features you can find in a camping lantern. Do your research before spending your money on anything, so you'll be sure you made the right decision and you've purchased the camping lantern that best meets your needs.