Virtual private networks have become valuable security tools that also open a world of possibilities for internet users. Staying safe while surfing the internet is our number one priority in this day and age. Our information is shared much too often on so many websites, every time we have to buy something online, sign up for a service or a website, pay our utilities and so on. Identity theft is a real threat and it's made countless victims so far. Data breaches occur on every level, from simple users to corporations, and the repercussions are always unpleasant.
Malware, phishing attempts, ads over ads, viruses, they are all one mouse click away, especially when you are using poorly encrypted public WiFi networks to connect to the internet.
Virtual private networks encrypt all your traffic and assign a remote IP address, letting you appear as being located anywhere you want in the world (as long as the VPN provider has servers in your desired area/location). Most VPN providers have servers spread all over the world and if you want, you can connect to a server from New York even if you live in Amsterdam. Your IP address will change into a New York one, which preserves your true identity and helps you feel more secure online.
All your traffic is first encrypted using strong protocols and, in most cases, 256-bit AES encryption (which is military-grade) and you are also protected by additional measures such as automatic kill-switch and other security tools.
But in addition to protecting your identity and keeping you anonymous online, virtual private networks can also help you in other aspects: you can use them to stay anonymous when you torrent, you can use them to unlock geo-restricted platforms and stream your favorite shows and sports competitions, to access restricted websites, such as YouTube, Facebook and so on.
Factors to consider when choosing a VPN
There are a lot of great VPNs out there, each with their strengths and shortcomings. Some of them shine when it comes to speed, other in terms of security or included features. That is why it is important to know what your main priorities are when you are in the market for a VPN service. Do you need it for accessing blocked content, do you need it for torrenting anonymously, do you mostly need one for protection?
Regardless of your priorities, there are some general guidelines you should follow when it comes to choosing a reliable VPN. Here are the most important aspects to consider:
Strong security features: 256-bit AES encryption, strong encryption protocols, kill-switch feature, DNS leak protection
Strict no-logs policy; you want a VPN provider that respects your privacy and doesn't keep any connection logs; your personal data should also be kept private and not divulged to any third-parties
A large number of servers in various locations on the globe
Multiple-device connections allowed simultaneously
Torrenting-friendly policy (if you use torrents)
The ability to bypass geographic censorship and to unblock Netflix, Hulu, BBB iPlayer and other such platforms
Fast servers; do some research to find out how well the VPN ranked in speed tests
NordVPN is one of the most renowned VPN services on the market today. This VPN provider is based in Panama and the VPN service was launched in 2012. One by one, apps were subsequently launched for Android, then iOS, browser extension for Chrome and so on. NordVPN currently offers dedicated apps for all the common types of devices/browsers and it is endorsed by names such as BBC, Forbes, The Guardian, The Huffington Post, WIRED and many more. Also, in 2018, it was named the first official partner of Liverpool F.C., in terms of cybersecurity, according to Wikipedia. So far, NordVPN is used by more than 12 million users worldwide.
Best Review Guide has placed NordVPN on the second position in its lineup, after ExpressVPN.
PROS
Great security features
Strict no-logs policy
Great at unblocking geo-restricted content (works with Netflix and works in China)
Great customer support with impressive response times for live chat
Impressively large server network (over 5,000 servers worldwide)
CONS
There are more affordable options out there
The kill-switch feature is not included with all its apps
Summary of NordVPN
The impressive number of servers (thousands worldwide), the top-notch security features, strict no-log policy and the user-friendly interface make NordVPN a very tough competitor to beat. While NordVPN may not be the most affordable VPN provider on the market, you get your money's worth with this service, through its generous features, fast speed and its trust-worthiness. Knowing that you can surf the internet in peace, that you can torrent anonymously and you can get access to geo-restricted content, more than compensate for its pricing and make NordVPN one of the most attractive options to consider.
Safety is or at least should be the main priority when choosing a VPN service. Security breaches occur on a daily basis, identity theft, credit fraud, phishing attempts being just a few examples. Our devices need constant monitoring and protection, especially when we are using networks that are weak in terms of security. Users who often rely on public WiFi networks to go online should definitely consider using a VPN to connect to the internet, because that is when our data is the most fragile and easiest to hack.
A secure VPN is a VPN that uses strong, uncrackable encryption algorithms, secure encryption protocols and several other additional protection tools.
NordVPN uses military-grade encryption they claim is "virtually uncrackable" and has been commended by other reputable review websites such as CNET, PCMag, BestVPN and others.
NordVPN creates a tunnel that is solidly encrypted and your data first goes through that tunnel, in form of data packets. Only after your data is encrypted you are then redirected to the website of your choice. This encrypted data cannot be interpreted by any third-party, whether it is your Internet Provider, hackers or the government.
Not only does NordVPN use top-notch encryption, but it also offers a 'double VPN' feature, which is basically server chaining. The double VPN feature means that your traffic is encrypted twice, so it is hidden behind 2 servers for additional protection. That also means double protection for your IP address.
Another great and useful security feature offered by NordVPN is the CyberSec feature that blocks any suspicious sites, blocks annoying ads, protects you from malware and also boosts the entire browsing experience. This tool protects you from DDoS attacks (distributed denial of service) by cutting of communication with the server.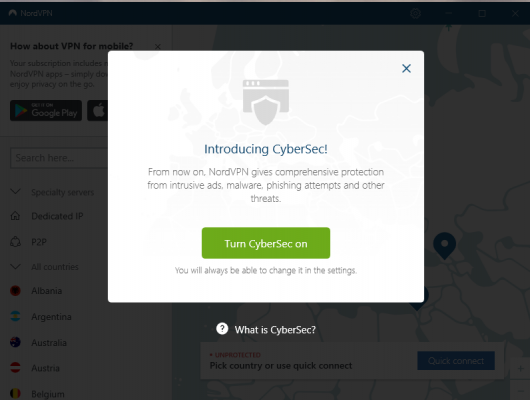 You can choose whether you want this feature enabled or disabled by going to Settings. The ad-blocker doesn't work on Android devices. NordVPN explains that the reason why it doesn't is Google's policy.
Kill-switch feature
Other note-worthy security features offered by NordVPN are the automatic kill-switch (it automatically blocks your internet access in case your VPN connection drops, until you can reconnect to the VPN again), DNS leak protection and onion over VPN (which is useful for users who want to access the dark web).
One note about the kill-switch: there are two types of switches: the Internet kill-switch and the app kill-switch. The internet kill-switch blocks your entire traffic if your VPN connection drops; this is the most important kill-switch to have. The app kill-switch is the other type. This one doesn't block your traffic, it just closes the apps, should your VPN connection get lost.
There is one 'con' of NordVPN related to the kill-switch feature and that is the fact that the internet kill-switch is not included with the mac OS app.
Protocols
NordVPN supports the OpenVPN and the IKEv2 protocols. PPTP and L2TP protocols are not supported, but the first two mentioned are anyway the best ones, so there's no loss there. The PPTP in particular is quite outdated.
Bu default, only the OpenVPN protocol is installed but you can always install the IKEv2 one too, manually.
Privacy
Privacy is an equally important factor to consider when choosing your VPN, along with security. Your online activities are personal and shouldn't be anyone business. That is why it is very important to choose a provider that offers a strict no-logs (zero-logs) policy.
Logs
NordVPN is as serious as it gets on the matter of privacy. This VPN service has a strict no-log policy, meaning it doesn't keep any connection logs on its users.
This VPN provider clearly states on its website that it doesn't store:
Session information
Connection timestamps
Traffic data
IP addresses
Used bandwidth
Confidential data
The onion over VPN and the double VPN features increase the sense of privacy and so does the country where NordVPN is based. Fortunately, Panama is not a member of the Five Eyes or Fourteen Eyes Alliances and doesn't have any laws related to data retention. That is why NordVPN is not obligated in any legal way to collect its users' data.
There were some concerns and rumors related to the fact that when you subscribe to the VPN service through PayPal, CloudVPN appears as the seller instead of Tefincom & Co, which is the company that launched the VPN and it is based in Panama. CloudVPN on the other hand is based in the US, which is not at all privacy-friendly. However, NordVPN ensures its customers that there are no reasons for concern, because CloudVPN is only associated with the VPN for the payment aspect, but it doesn't interfere in any way with how the VPN works and with its privacy policy.
As far as your personal data is processed and handled, NordVPN ensures in its privacy policy that only the standard, necessary information is collected, such as those for payment. Same goes for third-parties used, which are only used for processing the payments. Your data will be kept confidential and will not be shared with third-parties.
Speed and performance
Because of all the tunneling of your traffic and the complex encryption methods used, all VPNs will have an impact on your connection speed. You will notice a decrease in speed when you connect through a VPN to the internet, vs directly, with no VPN. However, if the VPN is a good and a fast one, that decrease in speed will be barely noticeable and won't affect in any way your online activities, whether we are talking about streaming movies, gaming or simply surfing the web.
Speed tests
Fast VPNs are the only ones acceptable in this day and age and NordVPN stands its own when it comes to speed tests. There are some discrepancies though in speeds and they very much depend on the server you are connecting to.
If you go with NordVPN's suggestions in terms of fast recommended servers, you won't necessarily be pleasantly surprised every time. That feature chooses a server for you based on your real location and server loading, but not always based on the performance of that server. Sometimes this feature works great, other times it is better to choose a server manually.
Servers for the UK are the ones that delivered the best results (and European servers in general); servers in the US and Canada are also decent, but not great. ExpressVPN is better than NordVPN when it comes to overall speed.
However, the network of servers offered by NordVPN is huge (over 5,000 servers worldwide) and you can't expect them all to be equally good.
Best-case scenario: your connection will only slow down by less than 5% in download and less than 6% in upload.
Worst-case scenario: that percentage will boost to over 70%, respectively 80%, which is pretty bad.
As a conclusion, when it comes to performance, the results vary considerably with NordVPN. This is not among the fastest VPNs in the industry, but it's not the worst either and on certain servers, in can deliver pretty impressive results.
Available servers
When it comes to its network of servers, NordVPN really shines. This VPN provider competes (and in some cases even wins) with VPNs such as ExpressVPN, CyberGhost and the like, in terms of available servers.
NordVPN has over 5, 400 servers worldwide in over 60 countries. In comparison, ExpressVPN has only around 3,000 servers, while CyberGhost boasts on 5,922, which is a close number.
The NordVPN official website is very comprehensive when it comes to listing all the available servers and you can clearly see where they have servers and how many servers there are in each country.
NordVPN has almost 2,400 servers in Europe alone, with the largest number being located in the UK. There are also a lot of servers in Germany, the Netherlands, France, Sweden, Switzerland, Belgium, Denmark and many other European countries.
There are alsmot 2,000 servers in the Americas, with over 1,500 in the United States and over 350 in Canada. There are also servers in Mexico, Brazil, Argentina, Chile, Costa Rica.
There are over 660 servers in Asia Pacific: Australia (253 servers), Japan, Hong Kong, Indonesia, Singapore, South Korea, Malaysia, Thailand, Taiwan, Vietnam, New Zeeland.
NordVPN has more than 100 servers in Africa, India and the Middle East as well: South Africa, United Arab Emirates, Israel, Turkey, India.
The NordVPN website suggests a recommended server based on your country.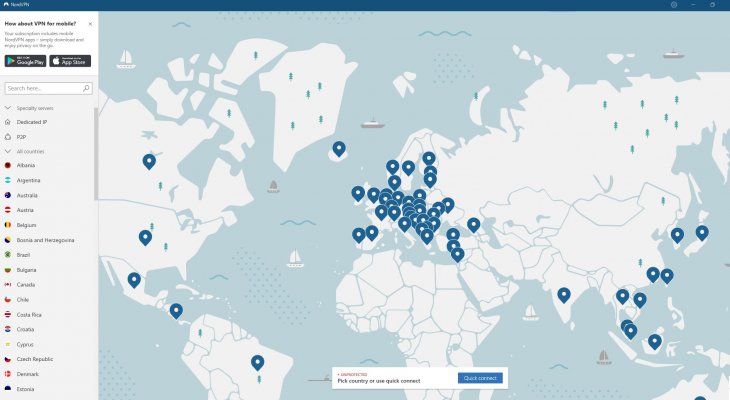 Ease of use
User-friendliness is definitely a big selling point for any product. NordVPN has one of the most straightforward and user-friendly interfaces and it is a great VPN choice for beginners who haven't used one before.
Installation
When it comes to the installation process, everything is as easy as it gets. In order to be able to download the VPN, you have to first opt for one of NordVPN's plans. Once that step is completed, you download the software almost instantly and you can install it on your device.
Appearance
Most of NordVPN's settings are one-click settings, in that you just turn them on or off.
Windows app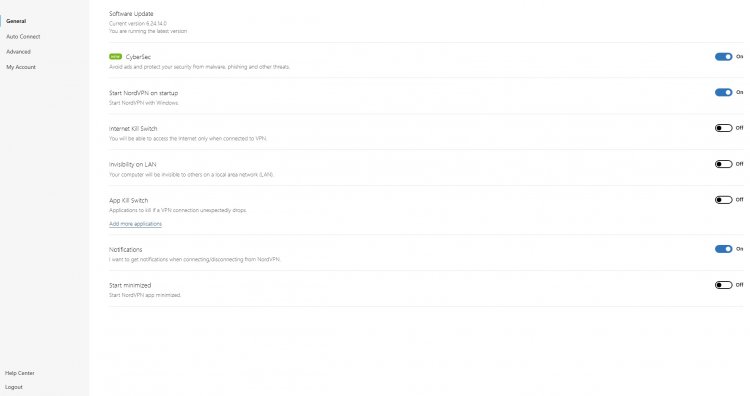 The interface is extremely clean. There is a world map that shows you all the locations of the NordVPN servers and you've got your general information, a My Account section, a Help Center, The Servers, the Settings and the Logout option.
The general info comes with those one-click settings we mentioned: auto connect, the option to start the VPN at Startup, the internet kill-switch (not on macOS though), invisibility on LAN (which you can also turn on or off).
There are also some advanced settings as well, where you can set a custom DNS address, switch between protocols, turn on or off the Obfuscated Servers feature (a feature that may slow down your connection but will give you the opportunity to use the VPN even in restricted locations) and more.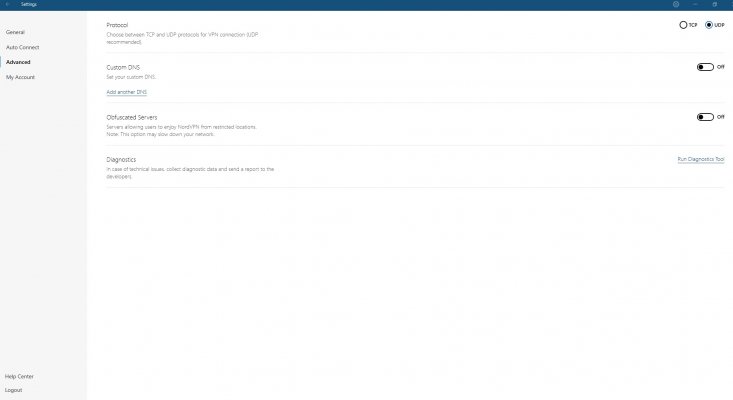 There are 11 tutorials on how to install the VPN on Windows (on different versions such as XP, 8, 10, etc.).
If you want to connect to a certain server, all you have to do is zoom on the location you are interested in. The servers are also sorted in an alphabetical order, if you find that option more convenient.
Another way to choose a server is by activity. NordVPN will give you the best options for activities such as torrenting or you can choose Onion over VPN, double encryption and more.
Connecting to a server takes around 25 seconds, which is not the fastest time but not the worst either.
You can also easily switch between servers without closing the one you are currently connected to (NordVPN will do that for you). All you have to do is find another server you want to connect to, click on it and the switch will be made automatically.
Dedicated apps and browser extensions
Given that we are using a lot of devices to connect to the internet nowadays, it is important for the VPN to be compatible with as many types of devices as possible. Luckily though, NordVPN is one of the most versatile VPNs in the industry and offers support for approximately 20 types of devices and platforms.
Mobile apps
NordVPN has apps for Windows, macOS, Android, iOS, Linux, Android TV. It also works with BlackBerry, Raspberry Pi. This VPN also has proxy extensions for the Chrome and Firefox browsers.
NordVPN for Android
The NordVPN app for Android devices is very popular and highly rated (4.4 on Google Play). One tap is sufficient to open the app once it is installed on your Android device. You've got the same world map with their server locations and you can either use the Quick Connect button or choose a server from the server list displayed at the bottom. The 'specialty servers' option is also available on Android but there are some missing features, just like with most mobile apps, which are usually more limited than their desktop counterparts.
Unfortunately, the Android app doesn't include an ad blocker, malware or phishing blocking.
NordVPN for iOS
The iOS app resembles the Android app although it is a bit more limited. There are fewer specialty servers to choose from. The Obfuscated Servers tool available with the desktop app is missing as well as the option to choose between UDP and TCP protocols.
NordVPN has browser extensions for both Chrome and Mozilla Firefox. When you install the extension, you are going to see a NordVPN icon to the address bar. The extensions are very convenient because you can just open your browser, choose your preferred server and connect straight from the browser window.
The map that is present in most of the other apps is missing here. You've got an Auto Connect option and also a Choose Location option.
The NordVPN extension is useful to protect yourself against phishing attacks, malware, ads and other cyber threats and annoyances.
Specific features
NordVPN is a feature-rich VPN that has a lot of attractive and useful features to offer.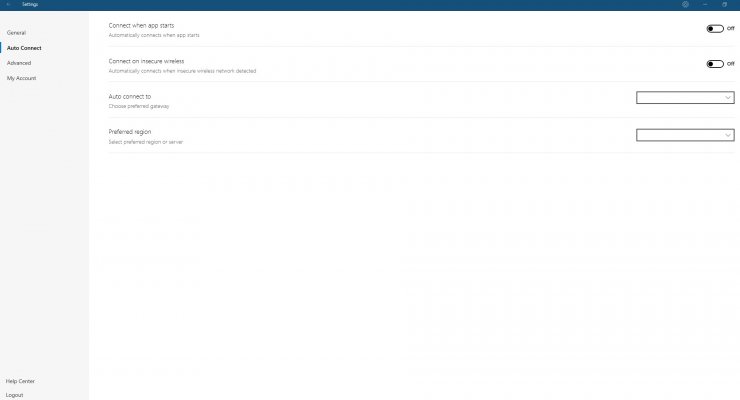 This VPN allows up to 6 simultaneous connections per single account, which is above the industry standard of 5.
The Specialty Servers feature is definitely a note-worthy one to mention. It lets you choose between four types: P2P servers (great for torrenting), Double VPN (double-hop), Onion over VPN (great for users who want to use a VPN to connect to Tor) and Dedicated IP.
The double kill-switch feature is also important. Unlike most competitors, NordVPN offers two types of kill-switches, an app kill-switch and the internet kill-switch.
The Obfuscated Servers feature is also useful if you are using a VPN to unblock geo-restricted content. The SmartPlay feature is also great for accessing content and you don't have to configure anything manually for this feature to work.
Dedicated IP address
NordVPN offers Dedicated IP addresses as well. Regular users have to share their IP address with other users but with a Dedicated IP address, there is only one IP address per account. Dedicated IPs are very popular for business purposes, for those who need remote access.
Geo-restricted content with NordVPN
One of the main reasons why people use VPNs is to gain access to restricted content and bypass geo-censorship.
NordVPN is a great VPN for streaming content and accessing websites that are restricted in some locations. This VPN is great for China, which is renowned for its severe laws and its Great Firewall.
NordVPN is capable of unblocking Netflix almost anywhere: US, Canada, UK, Australia, Japan and many other locations. It did fail in Sweden though. The fact that NordVPN is so successful in unblocking Netflix in almost all regions is a big feat, considering that Netflix is more and more witty in blocking VPN services.
Streaming in HD works flawlessly with this VPN and NordVPN also works with Amazon Prime, Hulu, BBC iPlayer, ABC iView.
Netflix, Amazon, Hulu
Streaming is where the NordVPN proprietary SmartPlay feature comes into play, by giving you access to a lot of restricted content by simply accessing the feature and choosing a server to connect to. No manual configuration is required, which makes this feature so user-friendly and useful.
NordVPN gives you secure access to more than 400 streaming services.
Torrenting policy
The list of qualities continues with NordVPN's torrenting-friendly policy. Not only does this VPN allow torrenting, but it also has P2P listed as a criterion to choose among its specialty servers. Of course you are not limited to those recommended servers and you can try to use any server you want for torrenting, as long as it is allowed in that area.
The fact that this VPN provider is based in Panama is a blessing when it comes to torrenting, because of the freedom offered thanks to the absence of data retention laws. You would be advised to turn on the kill-switch feature when using torrents though, to make sure you stay protected even if you experience any connection drops.
Another great thing is that NordVPN has no bandwidth limit so you can download as much as you want.
Pricing and payment methods
NordVPN offers subscription plans to its customers and it has four plans to choose from: a 1-month plan, a 1-year plan, a 2-year plan and a 3-year plan.
The 1-month plan is priced at $11.95 per month.
The 1-year plan is $6.99 per month.
The 2-year plan is priced at $4.99.
The 3-year plan is priced at $3.49.
All these plans include NordVPN's 30-day money back guarantee.
Once you decide on a plan, you have to create an account, by providing a valid e-mail address.
The next step is to select the preferred payment method. NordVPN accepts various payment methods: credit cards (VISA, MasterCard, American Express, Discvover), Amazon Pay, PayPal, Crypto Currencies.
If you opt for the 3-year plan, you get a generous 70% discount. NordVPN also accepts coupons.
The payment details required by NordVPN are your full name, your card number, its expiration date, its CVV and your postal code.
NordVPN also lets you opt-out of its emails list, in case you don't want to receive e-mails about its services.
Free trial
There is no free trial per se offered by NordVPN but there is a way you can test the VPN for free and that is to take advantage of the 30-day money back guarantee. This way, you can sign up, use the service for 30 days and then request a full refund, in case you no longer want to use the VPN.
Customer support
Another great selling point for NordVPN is its customer support. This VPN provider offers top-notch customer support and has great response times for live chat. The live chat support is available on a 24/7 basis and you can also use their ticketing system if you want, although we advise you to go with the live chat option instead, as it is less time-consuming.
However, the Help section on their official website is so comprehensive and well structured that it is possible for you to get all the answers you want by consulting the knowledge base.
The help section is divided into four main categories: a FAQ section, a General Info section, a Billing Section and the Connectivity section.
There is also a 'Top 5 questions' section on the bottom, that answers to questions such as: how to connect from a country with internet restrictions, what the money-back policy is and more.
There is also an extensive list of setup tutorials that guide you through installing NordVPN on any device/platform.
The Billing category offers answers related to payments and subscription. The General Info category gives you information on SmartPlay and the other features included with NordVPN and the Connectivity category covers all the operating systems/platforms/devices: Wndows, macOS, Router, Proxy, iOS, etc.
Conclusion
NordVPN is without a doubt among the best rated VPN services available nowadays. In most cases, you can find it top 3 best VPN services in the industry and there are plenty of reasons for that.
NordVPN is a very complex VPN service that offers a rich set of features. Some of them are less frequent with other providers: Onion over VPN, double VPN, two kill-switches, SmartPlay are just a few examples.
This VPN offers everything you can look for in a VPN: solid, uncrackable security features and military-grade encryption, support for 20 platforms/devices, access to 400 streaming services, a huge network of servers (over 5,000) a torrenting-friendly policy and an attractive privacy policy. NordVPN doesn't keep any logs on its users' activities and it is based in a location that doesn't have any severe data retention laws.
If we were to mention the weakpoints of this VPN service, we would have to go with its pricing, even though NordVPN is affordable enough for most users. However, there are some better options out there in terms of pricing. On the other hand, there are almost always generous discounts available, especially if you opt for their lengthier subscriptions. The 3-year plan for instance currently comes with a 70% discount.