The benefits of connecting to the internet through a virtual private network (VPN) are unquestionable. Our data is vulnerable to online threats of all kinds, from malware to phishing attacks, identity theft and many other dangers. We are all-the-more exposed when we go online using public WiFi networks, which pose even more safety concerns.
Public, open WiFi networks, such as those available in airports, coffee shops and so on, are usually unencrypted. That means anyone can freely connect to them without being required a password. It also means that everyone can snoop around on your online activities. Your visited pages are easily visible and it only takes someone with decent computer skills to be able to dig in deeper and get a hold of your personal information and even commit ID theft. The risks are even higher if you access websites that require you to login to your account (for instance your e-mail address, online banking, etc.).
Another problem with public WiFis is that you can't be 100% sure they are legit and not set up by hackers as a bait, to get you to connect through them. We have done a lot of work to find out the best VPNs available today and have often heard of the question, who is better NordVPN VS CyberGhost.
The benefits of using a VPN
A VPN can be a very useful protection tool, whether you use it to connect to the internet from the privacy of your home or from a public place, through an otherwise unencrypted network.
In addition to offering protection on the internet, VPNs can do a lot more for us: they can help us torrent in peace, knowing that our real IP is hidden from prying eyes and they help us access restricted content such as websites, games and streaming services (Netflix, Hulu, etc.). A VPN is the easiest and most convenient way to preserve your anonymity online.
How to choose a VPN
Choosing a reliable VPN is not easy though, with such a wide variety of options at hand. There are some general guidelines you should follow, which can make your job considerably easier, regardless of the reasons why you want to use a VPN. Here are the main factors to consider when choosing a VPN provider:
Reputation/ratings, which you can find at with our best vpn reviews here.
Available number of servers; the more, the better; industry leaders have thousands of servers available; the location of the servers is also important; they should be spread all over the world, in as many countries/cities as possible
Security features; these are of paramount importance because security is the number one priority when you are using a VPN; you should look for a VPN service that offers strong encryption features, several protocols to choose from and as many protection tools as possible; DNS leak protection, the kill-switch feature are just a few examples
Fast servers; VPNs are known to generally slow down your connection because of the tunnel your data goes through before you can gain access to the website you want; but that speed can slow down insignificantly or it can be annoyingly noticeable; speed tests are very useful in determining how good a VPN is, performance-wise; you can either read reviews and see what others have to say about the VPN or you can test the VPN yourself, if there is a free trial available; you can connect to the internet through the VPN and then perform a test using tools such as https://www.speedtest.net/ or other similar platforms
Privacy policy is another important aspect to consider; always aim for VPN providers that offer a strict no-log policy; that means they don't track your online activity and don't keep any logs related to it, which is what you want
Torrenting policy, if you use torrents; all reputable VPN providers have a P2P-friendly policy, which ensures you can torrent safely, while maintaining your anonymity; there are a lot of VPN providers that even have dedicated servers for torrenting
The ability to unlock restricted content; the restriction may apply to a game, a streaming service, social media platforms or any other website; bypassing Netflix censorship is usually a big selling point for a VPN
How many simultaneous devices are allowed per single account? The average is 5, but there are VPN providers that allow up to 7, 8 or even an unlimited number of devices
Customer support; you have to be able to rely on the customer support staff regardless of the problem you encounter; around the clock support via live chat is a desirable feature in a VPN; the VPN provider should also have a comprehensive Support Center/Knowledge Base, with helpful guides, tutorials, a FaQ section, Troubleshooter and so on
CybergGhost VPN General Info
CyberGhost is a VPN provider with over 8 years of experience in the industry. The service was launched by a company based in Bucharest, Romania and is currently owned by the Crossrider Group.
CyberGhost VPN is one of the most powerful VPNs on the market right now and among the best rated VPNs in the industry. Best Review Guide placed CyberGhost VPN on the 3rd position, surpassed only by NordVPN and ExpressVPN. There are various reasons why this VPN ranks so well: it has an impressive number (if not the highest) of servers all around the world (almost 6,000 servers worldwide) it can unlock geo-restricted content, it is secure, it allows torrenting and much more.
PROS
It is user-friendly
It has solid security features
It has a strict no-log policy
It offers unlimited bandwidth
It allows up to 7 simultaneous connections per single account, which is above the industry average of 5
It is among the fastest VPNs in the industry
It can unlock geo-restricted content
It allows torrenting and has dedicated servers for it
It offers apps for all the common devices
It has thousands of servers to choose from
It has several protocols available
It offers a generous money-back guarantee (45-day money back guarantee)
CONS
They could use some improvements when it comes to customer support; answers could be more complex and helpful;
The free trial is only available for 24 hours for Windows and Mac clients
Summary
CyberGhost VPN is based in Romania and it is one of the best rated VPNs available right now. This VPN checks all the important boxes when it comes to security, privacy, torrenting policy, the ability to unlock restricted content, speed, available number of servers, features, user-friendliness and so on. CyberGhost has over 5,900 servers spread all over the world and it is one of the fewest VPNs out there that can actually increase your connection speed, rather than slowing it down, as it is the case with most virtual private networks.
Safety
One of the most important qualities to look for in a virtual private network is security. It is important to be able to surf the internet without constantly being afraid that your identity and data are exposed and vulnerable to all the cyber-threats hatched by devious minds. And there are a lot of threats to be afraid of out there, such as ID theft, phishing scams, email spam, credit card fraud, bank account hacking and many more. VPNs have proved to be useful regardless of the device you are using to connect to the internet. All reputable VPN providers offer dedicated apps for all the common devices, so you should be covered whether you are a Mac user, a Windows, Android or iOS one.
When you connect through a virtual private network, you can securely and remotely connect to a private network, even when using a public network. The VPN is what creates a safe connection between your device and a private server in whatever location you choose (most reputable providers offer thousands of servers worldwide) and encrypts your data using strong encryption protocols (OpenVPN, IPSec and so on). This way, by using that server, you mask your online activities and preserve your anonymity. Your browsing activity, location, files and so on, will remain protected from prying eyes. This is especially important when you are connecting to the internet through public WiFi networks for instance. (We covered the topic of open, unsecured networks above, at the beginning of this review)
CyberGhost has solid security features to offer. It uses AES 256-bit military-grade encryption and has several protocols available (OpenVPN, IKEv2, L2TP/IPSec). This way you make sure you stay anonymous and your data is encrypted at the highest security standards at all time. AES is short for Advanced Encryption Standard and this security measure is certified by the US National Institute of Standards and Technology. In fact, it is so effective, that it is used even by governments and the military. Bottom line, the 256-bit encryption used by CyberGhost is pretty much uncrackable.
In addition to this bulletproof encryption, CyberGhost also uses other security tools to enhance your protection, such as a kill-switch feature, DNS and IP leak protection.
Another useful thing about this VPN (security-wise) is that it is compatible with the Tor browser. Tor is a web browser similar to Google Chrome and the like, but it is safer. Tor stands for 'The Onion Router' and it is called like that because it covers your data in several layers of encryption (just like an onion has), which keeps it more protected. Tor redirects your traffic to its network of servers before redirecting you to the website you want to visit.
CyberGhost has a malware blocker as well and it checks all the websites you access for any potential threats, filtering the risky ones and blocking them.
Protocols
CyberGhost offers several encryption protocols. OpenVPN is one of them, which is among the most versatile ones available and an open source one. This protocol works on pretty much all the platforms and it is also compatible with routers.
IKEv2 is another protocol used by CyberGhost. This protocol was created by Microsoft and Cisco and it is compatible with both Windows and iOS devices. It is one of the best protocols to use with your mobile device, because it can reconnect easily and fast during network switches. This protocol becomes even more impenetrable when used with the IPSec protocol.
Another reliable combination used by CyberGhost is L2TP/IPSec. The first one is an upgrade to the outdated PPTP and L2F, also developed by Microsoft and Cisco. The L2TP (Layer 2 Tunnel Protocols) is usually paired with the IPSec protocol.
Logs and privacy
Privacy is another plus for CyberGhost. One of the main reasons why we connect through a VPN is to be able to preserve our anonymity when we are surfing the web, when we are using torrents and so on. As stated on its website, this VPN has a 'strict no logs policy'. That means that CyberGhost doesn't store data about your browsing activities.
CyberGhost clearly states in its Privacy Policy that "when using the CyberGhost VPN, the user's traffic data such as browsing history, traffic destination, data content and search preferences are not monitored, recorded, logged or stored" by the company. "More than this, when using the CyberGhost VPN, we are not storing connection logs, meaning that we don't have any logs tied to your IP address, connection timestamp or session duration. We do not have access to the credit card information you submitted to our payment processor and we do not connect your payment or information with any kind of online activity done by you inside the CyberGhost VPN tunnel".
This VPN gives you an anonymous ID when you sign up for the service and you can't be tracked through your payment details either. There are some standard logs kept but nothing personal, just some about your connection attempts and things like that. The fact that the VPN is based in Romania is a great advantage as well, because Romania is not a member of any surveillance alliance, so it doesn't have the obligation to collaborate with the authorities.
Kill-switch feature
The kill-switch feature is a standard one when it comes to VPNs and all reputable providers offer it. The kill-switch feature has the purpose of protecting you from any potential threats and from being exposed on the internet. You can find this feature in VPN providers such as ExpressVPN, PureVPN, IPVanish, VyprVPN, Private Internet Access and many more. CyberGhost is among those who offer this useful tool. The kill switch feature can be use in the automatic mode or manual; the latter means you have to manually turn the feature on and off from the Settings. CyberGhost offers an automatic kill switch tool. This feature works by disconnecting you from the internet in case your VPN connection drops for any reasons. You will be reconnected to the internet only after the VPN connection is reestablished. This way, you don't risk having your IP address exposed and your data hacked, so you can still maintain your anonymity.
Confidential data
CyberGhost is very serious about privacy and preserving its customers' personal data. Their privacy policy states that they collect the following data when you subscribe to their service: your name, username, address, e-mail and payment information, IP address which is captured and stored in an anonymized format. All the data collected by CyberGhost is just collected for administrative purposes and as a precautionary measure to detect fraud. CyberGhost ensures users that the data they collect "is not, at any point, associated with any kind of activity done by the user inside the CyberGhost VPN tunnel which is NOT recorded, logged or stored at all". The company does not share this information with third parties and users can also opt out of any e-mails they might receive without their consent.
Speed and network
One of the biggest selling points of CyberGhost is its impressive speed. All VPNs are put through serious performance tests by specialized websites and they are rated accordingly. So far, CyberGhost has managed to keep its high rank when it comes to speed results. The best results were registered on their European servers (well over 70 Mbps) but their US servers also go up to approximately 70 Mbps. Most VPNs are known to slow down your connection, because you have to connect to their server first and only then go to your preferred website. But it is not the case with CyberGhost. In some cases, this VPN has even increased the connection speeds.
The lowest speeds are of course registered on the servers that are the furthest from your actual location. When judging a VPN's speed, you also have to consider the overall quality of your connection speed. That speed can vary depending on various factors: your country, your location in that country, your ISP, the infrastructure in your area, the allowed traffic and so on.
CyberGhost has a great feature that can boost your load time. The feature is called 'data compression' and it compresses your images and etc., thus minimizing your internet usage.
Speed tests
Tests show an average speed of 75 Mbps for downloads for most locations. There were servers tested from all over the world, including North America, Europe and Asia. When you are connecting to servers from the US, you can even stream in 4K.
Some servers even registered download speeds higher than 90 Mbps.
The most disappointing areas were servers from South America and Indonesia. Australia also proved to be slower.
Overall, CyberGhost is among the top providers when it comes to speed, but it is surpassed by ExpressVPN.
Servers
When it comes to available servers, CyberGhost really shines. This VPN has over 5,500 servers worldwide and covers most of the globe. CyberGhost currently has servers in 81 countries and 103 locations and has dedicated servers for Netflix, torrenting and so on. The website is so well organized and comprehensive that you can find a list with the servers that can unlock different streaming services. You've got the name of the service in the left and the country where you'll find servers that can unlock it. For instance:
Netflix FR, DE, UK, US – France, Germany, UK, United States
HBO Now – United States
Amazon Prime – United States
BBC iPlayer – United Kingdom
CBC – Canada
Eurosport – United Kingdom and so on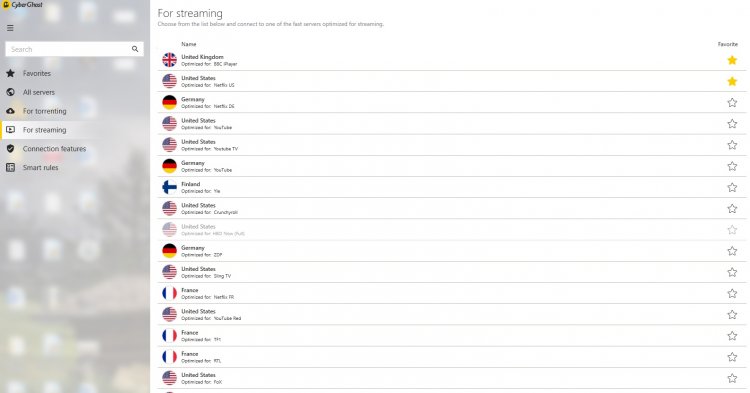 There are over 30 streaming services that can be bypassed with CyberGhost and you can also unlock websites that are geo-restricted, such as Facebook, Pinterest, YouTube, Instagram, Tinder, Spotify, Pandora and more.
If you are a sports fan, you can also grant access to the Champions League, Europa League, LaLiga, Tour de France, La Vuelta, UFC, PlayOffs and other restricted sporting events around the world.
There's also a list with all the available servers in all the countries and cities:
Argentina – 1 city, 10 servers
Australia – 3 cities, 104 servers
France – 2 cities, 418 servers
Mexico – 1 city, 40 servers
Netherlands – 1 city, 226 servers
United Kingdom – 3 cities, 750 servers
United States – 11 cities, 1,112 servers
All the CyberGhost servers support their available protocols (OpenVPN, iKEv2, L2TP/IPSec) and they all use 256-bit AES encryption. All the servers are accessible from all the common device, whether you are using a Mac device, a Windows one, an iOS or an Android mobile device, Linux or routers.
CyberGhost VPN, ExpressVPN and NordVPN are almost unanimously voted as the best VPN providers in the industry right now. The competition is really tight and all three providers are almost equally good in all aspects: security, privacy, features, speed, customer support, pricing and so on. When it comes to number of servers, all three offer thousands of servers around the world. However, CyberGhost has managed to take the lead in this aspect, with an impressive number of 5,922 servers worldwide. NordVPN takes the second position, with 5,445 servers, while ExpressVPN only offers over 3,000 servers (at the time of writing this review).
Dedicated IP address
Although this benefit was missing until recently with CyberGhost, the VPN provider now offers dedicated IP addresses to its users. The dedicated IPs are available so far in the US, the United Kingdom, Canada, Germany and France.
Ease of use
A user-friendly interface is also an important quality to look for in any software. CyberGhost is very user-friendly, regardless of the app you are using. This VPN is easy to install, thanks to its one-click installation and so is connecting to a server. You can either use the automatic connection option and let CyberGhost choose the best server location for you or you can choose a server manually. The VPN is also customizable in terms of protocols, whitelists, port configuration and more.
Installing the VPN on your device can be done within just a few minutes, no matter what device you are using.
Website
The CyberGhost website is very comprehensive and informative. You can find anything about this service, its features and capabilities. There are well organized sections for all the important aspects, from available products, Features and Pricing, to available servers and a consistent Support and Help section, full of product guides, FAQs and so on.
Installation
As we've already mentioned it, installing and launching the VPN is a very quick process, you can have it installed and running in under 5 minutes, regardless of the device you are using the VPN on.
In order to be able to connect through the VPN, you have to sign up and you can do that without paying right away. However, you will be soon after required to choose a subscription, by opting for one of their available plans.
Appearance
User-friendliness is definitely a plus for CyberGhost. The interface is extremely straightforward, clean and well organized. You've got your menu in the left, with sections for Favorites, All servers, Servers for torrenting, for streaming, Connection features, Smart rules, your Account and the Settings.
You can choose between 'All servers', servers 'for torrenting' and servers 'for streaming'. All of the available options are displayed in the left.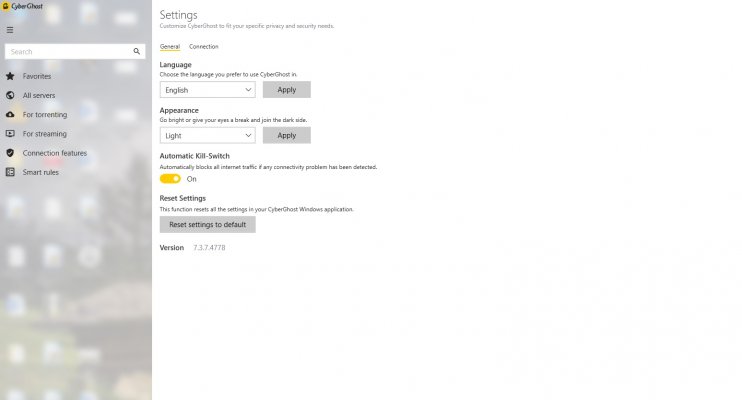 You can set the appearance of the interface from the general settings, the language, whether to run CyberGhost at startup and more. The Settings are divided into: General, Exceptions, Proxy, Connection, Wi-Fi and App Protection.
On the Exceptions list you can add internet addresses that will not go through the VPN and will remain unencrypted.
The Connection settings require some knowledge on your part and beginners should just go with the default options if they don't understand what's going on in there. The Connection settings allow you to change the protocol, choose between the TCP and UDP connections when you are using the OpenVPN protocol, disable IPv6 connections outside VPN and more.
Customer support
CyberGhost offers customers 24/7 customer support by live chat or you can submit a request using their contact form.
The live chat support is available in several languages: English, German, French and Romanian.
In addition to direct support, CyberGhost offers a comprehensive support center on its website. There is a very solid FAQ section where you can find answers to topics of all kinds: from server issues to available plans and orders, privacy and anonymity, torrents, P2P and gaming and much more.
There are useful guides for all their apps and a troubleshooter.
Response times are okay with CyberGhost, although they could give more comprehensive answers when they are being contacted. Overall though, customer support is pretty standard with this VPN provider.
Specific features
CyberGhost offers unlimited bandwidth and allows up to 7 simultaneous devices on a single account.
This VPN offers split tunneling for Android devices, a whitelist for the Windows app, online tracking, data compression, an ad blocker, a block malicious websites feature.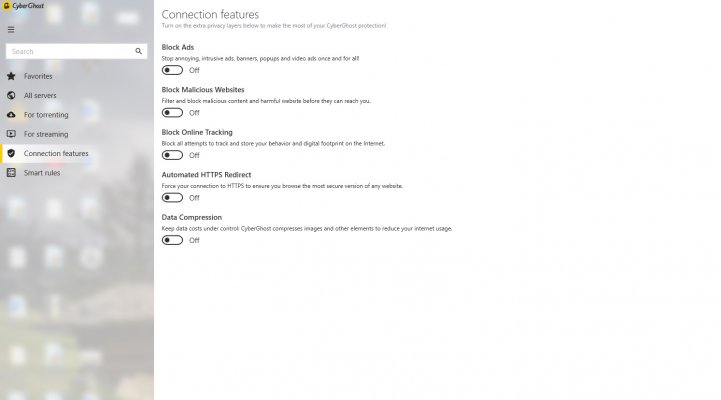 Mobile apps and browser extensions
CyberGhost has apps for all the common devices: Windows, macOS, Linux, mobile devices such as Android-based ones and iOS.
The VPN also works on Google Chrome, Firefox, has apps for Amazon Fire Sticks and Android TVs.
The mobile apps for the CyberGhost VPN are more limited and have a much simpler interface than the desktop clients.
Netflix
CyberGhost is able to unlock Netflix, including Netflix FR, Netflix DE, Netflix UK, Netflix US. You can choose among servers that are optimized for Netflix and you can find them by typing 'Netflix' in the search bar.
Torrenting
Not all VPNs allow P2P file sharing. CyberGhost has a torrenting-friendly policy and it has dedicated servers for torrenting. This VPN provider also offers NoSpy Servers, as an optional feature, which come with dedicated uplinks, premium hardware and a higher speed. These servers can offer more protection to users interested in torrenting.
Amazon
CyberGhost can unblock Amazon Prime in the United States.
Hulu
This VPN is also able to stream Hulu.
Pricing and payment methods
There are three types of plans you can choose from with CyberGhost VPN: a 1-month plan, a 1-year plan and a 2-year plan.
The 1-month plan is billed $12.99.
The 1-year plan is billed $5.99 per month.
The 2-year plan is billed 3.69 per month.
You can also opt for add-ons such as dedicated IP, for an extra $5.5.
There is a generous 45-day money back guarantee, which is above the industry standard and you also get a 24-hours free trial to test the VPN. The 24 hours trial is available only for Windows and Mac devices. If you are using the VPN on Android or iOS, the trial period extends to one week.
As for payment methods available, CyberGhost accepts credit cards (VISA, MasterCard, American Express), PayPal and BitPay (Bitcoin).
Conclusion
CyberGhost has a lot going on in its favor. It is a very competitive VPN service and a high-ranking one, sharing the winners' circle with other major players such as ExpressVPN, Ghost vs NordVPN, PrivateVPN, etc.
It is an affordable service, very serious about respecting its customers' privacy and offers solid security features. It uses military-grade encryption, it has a strict no-log policy, it can unlock geo-restricted streaming services, websites and games and allows up to 7 devices simultaneously. It surpasses major competitors in terms of available servers, with an impressive number of almost 6,000, it is user-friendly and versatile. CyberGhost offers apps for all the common devices, including Macs, Windows PCs, Android, iOS mobile devices, routers and so on.
CyberGhost is well received and has mostly positive reviews from users and review websites. Its client base is constantly growing and CyberGhost is currently the favorite VPN of more than 30 million users across the globe.