All About DSLR Cameras

Oh, how times are changing! Gone are the days of film cameras or paid photo sessions for every little memorable event in our life that needed to be immortalized. Now, technology has made it possible for everyone to just grab their smartphone out of their pocket and take a clear, crisp snapshot in a blink of an eye. No fancy, expensive additional equipment required. But those who respect themselves as professional or even aspiring photographers, will never be satisfied with a smartphone or point-and shoot camera. They'll always go for something a bit better, such as a DSLR camera. If ten years ago DSLRs were mostly seen only on the necks of experienced, full-time photographers, nowadays, anyone who has a higher standard than a cheap, limited phone camera, can afford to invest in one. DSLRs were the ones that pushed old-school, traditional film cameras off the shelves and they are still very popular today.
What does DSLR stand for?
A DSLR is a digital single lens reflex camera that (as the name suggests it) has a single-lens in front, which focuses the light on the digital sensor. The difference between other cameras (point-and-shoot, mirrorless, SLT) and a DSLR is the reflexing mirror inside the DSLR camera's body, which reflects the light that comes from the lens and sends it to the image sensor. By using this mechanism, you can see in real-time exactly what you capture, with no lag, like in the case of point-and-shoot cameras, for instance.
Advantages over other cameras
While point-and-shoot cameras can capture only 1 frame/second, DSLRs are able to take 3 frames or more/sec, meaning they have a higher speed.
Another advantage is the fact that DSLRs allow you to use a wide range of lenses, while others are limited to the type of lens that was built in.
The image quality is another difference between DSLRs and other cameras. DSLRs have an overall better quality: they have larger sensors (the larger the sensor, the more light is captured, thus, the better the picture) and perform significantly better in low light (there won't be as much image noise).
Last, but not least, DSLRs offer way more control and have more options than other cameras. While you can still choose to use the Auto mode, you can also control and adjust each and every setting, from ISO to depth of field, shutter speed and so on.
However, not everyone prefers a DSLR camera over a simpler or a phone integrated one. The reason is that DSLRs are very complex gadgets that require time, patience and some skills, in order to be properly used and to obtain the best results. The beauty of a DSLR is that it gives you full control and a ton of options. The bad thing is that you need to put in the time and learn how to use it, if you want to be able to take real good photos.
Other drawbacks to DSLRs are the fact that they're more expensive, bigger and heavier than other cameras.
Basic terms to know
Here are the most important terms you should familiarize yourself with, if you're planning to get into photography and DSLRs:
ISO – the ISO refers to the sensor's sensitivity to light; the ISO setting controls the exposure; a higher ISO will allow you to take photos in a lower light, but the quality of the picture will deteriorate with a high ISO (you'll get more noise)
F-stop or the aperture – controls how wide open your lens is. The smaller the hole, the less light will pass through, thus your image will be darker and vice versa. It also controls the depth of field: a lower f-stop will result in a blurrier background
Shutter speed – refers to how long the camera will be exposed to light, or how long the shutter will be opened; the shutter speed is measured in fractions of seconds: for example 1/200 seconds. A slower shutter speed means a brighter image, but can also result in a blurry image, especially if you're taking action shots. That is why for movement images (such as sports) you should use a higher shutter speed
Burst rate – measured in frames per second (FPS) refers to how many photos can the camera take in a short time
Resolution – this one is easier and it refers to the number of pixels the camera can record. It is measured in megapixels (MP). Generally speaking, the more pixels, the better, but not every camera that has a large number of pixels is necessarily good. There are aspects that are more important for being able to obtain a quality image, such as the sensor size of the camera.
DSLR Cameras - What To Look For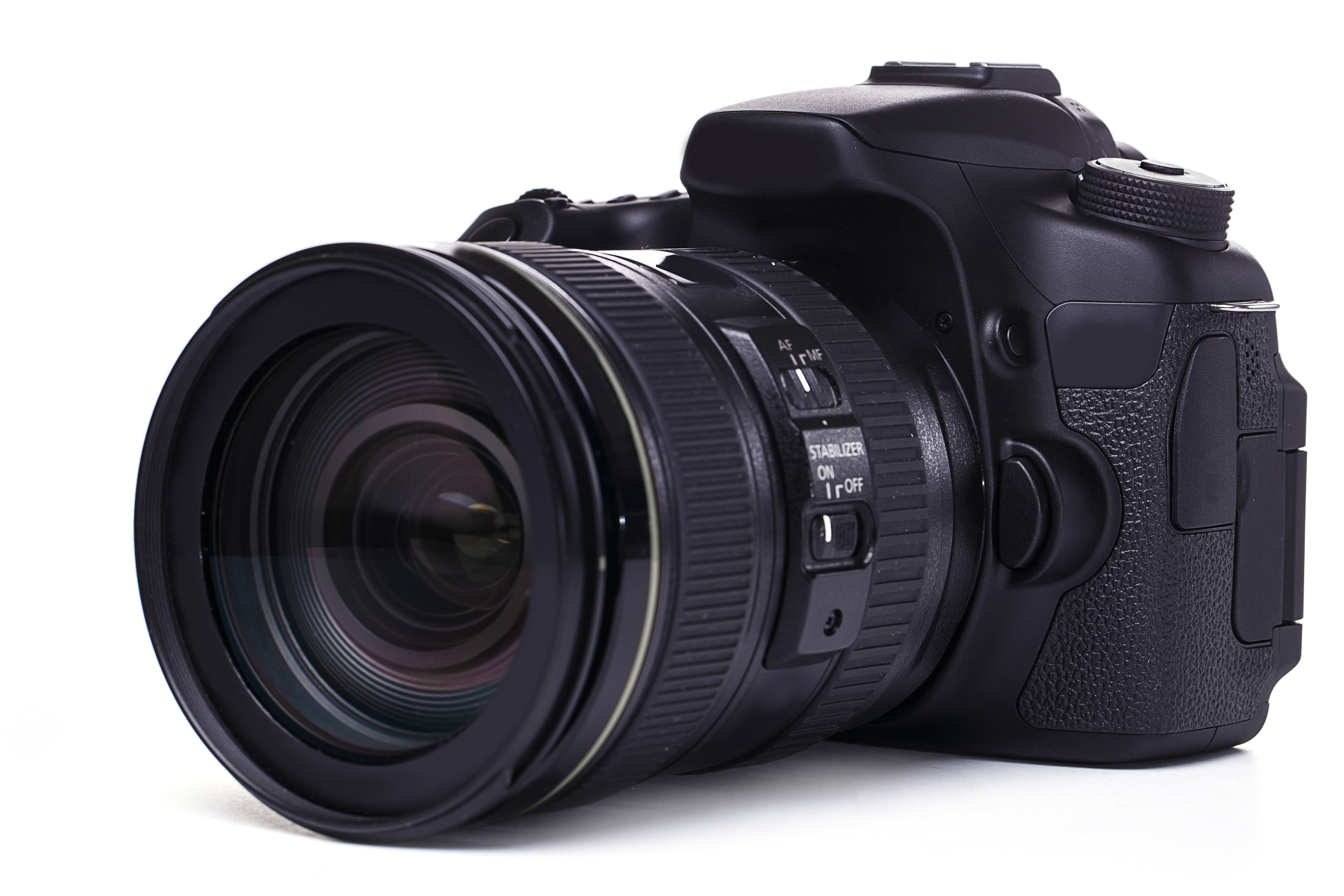 If smartphones and point-and-shoot cameras no longer satisfy your photographic needs and you're thinking about upgrading to a DSLR camera, there are a few things you should consider.
What type of DSLR do you want? Know your budget. There are three main types of DSLRs on the market: amateur/entry-level, semi-professional and professional cameras. If this is your first DSLR camera and you just want a better camera as a hobby, an entry-level model should do the job. You can get a decent camera kit (which consists in the camera itself plus one or more 'kit' lenses) for as low as $500. A semi-professional DSLR will cost you around $1,000 and that is just for the body of the camera. Professional DSLRs go even higher in price and can go from $3,000 to even 10,000 just for the body.
Be aware of accessories and additional costs. Photography can be a pretty expensive field. While a decent camera kit will do the job, don't think it's going to end there. As you become more professional or passionate, you will realize you'll want to invest more: you'll most likely want better/more lenses, you'll need a good bag to carry all your equipment in, an additional battery and memory card, filters, etc.
Be careful about the brand you choose. There is an endless war between the two most popular brands of DSLRs: yes, you guessed it: Canon and Nikon. In our opinion, they are equally good, each with its own set of advantages and disadvantages. It is all a matter of personal preference, otherwise, if one was significantly better than the other, it would have driven the other one out of business. The general opinion is that Nikon DSLRs are more user-friendly that Canon and have a superior focusing system, while Canon is a bit more affordable and has a wider, better choice in terms of lenses. Pentax is another brand to consider when it comes to DSLRs. Regardless of your choice, you should be aware that once you've settled for a brand, you can pretty much buy only the tools that are designed for that brand. If you have a Canon, you can only buy lenses that have the lens mount specific to Canon. Same goes for batteries, external flash and so on. So make a wise decision.
Sensor size. The size of the image sensor is among, if not THE most important aspect to consider when choosing a DSLR camera. The larger the sensor, the better the quality. However, cameras that have larger image sensors, are obviously pricier. The larger sensors in consumer DSLRs are the full-frame ones: 36mmx24mm. Canon also refers to them as FX. These are usually found in high-end cameras that are really expensive.
The next, smaller options are cameras with crop-frame sensors (named DX cameras by Nikon), which are the most common ones in entry-level DSLRs. Crop-sensors can have several sizes, depending on the brand and model of the camera. One of the most common crop-sensor in entry-level any mid-level cameras is the APS-C. For Canon DSLRs it is 22.20mm x 14.80mm in size, while for Nikon it has a different size: 23.60mm x 15.60mm. There is also the four thirds sensor which measures 17.30mm x 13.00mm., which is another common sensor.
Quality of materials and design. Cheaper DSLR cameras are usually and mostly made of plastic. More expensive ones however have a magnesium aluminum alloy body, which is more resistant to shocks and more solid. Another aspect to consider when it comes to build quality is whether you DSLR is weather-sealed or not. If you want to be able to shoot in light rain, humid, dusty environments and so on, it is important to have a 'weather proof' camera. The design of your DSLR is also important, because it has to feel really comfortable in your hands, if you want to be able to take good pictures and use it for a longer period of time.
Don't fall for that 'megapixels' marketing scheme. While resolution is important, it shouldn't be your top priority when choosing a camera. Manufacturers race each other in terms of how many MP their cameras have and most consumers tend to go for the higher number, without looking at the other specs and features. The size of the sensor or lens quality for instance, are way more important. If megapixels were the most important, all cameras with the same number of pixels would take identical photos, which is obviously not the case. Besides, you should rest assured that all DSLRs on the market today have more than enough MP to satisfy your needs.
Video capabilities. If you also want to record videos with your DSLR, you should be able to find entry-level options that can record in full HD 1080p, not just 720p. You should also pay attention to the recording frame rate. The higher the frame rate speed, the smoother the video.