Introduction to ExpressVPN Review
Users have different expectations when it comes to VPNs. Some want to use a virtual private network merely for protection (especially when they connect to the internet through public, unencrypted, unsecure WiFi networks), others need it to bypass geo-blocks and get access to restricted content and others want to use a VPN to protect their anonymity when torrenting.
How to choose a VPN
Some VPNs shine when it comes to security, while others are popular for their fast servers or generous number of features included. However, all reliable VPNs should meet some general requirements:
They should use top-notch encryption methods
The VPN provider should offer a strict no-logs policy
The VPN should have a large number of servers to choose from, in as many different locations on the globe as possible
The VPN provider should allow at least 5 simultaneous devices on a single account
The VPN should come with unlimited bandwidth
The VPN provider should offer around the clock, reliable customer support
The VPN provider should have a torrenting-friendly policy (you should only care about that if you download torrents)
The VPN should support multiple protocols
The VPN provider should offer dedicated apps for any type of device and also browser extensions
ExpressVPN is a VPN service developed by a company based in the British Virgin Islands. The service was launched 10 years ago and has become one of, if not the best, VPN service on the market right now. It is the number one VPN service in our lineup, holding the highest rating. It's also been named 'editors' choice' by other reputable review websites such as TechRadar and Comparitech.
ExpressVPN Pros vs Cons
Pros
Impressive speed; one of the fastest VPNs in the industry
Large number of servers spread in 94 countries worldwide
Reputable, experienced provider with mostly positive reviews all over the internet
Offers support for all types of devices
Very user-friendly interface
Solid security features
Very serious about protecting your privacy
Top-notch customer support
Cons
The price point might be a bit higher than others, but with the higher price comes a superior product.
Summary
ExpressVPN is the best VPN service in our lineup and the number one VPN for many other review websites. This VPN is one of the most popular ones in the industry, because it is very complex in terms of features, it is fast and secure and offers apps for all types of devices. The customer support is also high-quality and reliable.
Safety
Security is our main concern when we are surfing the internet. Our data is constantly exposed to threats, because we have to share so much sensitive information online: personal details, financial details and so on. Credit and financial fraud, identity theft, phishing scams are just a few examples of dangers that lurk on every corner of the internet. Protection has to be a top priority no matter what kind of device we are using to get online: whether it is a mobile phone, a laptop, a tablet or our desktop computer. And luckily enough, all reputable VPN services nowadays offer dedicated apps and extensions for pretty much any type of device, operating system and web browser.
VPNs make sure you stay safe on the internet by encrypting your data using strong protocols and by offering additional security tools as well, for more added protection. With the help of a virtual private network, you first connect to a remote server and only after that you can start browsing the internet and access the websites you want. VPNs change your real location by assigning you a virtual IP address, depending on the server you want to connect to. For instance, you may be located in Asia and connect to a server from Europe and you'll get a European IP address. This way, you maintain your anonymity while surfing the web, by hiding your true identity. That means you become significantly harder to track by malicious hackers or any other snoopers out there.
ExpressVPN can really hold its own when it comes to security features. This VPN service offers the highest and most uncrackable encryption available: AES-256 bit. The VPN also supports PFS (perfect forward secrecy) which is a very useful security tool that ensures even in case the private key of the server is corrupted, your session keys won't get compromised.
This VPN helps you surf the internet faster and safer because it runs its own private and encrypted DNS (on all its servers). No DNS leaks were registered during testing. IPv6 leak protection is another useful tool offered by ExpressVPN.
A really great and useful feature that helps you enhance the level of security and privacy of your connection is Tor compatibility (for desktop clients only, so far). Unfortunately, not that many providers offer it, but ExpressVPN is on the list of winners in this case. Not only that, but this VPN comes with its own Tor onion website in that network, which can be of massive help if you struggle with censorship in your country.
Kill-switch feature with ExpressVPN
In addition to strong encryption, ExpressVPN also has other useful security tools. One of them is the network lock, which is basically their name for the kill-switch feature. The kill-switch ensures you don't risk exposing yourself and your data, in case your VPN connection drops. Should that happen, the network lock feature will block all your internet traffic until your VPN will work again. Once the VPN connection is restored, the kill-switch feature is disabled and you can start using the internet again.
Protocols
Protocols are extremely important when it comes to securing your connection. They are the technology used by a VPN service to protect your data. There are several available encryption protocols nowadays, some faster and some safer than their counterparts.
ExpressVPN supports several protocols. You can choose between OpenVPN TCP, OpenVPN UDP, PPTP, IPSec/L2TP. Just like with any VPN, you can enable or disable the 'automatic' setting. With the feature on, the VPN will choose the best protocol for you, depending on the settings of your network. More often than not, the OpenVPN UDP protocol is the best choice.
Not all protocols are best at the same things, so you've got to figure out which is more important to you, speed or security and choose the protocol accordingly.
Privacy
Logs
Privacy is an important factor to consider when choosing your VPN provider. Your online activities should be no one's business but your own and you should be able to maintain your anonymity and privacy regardless of the provider you opt for. Best VPN providers are the ones that offer a strict no-log or zero-logs policy. That means that the VPN provider won't store any of your activity logs and your browsing will remain anonymous.
ExpressVPN is very preoccupied with respecting its customers' privacy and states on its website that believes 'everyone has a right to privacy'. This VPN provider also ensures that it doesn't log your IP addresses, your browsing history, your traffic destination or metadata and DNS queries, the duration of your sessions.
Just like most VPN providers, ExpressVPN does collects some minimal data, other than personal information: the dates (but not the time) when you connected through their VPN, the location of your server, the total amount of MB of data you used in a day. However, all this information is standard and does not indicate someone's online activity or behaviors.
Another great thing about ExpressVPN, privacy-wise, is that this VPN provider is based in the British Virgin Islands, which has very non-invasive laws and places a lot of importance on respecting customer privacy.
There are no data retention laws it has to obey, which means your data is kept safe and private. The British Virgin Islands are not part of the 5/9/14 eyes surveillance alliances.
Confidential data
ExpressVPN clearly stresses in its privacy policy that 'we do not sell your personal information to third parties'. The personal information collected by them is mostly related to contact details (your e-mail address) and payment information. The information you are required to divulge depends on the payment method you opt for, so if you want to give away as little as possible, the best option is Bitcoin. With cryptocurrency you can entirely maintain your anonymity, as you don't have to share any personal data.
Speed and network
When you connect through a virtual private network, your data has to travel through that encrypted tunnel first and only after it goes through it, you get to access the website you want to. VPNs are commonly known to slow down your internet connection, which is a small price to pay for your peace of mind, privacy and protection. Besides, when you choose a fast, reputable VPN provider, that decrease in speed is barely noticeable and won't affect your online activities. However, with some VPNs this becomes a very annoying problem, as downloads/uploads speeds slow down considerably, to the point where streaming your favorite show becomes frustrating, if not impossible. That constant buffering couldn't be more annoying…
ExpressVPN has a lot of qualities that made it become a top VPN provider. And fortunately, its speed is definitely one of them.
When we placed this VPN on the first position in our lineup, speed was definitely a decisive factor when we reviewed this VPN provider.
Speed tests
As with any other VPN, ExpressVPN registers the best results in speed tests on servers that are closest to your location. If you are from Europe, average speeds are approximately 140 -150 Mbps on most European servers, which are excellent results! Long-distance servers registered impressive results as well, somewhere in the 120-140 Mbps range for all the servers in the United States and Canada.
Even though the speed results are great as they are, you can even increase those results if you avail of the 'recommended server' tool. This feature tells you which are the fastest servers in your area, so you can connect to them and get the best speed results.
All in all, ExpressVPN is among, if not the fastest VPNs on the market.
ExpressVPN Servers around the world
ExpressVPN is one of the industry leaders on the VPN market and its impressive number of servers is one of the many qualities that have boosted its reputation.
ExpressVPN has more than 3,000 servers in 160 locations, in 94 countries worldwide. That's an impressive number that can compete with that offered by other giants such as NordVPN, CyberGhost and the like.
In comparison, NordVPN currently has 5,435 servers in 59 countries and CyberGhost has over 5,900 servers, in 90 countries worldwide. ExpressVPN is not that far behind and its server list continues to expand.
ExpressVPN has servers all over the world:
The Americas: US, Canada, Argentina, the Bahamas, Mexico, Peru, Panama, Venezuela, Colombia, Costa Rica and many more
Europe: France, UK, Germany, Spain, Italy, Austria, Finland, Switzerland, Sweden, Norway, Poland, Portugal, Netherlands, Malta, Monaco, Luxembourg, Greece, Hungary and many more
Asia Pacific: Australia, Hong Kong, Japan, India, Indonesia, Malaysia, Mongolia, New Zeeland, Philippines, South Korea, Nepal, Taiwan, Thailand, Sri Lanka, Singapore, Pakistan, Vietnam and many others
Middle East and Africa: South Africa, Egypt, Israel, Kenya, Algeria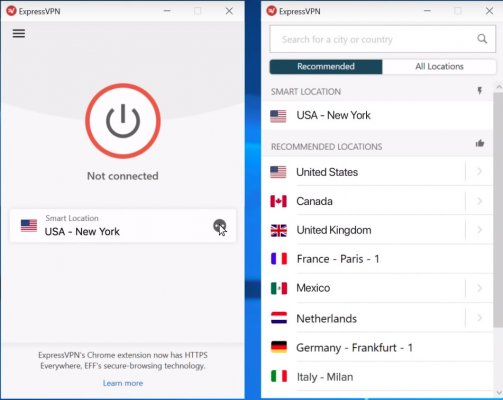 Image source: ExpressVPN
There are also a lot of virtual server locations in many of these countries, which let you connect to whichever country you want to and get an IP address from there, using a server in a different country, with a better connection.
A big plus for ExpressVPN is the fact that it's recently switched to TrustedServer technology, by running all its servers exclusively on RAM. That means there is no risk of having your data logged because each time a server restarts, it's completely fresh, with 0 memory on it, as everything is wiped out.
Dedicated IP address
ExpressVPN doesn't offer dedicated IP addresses, nor does it offer static IPs. ExpressVPN explains on its website though that it rotates its IP addresses on a constant basis and each time you use ExpressVPN, you will be offered the best IP option they have.
ExpressVPN is very user-friendly regardless of the app you are using. When you are on their website and you want to download the app, the site identifies what kind of device you are using and will automatically generate the appropriate download link for you.
Installation
In order to install ExpressVPN on your device, you have to first decide on a subscription plan and create an account. Once you input your payment information, you are good to go. ExpressVPN will send you a welcome email, an activation code and a download link. You have to copy-paste the activation code on the download page and you'll receive your login details, without having to manually type in a username and a password. The entire installation process will be completed in just a few minutes.
Appearance
The Windows client interface for instance, is as straightforward as possible. You have a large On/Off button that lets you activate/deactivate the VPN and your server location is visibly displayed. The menu with all the features is located on the top/left. If you want to connect to the closest server, you can use the Smart Location feature and you can save favorite locations to a list of favorites. The Smart Location option is always displayed in case you want to connect instantly.
You can also see your most recent servers or the recommended servers. By default, the software will choose the best protocol for you, but you can change it manually from the settings if you like (OpenVPN/UDP, OpenVPN TCP, L2TP-IPSec, PPTP, IKEv2).
The interface is easy to grasp. There is a very visible On and Off button that lets you turn the VPN on and off and each time you are connected through the VPN, you will see the server on which you are connected. The other settings/features can be accessed by clicking on the menu option on the top-left.
There's a section called Preferences where you have several tabs: General, Protocol, Account, Shortcuts, Browsers and Advanced.
In Preferences you can opt to launch the VPN on Startup, you can check the Split tunneling box, activate or deactivate the Network Lock (kill-switch).
Customer support
A reliable, around the clock customer support is always a big selling point for any product or service. ExpressVPN offers 24/7 live chat support, contact forms and e-mail support as well. Response times are really good (instant for live chat) and reps are knowledgeable and friendly.
In addition to direct customer support, ExpressVPN offers a comprehensive support center on its website. The ExpressVPN website is very clean and provides a lot of useful information on all the ExpressVPN products (the apps for all types of devices, browser extensions, etc.), the features offered by the VPN provider, a section with the plans offered, a list with all their servers and a very comprehensive Support Center.
There is a blog, there are useful VPN setup tutorials and more. The blog can be a valuable support source, as it has articles on various topics such as cybersecurity threats to keep an eye on, what are the most secure messaging apps this year and more.
Also, the website has a Tools section where you can find out what your IP is, you can run a DNS leak test, a WebRTC leak test and more. Overall, we are pleased with the way ExpressVPN structured its website and we find it easy to navigate.
There are troubleshooting guides available, which give you solutions for various issues: how to reset a lost/forgotten password, how to find account credentials for manual configuration, how to connect if your subscription expired, troubleshoot when you can't activate the app and more.
There are also useful setup tutorials for all the apps offered by ExpressVPN: Windows setup, Mac setup, Android setup, iOS setup, streaming media consoles setup and more.
Specific features offered by ExpressVPN
ExpressVPN recently upgraded the number of allowed simultaneous connections from 3 to 5, although it is not the most impressive number, given that there are VPN providers out there who allow even 7 or an unlimited number of connections, in some cases.
The Network Lock feature is definitely one that deserves mentioning. As we've already explained it, this tool is basically a kill-switch. As you can see in the Settings, the network lock feature can be enabled on disabled. Its purpose is to 'stop all internet traffic if the VPN disconnects unexpectedly'.
The TrustedServer feature is another big selling point for ExpressVPN. We already mentioned it above. This tool allows ExpressVPN to run the server entirely on RAM memory, so that apps and OS can't write to the hard drive. So each time you disconnect from a server and connect again, all the data is erased, which makes you untraceable by any intruders.
ExpressVPN also offers split tunneling, which is available for Windows, Mac, Android and routers.
Normally, when you use a VPN to connect to the internet, all your internet traffic is encrypted and goes through the VPN's secured tunnel. But sometimes, you may not want all your traffic to go through the VPN, because you consume all your bandwidth and you can't access LAN devices. Another downside to it is that you can't access local internet and foreign services simultaneously.
Split tunneling allows you to choose exactly what you want to access directly on the internet and what should go through the VPN. This way you can download torrents and not slow down other online activities you might be involved in, you can surf the web and get access to your network printer at the same time and more. However, you should be aware of the fact that your data will be exposed to online threats during the activities for which you are not using a VPN connection. That is why you should always have your VPN enabled when you are torrenting, when you are handling financial transactions online and any other important web activities.
Other interesting features offered by this VPN provider are the recommended server feature and ExpressVPN's Tor compatibility, which offers an enhanced protection.
Another useful tool you can avail of is the built-in Speed Test feature offered by ExpressVPN. The feature is only available for Windows and macOS and can be accessed from the VPN menu. The tool is very easy to use. You simply click on Run Test and the test will sort the servers based on their speed index, latency, download speed. The speed index and download speed numbers have to be high and the latency as low as possible. There is a Save Results button as well.
Apps offered by ExpressVPN
ExpressVPN has dedicated apps for pretty much any type of device, desktop and mobile: Windows app, Mac app, iOS app, Android app, Linux app. It is also compatible with routers, has browser extensions for Chrome and Firefox and works with game and consoles: PlayStation, Xbox, Apple TV, Fire TV.
Android app
The Android app is used by more than 5 million users and has a rating of 4.1. It works very similar to the Windows app: there is a location picker feature, it comes with one-click connect/disconnect and installing it takes only a few seconds. You can either download it directly from the Play Store or, or use another client that you've already set up. For the latter, you have to scan a QR code and you have to grant your smartphone the permission to install apps from other sources than the Play Store.
As it is expected, there are some features that are missing from the Android app, such as the Speed Test option, IPv6 leak protection. On the other hand, you now have the kill-switch feature available for Android as well and split tunneling is also included. There is also an auto-connect option.
The Android app is available in 13 languages.
iOS app
The iOS app is a bit harder to setup, because you have to get through some additional security steps first. But it is also more complex in features. The interface is user-friendly here as well. The menu and connect options are clearly visible and you've also got the location picker, as well as a list with your recent connections. You can choose between the OpenVPN (UDP and TCP), L2TP and IKEv2 protocols, which is more than you get with the Android app.
There is also an auto-reconnect feature, in case you get disconnected, which is kind of a substitute for the kill-switch feature per se, which is missing with the iOS app.
In the location picker you can search for countries, cities, you have a list with all your recent connections and a Favorites list where you can add all your favorite locations.
The iOS app is available in 17 languages, which is 4 more than with the Android app.
Browser extensions
ExpressVPN offers browser extensions for both Google Chrome and Firefox. In order for them to work, you have to actually install them. They allow you to control your desktop client (Windows, macOS) from the browser and their interface looks quite similar to the other clients and apps, but with some limitations. The Speed Test is missing, as are the Favorites. You can choose to connect through the VPN when you open the web browser and to see the desktop notifications.
Both the extensions have a HTTPS Everywhere feature that redirects you to the HTTPS version of the website you are visiting, for a more secure connection. The feature works even if you are not connected through the VPN.
WebRTC blocking is also available. What this does is it stop websites from finding out your real IP and location.
Both extensions are available in 17 languages and have a dark mode, which changes the color scheme, to be gentler on the eyes.
Popular tests (Netflix, Amazon, Hulu)
ExpressVPN is great at unblocking geo-restricted content. It can unlock YouTube, Facebook, Google, Wikipedia and all the popular streaming services such as: Amazon Prime, Netflix, Hulu, Spotify, BBC iPlayer, Amazon Video, NBC, CBC, ITV, HBO Go and more (more than 25 services).
Netflix works like a charm with ExpressVPN with a large number of their servers. If you do face difficulties in accessing it though, you can easily receive server recommendations from their customer support staff, by contacting them via live chat.
Torrenting
At the first glance, ExpressVPN doesn't really brag on having a very torrenting-friendly policy as other VPN providers advertise it all over their website. However, that doesn't mean that P2P file sharing is not allowed with this VPN service. On the contrary, ExpressVPN allows torrenting on most of its servers. Moreover, this VPN provider doesn't limit you in terms of speed or bandwidth so you can torrent as much as you want, at a quite impressive speed.
Pricing and payment methods
ExpressVPN is subscription-based and offers three plans to choose from: a 1-month plan, a 6-months plan and a 12-months plan.
The 1-month plan is priced at $12.95 per month.
The 6-months plan is priced at $9.99 per month, $59.95 billed every 6 months.
The 12-months plan is priced at $8.32 per month, $99.95 billed every 12 months.
All the plans include ExpressVPN's 30-day money back guarantee. This VPN provider doesn't offer a free trial, but you can use the 30-day money back guarantee as a form of trial and request a refund after that period.
Once you choose the plan you want, you have to provide your e-mail address and then select your preferred payment method. ExpressVPN accepts credit cards (VISA, MasterCard, American Express, Discover, JCB, Diners Club International), PayPal, Bitcoin and more (WebMoney, Yandex Money, giropay, etc.).
Conclusion
ExpressVPN is considered one of the top 3 best VPN services on the market by almost every review website on the internet. We offered the highest ranking to ExpressVPN, for a variety of reasons: it is extremely secure and private, it has thousands of servers worldwide and dedicated apps for any type of device, it is extremely fast and effective when it comes to unlocking restricted content, including Netflix.
This VPN service has received good ratings from Trustpilot, The New York Times, CNET, BBC, Forbes and many more.