Your Mac computer needs constant maintenance, if you want it to run at maximum capacity. Clutter builds up over time, your drive space fills up with gigabytes of junk files, your Mac becomes sluggish and buggy, to name just a few problems that usually occur. That is why utility software is a must-have for any Mac user who wants a smoothly running computer.
CleanMyMac 3 is a very popular choice among Mac users, competing with names such as MacKeeper, Reimage and the like. CleanMyMac 3 was developed in 2009, then came the CleanMyMac 2 version and in 2017, CleanMyMac 3 was released. However, an even newer version recently hit the market: CleanMyMac X.
CleanMyMac 3 is the creation of MacPaw, a software company based in Ukraine, which develops software for macOS, iOS and even Windows. They have a lot of popular products on the market other than CleanMyMac: Gemini, CleanMyPC, Encrypto, WallPaper Wizard 2 and more.
What is the pricing of CleanMyMac 3?
CleanMyMac 3 is available in a free version and a paid one. The free version can offer a good grasp on how the app works and what its capabilities are, but it limits you to cleaning only 500MB of junk.
The paid version is in fact the licensed version of the app and you can choose between three types of licenses. All of them are one-time purchases and come with MacPaw's 30-day money back guarantee.
There is a license for 1 Mac, priced at $39.95, a license for 2 Macs, priced at $59.95 and a license for 5 Macs, priced at $89.95.
The paid version comes with 24/7 tech support and instant activation. In terms of payment methods, you can choose between credit cards (VISA, MasterCard, American Express) and PayPal.
What are the features of CleanMyMac 3?
CleanMyMac 3 is an all-in-one utility app that cleans, repairs, optimizes and monitors your Mac computer.
System requirements: OS X 10.9 +, 62 MB space.
The app is available in 12 languages: English, Spanish, French, Italian, Chinese and more.
Cleaning feature
Most users who install CleanMyMac 3 use it primarily for its cleaning feature. The Smart Cleanup feature helps you remove gigabytes of junk files, thus freeing up space on your drive. The cleaning process is extremely easy to use: you just run a scan of your drive so that the app can identify all the files that can/should be deleted, you either select them all and click on "Clean" or you choose exactly which ones you want removed. The app only selects files that are no longer necessary, such as cache files, trash bins, unused language files, old logs and broken data.
Monitoring feature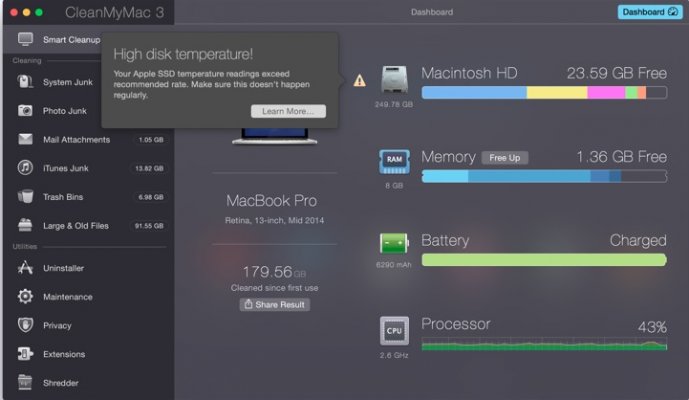 CleanMyMac 3 doesn't just fix your Mac issues, it also monitors your Mac continuously, informing you on anything that goes on with your system. You will also receive alerts in case there are any issues. From the Dashboard you can check the health of your Mac battery, you can monitor the CPU usage, RAM usage and schedule your Mac cleaning sessions.
Increasing the speed of your Mac computer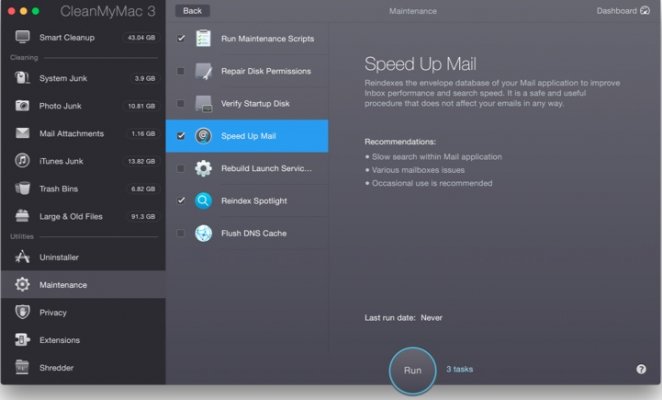 System errors, lags and sluggishness are common problems Mac users confront with. CleanMyMac 3 runs maintenance scripts, fixes system errors, repairs disk permissions, speeds up your Mail and more. In one word, it optimizes your Mac and it boosts its overall performance.
Other useful features included with CleanMyMac 3:
Sensitive data shredding
iTunes cleaning
Photo junk cleaning
Extension management (the app helps you get rid of unwanted add-ons and extensions such as plugins, widgets and so on)
Proper uninstall of your apps, so that there'll be no files left behind
If you are looking for more information about Clean My Mac 3 we suggest you take a look at our comprehensive review which can be found here: