A buttered slice of toast or a soft, warm bagel next to your morning coffee, now that's a traditional breakfast we all enjoy! But the quality of your toast very much depends on your toaster.
A crappy toaster can burn your slice of bread, toast it unevenly, or it can take forever to prepare your toast. These are just a few examples of what can go wrong.
How to choose a good toaster?
While it is a lot about personal preferences, there are still some general guidelines you should follow when shopping for a pop-up toaster:
Pay attention to the capacity of the toaster. Do you just need the toaster for occasional use, just for yourself, or do you have a large family of toast eaters to feed? Most toasters come in a 2-slice and 4-slice capacity, but there are some models even larger than that. Establish your capacity needs before buying the toaster
Make sure the toaster is made of quality materials. Metallic toasters usually cost more but they feel and look more premium and more durable. Toasters with a plastic body are cheaper, but not as reliable and they usually heat up faster
Choose a toaster that has a removable crumble tray. It is important to be able to easily clean the toaster and get rid of all the crumbs that accumulate over time. You don't want to be forced to hold the entire toaster over the sink or the trash bin just to be able to get all the crumbs out
Features to look out for. The most important features you can find in a pop-up toaster are the Bagel function, the Defrost one, the Cancel feature and the Reheat feature. There are also the controls for the browning level, that allow you to choose how toasted you want your bread and some toasters even have timers to see how long you have to wait until your toast is ready
Read more about toasters and what to look for in a toaster.
Best 4-slice toasters you can buy from Krups
Krups is a reputable brand not just when it comes to toasters, but kitchen appliances in general. It is a German manufacturer and produces a lot of utensils and appliances, from fryers, indoor grills, to toasters, hand mixers, coffee makers and much more.
Krups has been around since 1846.
They manufacture 2-slice and 4-slice toasters.
Best Krups 4-slice toasters
Krups KH734D – this is the most popular and complex 4-slice toaster you can get from Krups. This 4-slot breakfast set has a premium design, with a brushed and chrome stainless steel housing. It is a large toaster and a perfect choice for larger families.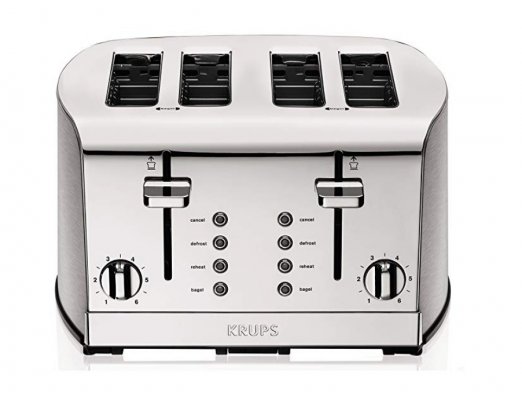 Features
The KH734D has 2 independent control panels, one for each toasting zones. You have 2 removable crumb trays and the controls allow you to prepare two different types of toast at the same time.
There are 6 browning settings, a Cancel, a Defrost, a Reheat and a Bagel button, for each of the toasting areas.
The slots are large enough to be able to fit any type of bagel and bread.
The Krups KH734D toasts evenly and it has a durable construction.
Price: $80.
Read our Krups KH734D toaster review.
Krups KH251D51
The KH251D51 is another great 4-slice toaster, but a bit more minimalist than the Breakfast Set. It is also cheaper.
This model is also premium looking and comes with a metallic body.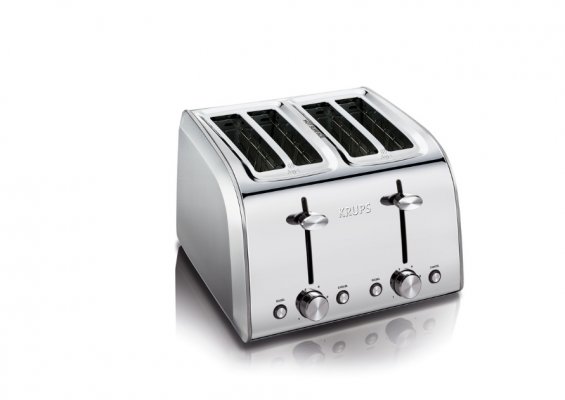 Features
Just like the KH734D, the KH251D51 has 2 separate toasting zones, with separate controls. Each of them can make 2 slices at once. The slots are wide enough and there are also 6 browning levels for each toasting area and a removable crumb tray.
But the KH251D51 has fewer controls than the KH734D. It only has a Bagel button and a Cancel one. There are no Defrost or Reheat options.
However, the results are just as great with the KH251D51, as well. Your bread will get evenly toasted and there are no problems what so ever with this model.
Price: $50.