Introduction
When it comes to oral hygiene, most of us are looking for a toothbrush that is both efficient and easy to use. In recent years, electric toothbrushes have become increasingly popular due to their ability to remove more plaque than manual toothbrushes. In all honesty, there is rarely a good argument for manual toothbrushes if you are looking to keep your teeth and mouth as clean as possible. It has been stated that an electric toothbrush can remove up to 400% more plaque than a manual toothbrush, so not only will it make your teeth feel cleaner but also be better for your health.
There always seem to be newer brands coming out with newer models, and it can get hard to really understand what the features are, what they do, and if you need them. That's where our feature review of the Bitvae R2 comes in handy. In this article, we will explore the key features of the Bitvae R2 electric toothbrush and provide additional considerations to help you determine if this product is a good choice for you.
Product Details
The product details of the Bitvae R2 electric toothbrush for adults with a rotating brush head are impressive. It comes with 8 soft bristle replacement heads, including 6 daily cleaning and 2 gum care heads, and a cover to keep them clean. This means that you can use this toothbrush for up to two years without worrying about buying replacement heads separately.
Additionally, it features five brushing modes (Clean, Sensitive, White, Gum Care, and Tongue) that cater to different oral care needs. The visible pressure sensor is another notable feature of this electric toothbrush. It lights up red when you apply too much pressure on your teeth or gums while brushing, reminding you to reduce the pressure to protect your gums from damage.
Its powerful motor and arc-cut bristles provide optimal cleaning for better oral care benefits. While the Bitvae R2 has many pros, like its long battery life of up to 30 days and portable travel case for on-the-go use, there are some cons as well.
One thing that we really like about this model is the rotating brush head. Generally, there are two different types of electric toothbrushes. One is a fixed path that is up and down (or back and forthting brush head. Generally, there are two different types of electric toothbrushes. One is a fixed path that is up and down (or back and forth), and the other is a circular path. We actually prefer the circular path, but it really comes down to your own personal preference. Bitvae does have models that have both of these cleaning paths, so if you try one out and don't like it, we suggest giving the other style a chance.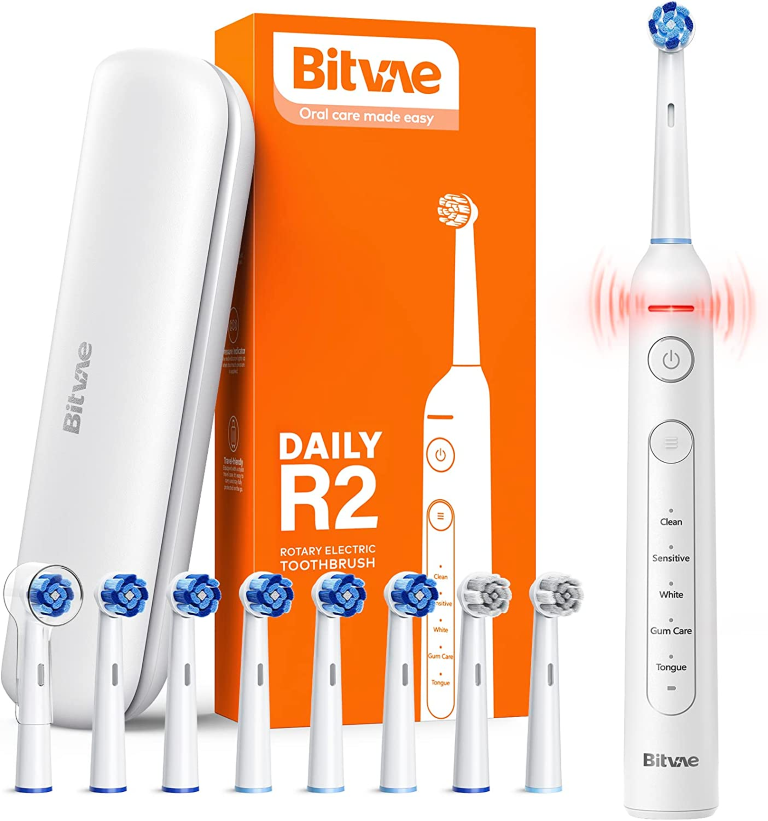 R2 Features 
The first key feature that sets the Bitvae R2 electric toothbrush apart is its bristle effectiveness. With a powerful motor and arc-cut bristles, this toothbrush ensures optimal cleaning and will leave you with a clean feeling when you are done brushing your teeth. While bristles are subjective as to how firm they should be, it is a good idea to try to find the perfect level for your needs.
The second key feature of the Bitvae R2 electric toothbrush is its pressure sensor. This visible indicator lights up red to remind users to reduce pressure while brushing, protecting their gums from damage. Additionally, with five brushing modes available, including Clean, Sensitive, White, Gum Care, and Tongue, users can customize their brushing experience according to their specific oral care needs.
Lastly, user friendliness is another critical factor that sets this electric toothbrush apart from others on the market. The package includes eight soft bristle heads, which provide two years of use, along with a portable travel case for on-the-go use. However, some users may find it easy to accidentally switch modes while brushing.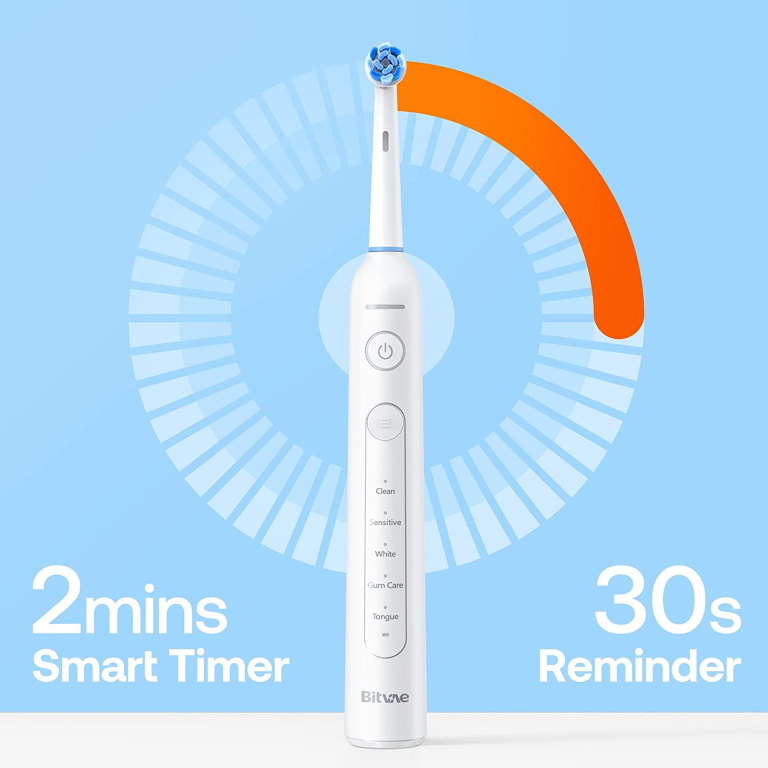 Overall, with its impressive features like longevity of heads and portability combined with effective cleaning capabilities and gum protection features, the Bitvae R2 electric toothbrush is a solid choice for anyone seeking exceptional oral hygiene products without compromising comfort or quality.
R2 Design and Build 
The design and build of the electric toothbrush are important considerations when selecting an oral hygiene product, as they directly impact its usability, durability, and effectiveness. Electric toothbrushes cost more than manual ones as they have lots of working parts, and you want to ensure you are getting good value for your money.
The Bitvae R2 electric toothbrush boasts an ergonomic grip that allows for comfortable handling during use. This design feature reduces hand fatigue and provides a more controlled brushing experience. You also want to make sure that the material of the unit is of high quality. Although you might not think about it, you will want to make sure that the grip and feel are comfortable for you.
The Bitvae R2's handle is made from high-quality plastic that is both durable and lightweight. This material ensures that the toothbrush can withstand regular use without breaking down quickly or becoming damaged easily.The IPX7 waterproof rating means it can be used safely in wet environments such as showers or baths, which is great for people who sometimes brush their teeth in a hurry.
Overall, the R2 looks nice, has good reviews from current customers, and has positive notes about its durability. This model has won awards like the IF Product Design Award as well as the Reddot Product Design Award.
R2 Charging and Battery Life 
Just like electric vehicle owners can have range anxiety, electric toothbrush users can sometimes worry if they are going to run out of power. This is especially important if you are going to be away from home for a while.
The Bitvae R2 electric toothbrush offers a 30-day battery life with a 3-hour quick charge feature, making it ideal for those who are always on the go. Additionally, the toothbrush comes with a USB cable for easy charging but does not include a wall adapter.
The Bitvae R2 also includes a battery indicator that lets you know when your toothbrush needs to be charged. This feature eliminates the need to worry about running out of power during use and ensures that your brushing experience remains uninterrupted.
Overall, the Bitvae R2's charging and battery life capabilities make it an excellent option for those seeking convenience, portability, and longevity in their oral care routine. With its long-lasting battery life, quick charging feature, and handy battery indicator display, users can brush confidently, knowing they have ample power at all times.
Conclusion 
The Bitvae R2 electric toothbrush is a well-designed and powerful tool for keeping your teeth clean. Its rotating brush head and variety of replacement heads make it an effective choice for removing plaque. The device's sleek design and long battery life further add to its appeal.
However, it is important to consider individual preferences and needs before investing in any electric toothbrush, as we mentioned above. If you haven't found a good fit with some of the other styles of electric toothbrushes, then it's worth trying out the R2 and seeing if it better suits your needs.