Advanced System Protector is a protection software developed by Systweak. Systweak is a software company that was founded in 1999 and has assisted more than 100 million customers so far. Systweak has clients from North America to Europe and Asia. It develops products for all major operating systems: macOS, iOS, Windows, Android and it is renowned for apps such as Advanced System Protector, Advanced System Optimizer, Advanced Identity Protector, Super PC Care, Right Backup, RegClean Pro, to name just a few.
Systweak describes Advanced System Protector as a spyware and malware removal tool. The software can protect your system from threats such as spyware, Trojans, adware and more.
Advanced System Protector is only compatible with Windows devices and it works on all Windows versions from Vista and above, including Windows 10 (32 and 64-bit).
How does Advanced System Protector work?
Advanced System Protector works by scanning your device to identify any threats that might hide in your computer. Its powerful engine scours all your data and finds any infections your system might confront with. It has a very comprehensive database of spyware definitions (over 10 million) and it is updated almost daily, so that it can be up to speed with all the latest spyware threats.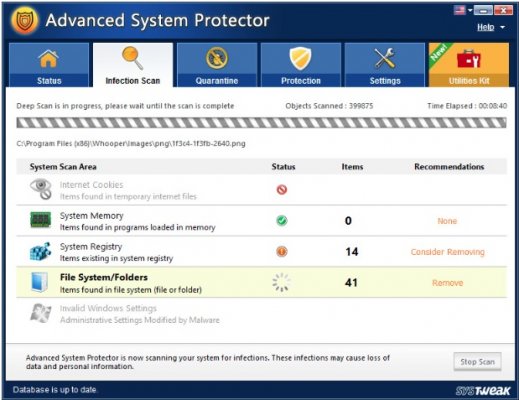 Advanced System Protector lets you download the software for free and install it on your device. You can run free scans with it, but if you want to get rid of the malware in your PC, you have to register the software. In order to do that, you have to purchase a license.
What is the price of Advanced System Protector?
Systweak offers licenses that are available for one year. A license for Advanced System Protector is currently priced at $39.95. In this price you also get a bonus: a free lifetime license for PhotoStudio v2.1. PhotoStudio is another software developed by Systweak and it helps you edit images, add visual effects to them, create slideshows and presentations, capture images from any device, capture images of apps and desktop and more.
You can pay for your Advanced System Protector license via wire transfer, PayPal or credit card. All the major credit cards are accepted (VISA, MasterCard, American Express, etc.). You also have to fill in a form when you purchase the license. You have to provide your full name, country and ZIP code, email address and financial details.
Advanced System Protector is easy to download, install and register. You just open the app, you go to the 'Register Now' button on the top right and you paste the license key that you receive when you buy it.
What are the features of Advanced System Protector?
Advanced System Protector has a very user-friendly interface that will be easy to grasp even by the less tech-savvy.
There are 6 main tabs on top: Status, Infection Scan, Quarantine, Protection, Settings and the Register Now option.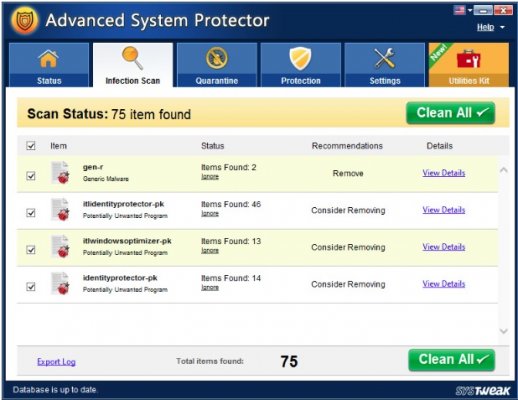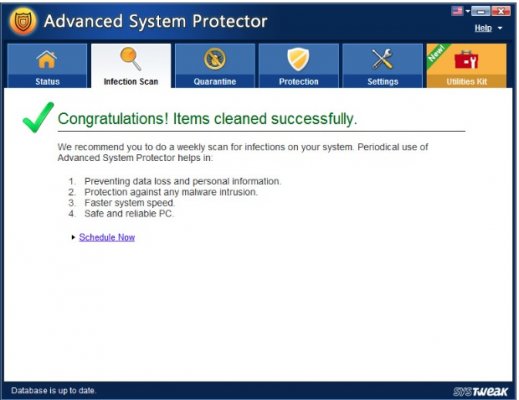 There are several scan types you can run and all of them help you identify any threats in your PC and remove them. There is a Quick Scan mode, a Custom one, a Deep Scan mode. You can also choose to configure automatic scans, by scheduling them whenever you want.
Advanced System Protector will show you the progress while scanning, by continuously displaying the number of objects scanned. It will scan your system memory, the System Registry and so on.
All the suspicious items found during the scan will be displayed in the scan status and you can clean them and view the details for each. The software will give you recommendations on what to do with each, depending on how dangerous they are for your system.
Privacy will also be enhanced with Advanced System Protector, because the software will delete your browsing history, cookies and so on, to remove your traces.
By cleaning your computer of all the malicious items, Advanced System Protector will significantly boost its performance, making it faster and more stable. You will get rid of a lot of annoying crashes and other frustrating errors caused by malware.
Other useful features of Advanced System Protector are: it removes password stealers, it removes browser hijackers, deletes rogue apps and prevents keyloggers.
Advanced System Protector comes with a 60-day money back guarantee, in case you are not satisfied with the results you get.