You've just invested a ton of money in an all the rage computer and the last thing you want to do is spend more money for maintenance software. We get it and we understand. But the thing is that your PC won't stay new for too long. It will have to put up with a lot of action: constantly installing and uninstalling programs on it, downloading content such as videos, music, images and so on, moving files and folders around, deleting information, getting infected with different types of malware and so on.
That's why any system gets cluttered over time, which can cause a lot of problems for you as a user: regular system crashes, freezes, a slow overall performance and more.
Advanced System Repair Pro Review
If you are looking for a useful system optimizer, you should definitely consider Advanced System Repair, if you are a Windows user, that is.
Advanced System Repair was specifically designed for Windows devices and works on any Windows version from XP and up. So if your system runs on Windows XP, Windows Vista, Windows 7, Windows 8 or Windows 10 (32-bit or 64-bit), this system optimizer will work for you.
The software offers two versions: a free version and a Pro version that you have to pay for.
What are the differences between them?
You can download the free version (Advanced System Repair) on their official website, which is the safest way to go. There are other sources online where you can download it as well, but it is best to go with the safest and most verified of them.
The free version is more of a free trial really. It gives you the chance to see what the software knows, how friendly its interface is, what features it includes and so on. You can also run a free, full system scan to assess the state of your computer. All the found issues will be displayed along with explanations for each of them.
However, there are limitations to what you can do with the free version of Advanced System Repair. If you want to start solving any of these issues, you have to register the software. The paid version of this program is called Advanced System Repair Pro.
How much do you have to pay for a license?
Advanced System Repair Pro 2020 is the latest version of the software and you can purchase it by selecting one of the available subscription plans. You can choose between:
1-PC license for $29.95
3-PC license for $39.95
Unlimited PCs license for $49.95
No matter which of these plans you opt for, you'll be charged every 3 months. That doesn't mean you can't unsubscribe anytime you want though. Moreover, Advanced System Repair offers a generous 60-day satisfaction guarantee. You can use the software for 2 months and if you are not satisfied with the results, you can apply for a refund within this time frame.
You can pay for your subscription via PayPal or credit cards (VISA, MasterCard, Discover, American Express and more).
What are the highlights of Advanced System Repair Pro? How can it improve the performance of your PC?
Advanced System Repair Pro has a lot to offer and the fact that it is 'McAfee Secure' and that it has a software partnership with Intel should convey more credibility to you.
One of the first thing we appreciated when testing Advanced System Repair Pro was the thoroughness of its scanning process. Advanced System Repair Pro runs a system junk scan, privacy scan, registry scan, malware scan, disk defragment scan and more. It doesn't leave anything out and it digs through every bit of information in your system.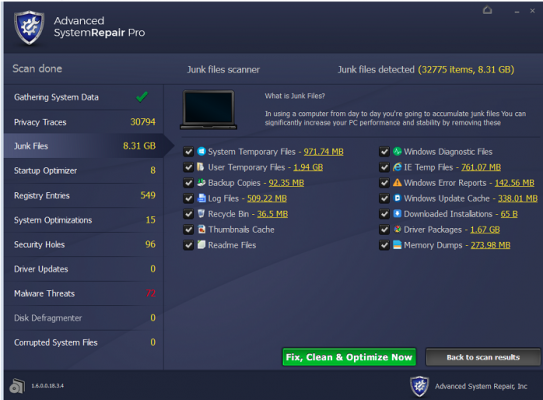 Once identified, all the issues are addressed and repaired. Advanced System Repair Pro removes malware such as virus damage, spyware and so on.
It cleans all the junk files in your system, including system temporary files, readme files, backup copies, your Recycle Bin, memory dumps, thumbnails cache and more. It cleans the system registry and fixes any invalid or broken registry entries. Sometimes we incorrectly install or uninstall programs on our device, without even realizing it. All these irregularities and errors will be revealed by the scan and fixed by Advanced System Repair Pro.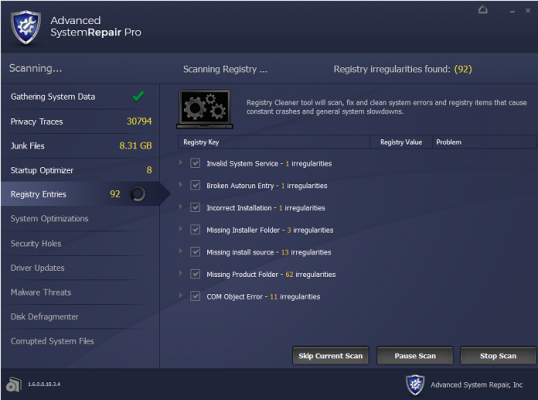 We mentioned the slow startup of your PC at the beginning of this review. Advanced System Repair Pro will take care of this aspect as well, improving the startup time of your computer. Some apps are set by default to open with Windows, even though they shouldn't, because you don't use them continuously. This software limits the number of programs that run at startup, making your computer start faster.
Outdated drivers can also cause issues in your system, which is why you should always have them up to date. Advanced System Repair Pro scans for outdated drivers and displays the number of drivers that are updatable.
Conclusion
System optimizers might seem like a whim for some users, but they are not. Think of them as your computer's "maid" or cleaning lady. They can save you money and time in the long run, as long as you opt for a reliable and easy to use software. And we have to recommend Advanced System Repair Pro, precisely because it is budget-friendly, complex and in features, reputable and user-friendly. The interface of the app is well organized and easy to grasp within the first uses of the program, so if you use a Windows device, do check it out!