What is Outbyte PC Repair?
Outbyte PC Repair is a system optimizer for Windows OS computers. It can help stabilize the system, optimize the computer settings, and clean up junk from inside the system. It was made by Outbyte Computing Pty LTD which also offers applications like driver updaters, Mac optimizers, and more.
The application was built to simplify the process of maintaining the computer. Instead of having users manually tweak certain settings which they may or may not be familiar with, they would only need to click once for a full scan of the PC, and then another time for fixing the issues the app identified.
In addition to resolving PC issues, one of the main goals of the application is to help users clear out junk files. Typically these pile up in the system without any particular purpose and in rare cases can affect the performance of your computer. They can include temporary files, unused logs, browsers history and cache, Windows outdated files, and more. Outbyte PC Repair lets users to efficiently clean up disk space by removing such files along with having an option to uninstall unneeded applications.
The Outbyte program is available for almost all Windows versions including Windows 10, 8, 7, Vista, and XP.
Is it safe for my computer?
There are many applications that claim to be able to improve PC performance and some of them should not be easily trusted. The good news is that Outbyte is a completely safe app that comes with an AppEsteem Certification to prove its legitimacy and safety for all users worldwide.
What are its features?
The Outbyte program's additional features or Power Tools are designed to primarily improve the computer's speed, privacy, and battery.
Speed Boost Feature
The computer's speed can be measured by how fast its applications open, how quickly it starts up, and if lagging and system freezing is a common occurrence.
First, the Outbyte app lets the users see the current condition of their hardware including its specifications.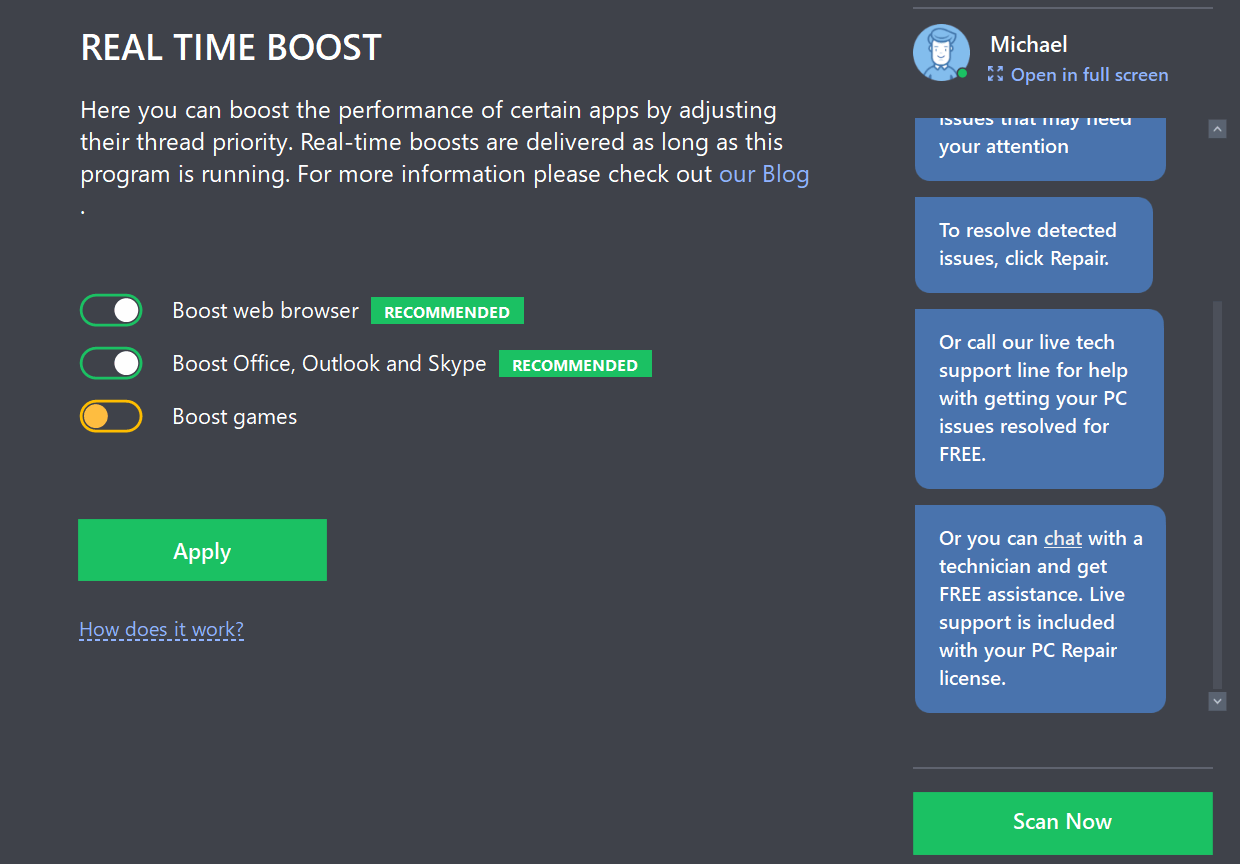 Then users are presented with several options for improving their PC performance such as boosting the web browser, work apps, and games.
User privacy and security
The application can also be used to improve users' privacy. Firstly, this can be done by scanning the user's browser history for unsafe websites. If such websites are present in history or will be visited in the future users will be warned about them.
Secondly, there are some options that can help boost privacy within the Outbyte PC Repair's Privacy Power Tool.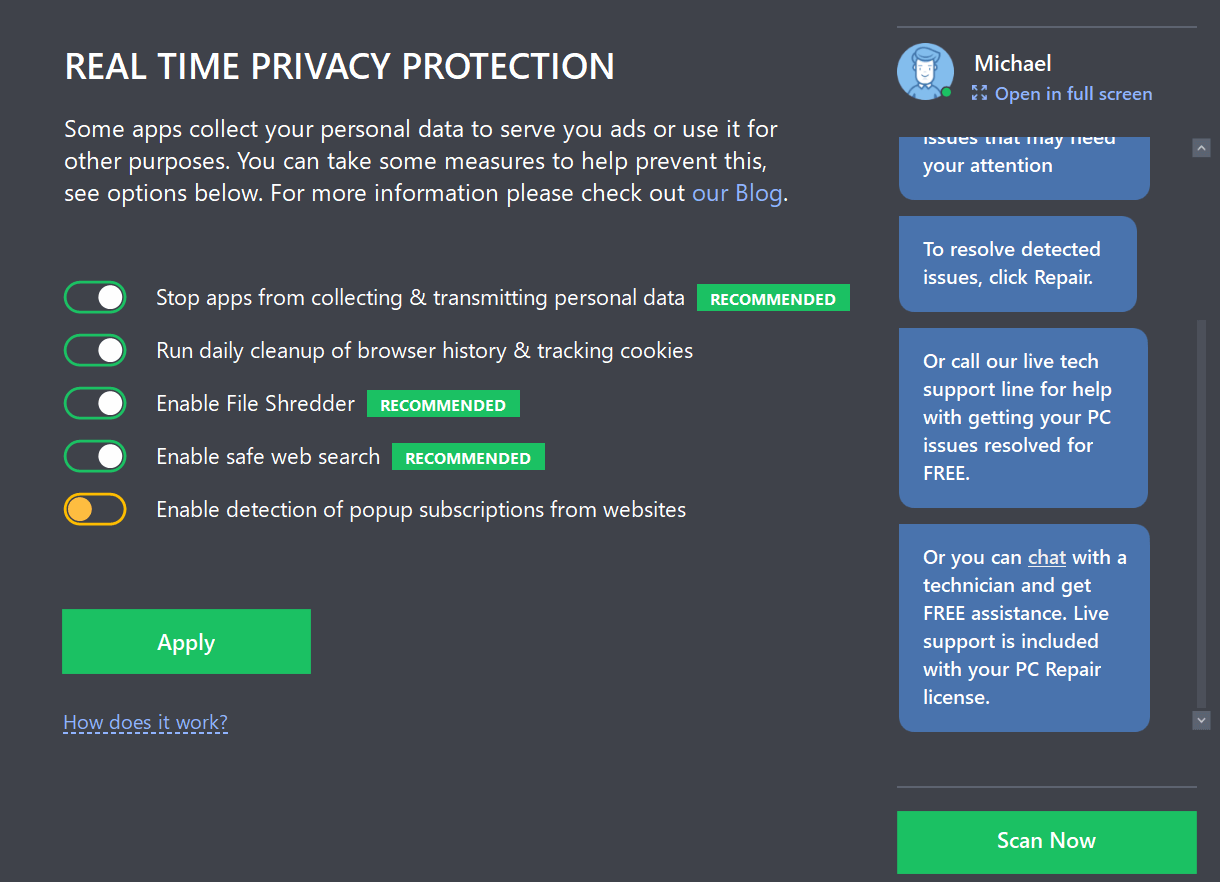 It is recommended to switch on at least the recommended options for improved system privacy.
Even though this tool does improve users' security it is important to mention that it does not replace an antivirus program. It is recommended that users install an antivirus in order to better protect their system from other threats such as malware.
Better battery and PC health
Outbyte has a special Battery tool that can optimize the settings of the PC for it to have extended battery life.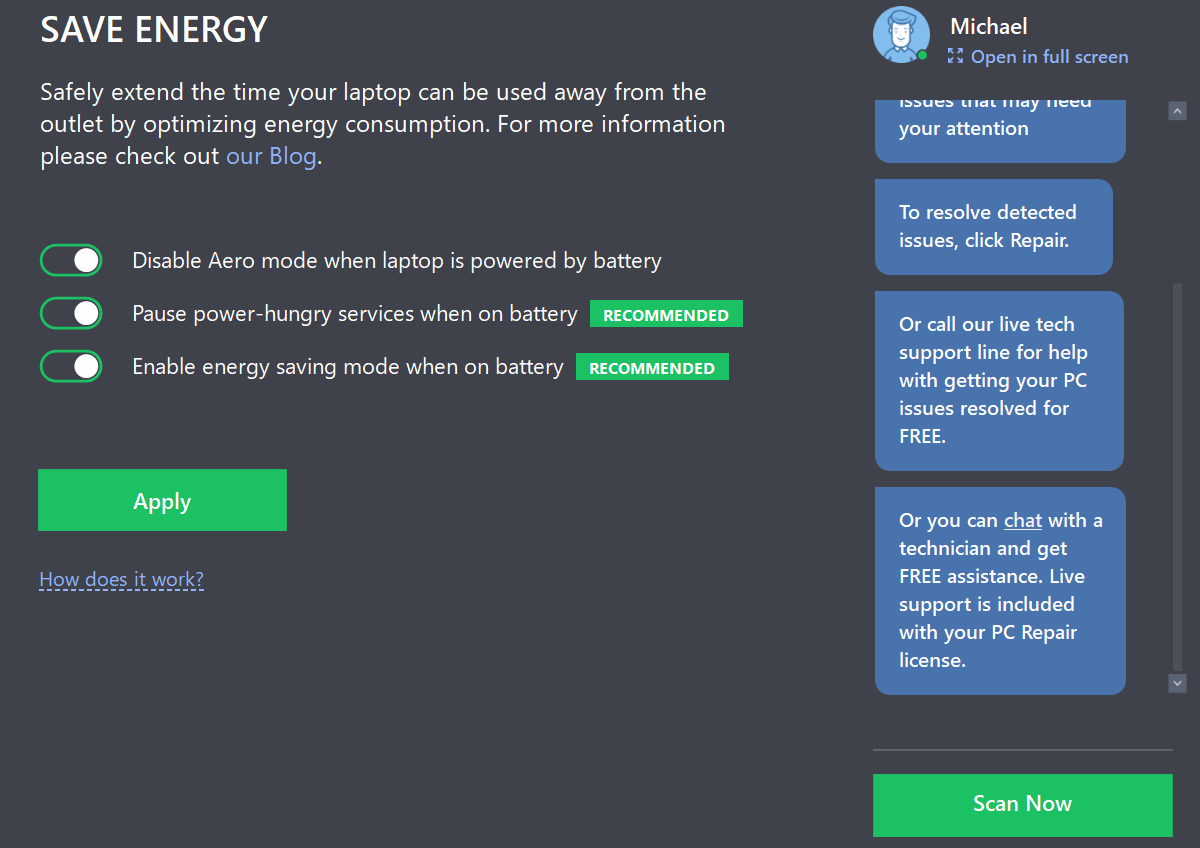 With just a few clicks, users can allow the app to tweak their PC's settings to maximize the duration of their sessions.
How to use it
Outbyte PC Repair was built to be used by any user regardless of their computer proficiency. It has a simple and intuitive interface that allows users to fix their PC's issues with just a couple of clicks.
Users simply need to download the app at Outbyte.com. Once fully installed, the app can start a full scan of the computer where it will look for issues and problems.
Pricing
For users to have full access to Outbyte PC Repair features, they will need to buy a license.
The price for a license for one PC is $29.95. For five PCs, users can purchase it for $39.95. Please note the duration of the license as offers do change. The pricing we are using is their current subscription length is billed at quarterly increments.
Businesses who would like to purchase licenses for all the PCs in their computers can apply for better rates.
The application comes with a 30-day money-back guarantee in case Outbyte can't fix the user's issues.
Ease of use
Outbyte has gone the extra mile to ensure that anyone, at any computer experiance level, can get positive results from their program. The user interface is clean and intuitive, and there is no confusion about what each tool within the program can do. From our testing we have found that this is one of the easiest programs to use.
Pros
● Can clean up junk and remove unneeded apps
● Can improve laptop battery life
● Can improve PC performance
Cons
● Does not replace an antivirus
Final Review
Outbyte PC Repair is a program built for PC maintenance, cleaning up junk, and improving the system's performance. It also has a feature that allows laptops to boost battery life and can be used to improve user privacy.
Computer optimizers are applications that can be downloaded, installed, and used to improve the performance of the PC. In case users are experiencing frequent system lags and application crashes, a system optimizer may just be the solution to fix these issues as opposed to having to renew the old device or purchase a new one.