Toasters are somewhat underrated. They are not the first kitchen appliance that comes into your mind, but your kitchen is not complete without one. We don't really spend time researching, analyzing and comparing toasters. We usually go for the best offer on the shelf. But a cheap, poor quality toaster will make your mornings a hell.
So in order to avoid over-toasted slices or having to wait forever for your slice to pop, you should do some research before buying a toaster.
What makes a good toaster?
One of the most important things in a toaster is its capacity to toast the bread evenly. Good toasters have the heating elements close to one another. So, as an advice, look inside the slots of the toaster you want to buy and make sure the elements are not far apart from each other. Far is BAD, close is GOOD. Far means uneven, close means the opposite.
The crumble tray is also an aspect to consider. Look for a toaster with a removable crumb tray that you can easily take out and clean.
Other things to look out for are an extra lift, so you won't burn your fingers when trying to get the slice of bread out and features, depending on what's important for your (bagel setting, reheat option, cancel button, etc.)
Read more about toasters and what to look for in a toaster.
Best Krups toasters to consider
Krups is a renowned German kitchen appliance manufacturer. The company is very old, it's been on the market since 1846 when they started producing precision scales. Nowadays, Krups has a wide range of products, from indoor grills, waffle makers and fryers to hand mixers, toasters and coffee makers.
Krups KH734D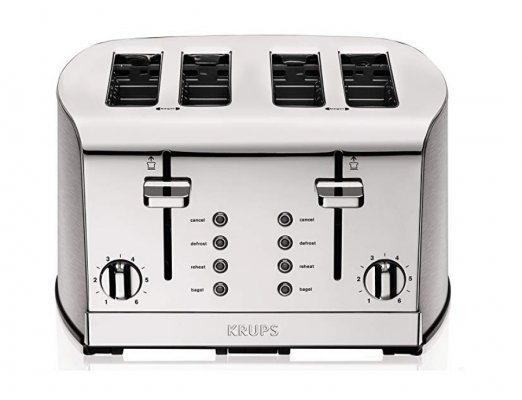 The KH734D is a 4-slice toaster, with large slots and a lot of features. It has a classy design, stainless steel housing and it looks and feels heavy. It is suited for family use, because it can make 4 slices of toast at once. The KH734D has the following dimensions: 13.5 X13.3 X 8.6 inches. While it looks good on any counter, this Krups model won't necessarily fit just anywhere. If space is a problem for you, you might want to consider a smaller toaster, because the KH734D is quite large. It weighs 5.28 pounds.
This Krups model is like two toasters in a single housing. It has 2 independent toasting zones, two removable crumb trays and two independent control panels. The advantage of the separate zones and controls is that you can make different types of toast at once, depending on preferences. You can make a bagel in one zone and toast or waffles in the other. Or you can make toast in both but choosing different browning levels.
The slots are extra-large (5 ¾ in length and 1 ½ in width), so you can fit mostly any type of bagel, roll or bread in there.
Features
The KH734D comes with 6 shade levels, so you can make your toast from light to dark. Each toasting zone has a dial control with number indicators from 1 to 6.
As we've already mentioned it, the control settings are separate for each section. Each zone has 4 buttons: bagel, reheat, defrost and cancel.
The KH734D toasts evenly and doesn't fail in achieving the aimed shade of brown. It may not be the fastest toaster out there, but it is sturdy, beautiful, easy to clean, and has that German quality to it.
Price: On Amazon, the KH734D goes for just $34, which is a bargain in our opinion.
Krups Savoy KH3110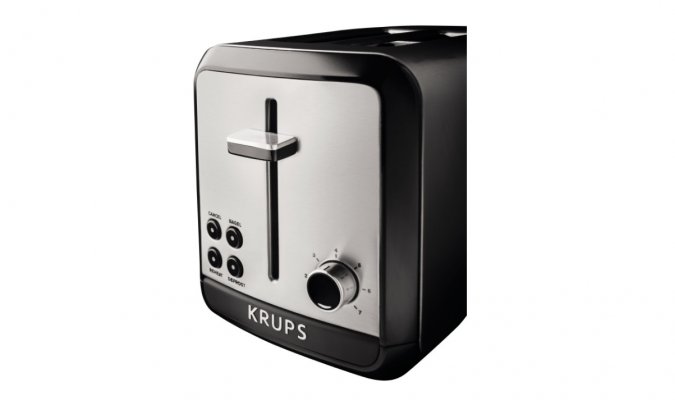 The Savoy KH3110 is a 2-slice toaster, kind of like the little brother of the KH734D. It has a brushed stainless steel finish, which makes it elegant and nice looking in any kitchen. It is small but has all the basic features.
The Savoy KH3110 has a power of 850W, which is not impressive, but other than that, you won't get disappointed by this little guy.
The Savoy weighs 3.5 pounds and measures 12.4 X 7.7 X 9.1 inches. It has a high-lift lever and a removable crumb tray.
Features
Just like the 734D, it comes with 4 buttons: Cancel, Bagel, Defrost, Reheat. But unlike the KH734D, the Savoy KH3110 has 7 browning levels, instead of 6.
The Reheat setting will reheat your slice for half a minute.
Just like the KH734D, the Savoy KH3110 browns your slices evenly.
One thing you should pay attention to is where you touch the toaster, because this one can get a bit hot, especially between its 2-slots.
The Savoy KH3110 can be purchased for approximately $28.
Read our Krups Savoy KH3110 review.
Other Krups models to consider
Krups KH442D Control line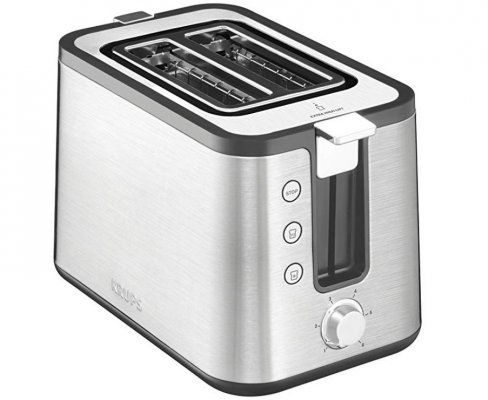 It is another 2-slice model with a stainless steel finish and an integrated bun warmer.
It is a simple toaster that only has 3 controls: Stop, Reheat and Defrost. You don't have a bagel option. The KH442D has 6 browning levels.
Price-wise, the KH442D is more expensive than the other two toasters. You can get it for approximately $50 on Amazon.
Krups KH251D51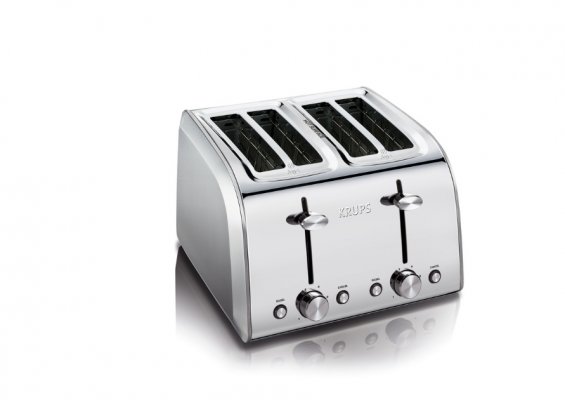 This is a 4-slice toaster but with fewer features than the KH734D. The 2 slots are also separate and you also have the removable crumb tray. The KH251D51 has 6 browning levels, a Bagel function and a Cancel one. What's missing here are the Defrost and Reheat options.
The KH251D51 costs approximately $50.