Introduction
Creating a perfect dream bedroom can be daunting, but it doesn't have to be! With the right approach and planning, you can easily create an oasis of comfort and relaxation. In this blog post, we'll discuss some tips for creating your own dream bedroom. We'll talk about color palettes, furniture selection, and ways to make your bedroom as comfortable and cozy as possible. So read on, and start creating the perfect dream bedroom of your own!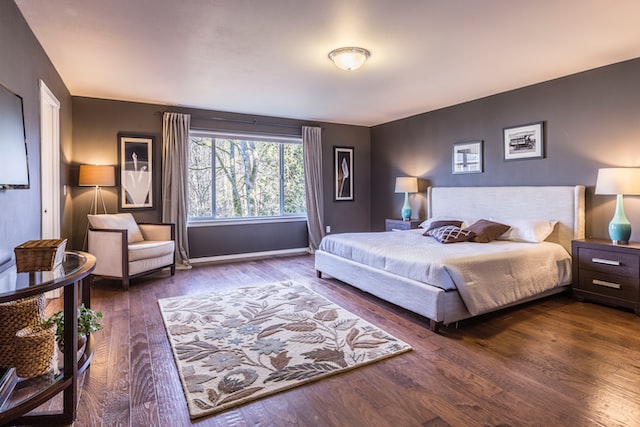 Consider Adding Wall Or Floor Tiles
Adding wall or floor tiles to your dream bedroom is a great way to add texture and visual interest. Wall tiles can be used to create an accent wall, while floor tiles add warmth and color beneath your feet. You can also use tile to make unique designs around the room, like outlining the bed with a different tile pattern. When looking for a tile shop, look for a wide selection of tiles in various shapes, styles, and colors to make your dream bedroom really stand out. With the right tile design, your dream bedroom will be one-of-a-kind
Adding Greenery or Floral Accents
Adding greenery or floral accents to your dream bedroom is an easy way to make the space feel airier and inviting. You can bring in some plants for a natural and calming atmosphere, or hang wall planters filled with lush greenery. Flowers also add a touch of freshness and beauty, and you could either opt for real flowers or create beautiful paper flower arrangements as a budget-friendly alternative. Choose flowers or plants that are easy to maintain and fit the overall design of your dream bedroom!
Invest in Quality Bedding
Investing in quality bedding is essential for creating the perfect dream bedroom. Bed linens, blankets, and covers should be made from high-quality fabrics that are soft and comfortable. Look for bedding with a thread count of at least 400-500, as this will ensure your linens remain breathable and durable. When selecting colors for your bedding, consider the overall design of the bedroom and choose pieces that balance out the other elements of the room. Quality bedding is a great way to make your dream bedroom inviting and comfortable!
Adding Decorative Pillows
Adding decorative pillows is another great way to create the perfect dream bedroom. You can choose from an array of colors, patterns, and textures for your pillows, so pick whatever best suits your space's overall look and feel. Pillows are an affordable way to add texture, color, and design to the bedroom, so don't be afraid to mix and match different styles. You could also opt for personalized pillows or ones with unique quotes or sayings that reflect your personality. Decorative pillows are a great addition to any dream bedroom!
Incorporating Soft Lighting
Incorporating soft lighting is key for creating a dream bedroom. Instead of using harsh overhead lighting, look for lamps and other sources of diffused light that produce a gentle glow in the room. You could also consider adding fairy lights or string lights around your bed frame or window for a more romantic atmosphere. When choosing the light, make sure it is adjustable, so you can easily switch from bright to dim when needed. Soft lighting sets the perfect mood for your dream bedroom!
Adding Cozy Rugs and Throws
Adding cozy rugs and throws is an easy way to create the perfect dream bedroom. Rugs add warmth and texture to your room, while throws provide a snuggly layer between you and the bedsheets. Look for rugs that are made of durable materials like cotton or wool, and choose throws in colors that complement the other elements of your dream bedroom. You can also find unique prints and patterns in both rugs and throws to add a more personal touch to your space. Adding cozy rugs and throws is an easy way to make a dream bedroom even cozier!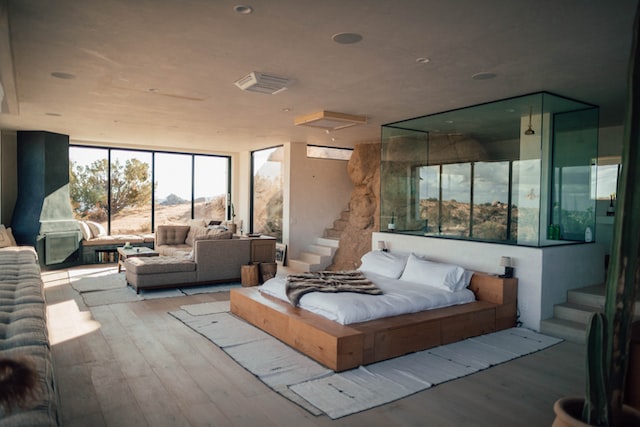 Maximize Your Storage
The key to creating a dream bedroom is maximizing your storage. Aim to use as much of the available space as possible, while ensuring that items are organized and easy to access. Consider adding extra shelving, drawers, or clothing racks where possible. Be creative with your organizational solutions and try not to clutter the area with too many decorative objects.
Utilize the space in a way that is both practical and aesthetically pleasing. An organized bedroom will be easier to clean and maintain, while also providing more comfortable living conditions. Having ample storage solutions can turn a small space into an efficient and inviting area. With some thoughtful planning, you can create your own dream bedroom with plenty of room for all your needs.
Add Art
Adding art to your bedroom is an excellent way to make the space unique and personal. Opt for artwork that speaks to you and complements your decor — perhaps a landscape painting, a vibrant abstract piece, or a vintage poster. Hang it above your headboard or on any wall where you want to create a focal point.
Art can also be used to create a cozy or playful vibe depending on your subject matter. If you're feeling creative, try making your own artwork to add some extra personality to the room! You can also use art to bring character to shelves and dressers by framing photos of loved ones and decorating with small sculptures and mementos. With a little imagination, you can make your dream bedroom come to life with art.
In conclusion, creating a dream bedroom is all about making an inviting and cozy space that reflects your style and personality. Incorporating decorative pillows, soft lighting, cozy rugs, and throws, maximizing storage, and adding art are all great ways to make the space special. With some thoughtfulness and creativity, you can easily create a dream bedroom of your own!