Introduction
There's nothing quite as exciting and stressful as furnishing your home. Whether you're moving in or sprucing things up, adding furniture to your home is essential. Finding the right style and type of furniture for your home can be tricky, and it takes a little skill to get it right. You have to think about style, functionality, and space usage when you choose your furniture.
Whether you're moving into your new home or you're looking for some home design tips, you've come to the right place! Here are 6 must-have kinds of furniture to spruce up your home the right way. Follow this guide and furnish your home in an excellent way!
1. Comfy seating
The first thing any room in your house needs is comfy seating. When it comes to your living room, your seating arrangement is the most important. You have to be able to sit back, relax, and have a place to host your guests comfortably. Picking the right sofa size and style for your living room can be tough, so you have to plan it carefully.
Whether you like new modern designs, vintage flea-bag ones, or something country and rustic, choose a style that fits your room. If you have a small space, choose a sofa that is multifunctional and doubles as a pull-out bed or can be folded. You'll be spending a lot of time on your living room sofa, so make sure to make it to your liking.
2. An entertainment center
No modern home is complete without an entertainment center, so your home shouldn't miss out! Whether you like to stream movies, play video games, or sing along to karaoke, you'll need an entertainment center. For starters, you'll need a good TV connected to the internet and some solid speakers.
Next, you'll need some decoration and personality for your entertainment center so that it's not disconnected from the rest of your space. To hold all of your electronics and gadgets, find the right TV unit to tie your room together. Go with something that fits your style, doesn't take up too much space, and serves a purpose. Set up your entertainment center right, and you'll love living in your new space!
3. Stylish storage
Next on the list of furniture must-haves for your home is storage. Storage is essential in every home to keep things neat, tidy, and organized. Whether or not you practice minimalism, every home needs a space to store its knickknacks, loose items, and belongings.
When looking for storage, first figure out how much of it you'll need. Next, to take your storage to the next level, get creative with how you use it and where you place it. Make use of overhead or built-in storage to save space, and get creative with cool and funky shelf designs. Think outside the box when it comes to storage to make sure it adds to your home while storing your items.
4. Accent pieces
If you're a fan of home design and want your home looking its best, you need to invest in some accent pieces. Accent pieces add dimension to spaces, create contrast, and add personality to your room. There are plenty of ways to add accents to your home both in design and through furniture.
Accent chairs are the easiest way to spice up your living room, and add some personality. If you want to add something with less commitment, find some fun accent pillows or rugs to add dimension to your space. Experiment with different colors, textures, and materials to give your room that little something extra! You can go as big or as small as you like with accent pieces, so don't be afraid to get a little creative.
4. Workspace pieces
Whether you work from home or you need your own personal space, workspace pieces are a must for every home. The easiest way to add a working environment to your home is to get a sturdy work desk and a comfortable chair. Look at your space first to determine what kind and sized desk you can place in your space. If you don't have a lot of room to work with, make your desk retractable, double as storage, and multifunctional.
Getting a chair with the right back support and height is important if you want to be successful in your workspace. Accessorize your workspace with some tasteful yet useful lighting and some bookcases. Whether you're creating your personal study or your personal man cave, having a place to work in your home is important.
6. Coffee tables
Last but not least if you want an easy way to make your home feel lived in and comfortable, get some good coffee tables. Coffee tables are useful and provide a space to host guests, and surfaces for you to rest your coffee and miscellaneous items. They also double as a way to add extras to your home and accessorize with ease.
Use your coffee tables to hold your plants, magazines, and other things that display your style and personality. Arrange them in ways that add dimension, color, and character to your space. If you're not into the classic coffee table aesthetic, get creative with ottomans, vintage trunks, and artsy stools. Add some style and functionality to your home through the use of tasteful coffee tables.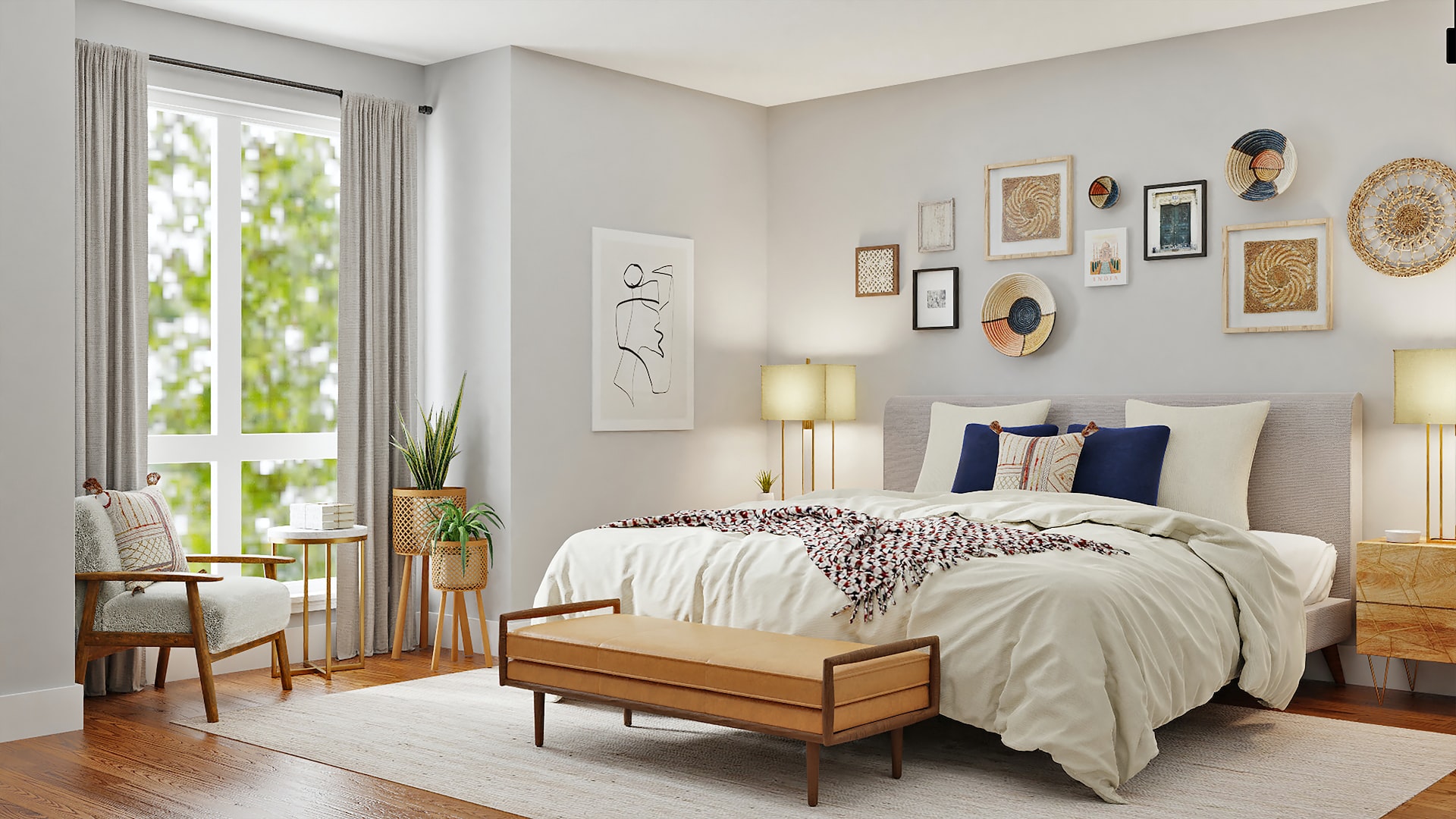 Conclusion
So there you have it! With this guide in mind, you're ready to furnish your home with style and ease! Start by focusing on getting comfy and functional seating. Get an entertainment center with all the fixings and enjoy your space. Get creative with your storage and make it functional and stylish. Add accent pieces to create contrast and workspace pieces to build a fun working environment. Last but not least, get creative with your coffee tables to decorate your home and hold your coffee. Don't miss out on these design tips when furnishing your home!