Introduction
Rupes is an Italian-based company that produces many car polishers and buffers. The company has been around since 1947, and its products have become increasingly popular among auto enthusiasts over the years. Their car polishers are renowned for their quality construction, precision engineering, and reliable performance. Whether you're looking to give your ride a quick touch-up or you want to do a full-detail job, Rupes polishers provide the perfect solution.
Rupes offers several different types of polishers depending on your specific needs. Their most popular product is their BigFoot Random Orbital Polisher line which delivers superior results with minimal effort. This type of polisher uses random orbital motion to eliminate swirls and imperfections from any surface without causing damage to the paintwork. In our article, we will review the benefits of Rupes polishers and the drawbacks we have found in our review.
Key Features of Rupes Polishers
Regarding car polishers, Rupes is one of the leading brands. With their variety of tools and accessories, they can make any detailing job easier. They offer four main types of polishers with unique features to help you get the perfect finish on your vehicle. And with their wide range of products they can pretty much help you polish any job no matter how big or small they are.
With Rupes, the biggest benefit you will see is their range of uses. They are pretty much known as the go-to for high-end polishers, and for good reason. From their entry-level product all the way up to their highest level, they offer a wide scope for uses. There are long throws, normal throws, and even nano options. So they are great for large areas that need quick polishing, normal car panels, and even the smaller areas around lights and emblems.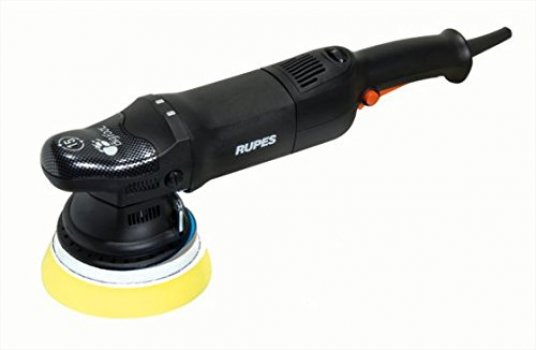 The next benefit is their build quality, which is good for long-term usage. Many pro detailers will turn to Rupes products for use day in and day out, and they are usually up to the job. When you hold a Rupes polisher, you can feel the quality of the product in your hand. It is like getting into a well-built car; the feel just is right in your hand.
The final benefit is that they can be counted on for great work. Their dual action provides a safe polish for someone who has never picked up a polisher before. You can count on their rotations to be unique and in turn reduce the chances of damaging your paint or clear coat.
Benefits for Car Detailing with Rupes Polishers
For car owners who take pride in the appearance of their vehicles, there is no better way to achieve that showroom shine than with Rupes Polishers. Rupes has become a leader in automotive detailing and polishing tools, setting a new standard for quality and performance, as we mentioned above.. Whether you're an experienced professional or just starting out, the benefits of using Rupes Polishers are clear.
Rupes Polishers offer superior performance when it comes to cutting and finishing even the most challenging surfaces. The dual action motion is designed to reduce the risk of heat build-up and eliminate swirls. This makes for faster results and an improved finish that looks like it came straight from the dealer's showroom floor! Furthermore, these polishers come with several user-friendly features that make them easy to use while also providing more control over your results.
If this is your first time polishing your car, we would suggest that you look at a dual-action polisher. They are much more forgiving than rotary polishers and can make your job a breeze without any risk to your clearcoat or paint. You do sacrifice a bit of power versus a rotary, but we feel that the safety of your paint is worth the couple more minutes it might take to finish your compound or polishing.
How to use a Rupes polisher
When it comes to polishing a car, no tool is as reliable and effective as the Rupes Polisher. This specialized machine has been designed specifically for automotive detailing and provides users with an easy-to-use solution to get their car looking its best. From removing scratches and swirl marks to restoring the original luster of the paint job, the Rupes Polisher can do it all.
For those who are new to this type of equipment, knowing how to use a Rupes Polisher can be a bit daunting. Fortunately, understanding the basics of this powerful machine isn't too difficult with some basic guidelines. First, ensure that you have all of the necessary supplies such as pads and compounds before beginning your project. You always want to start with the least aggressive combination as your goal is to reduce imperfections without taking off too much clear coat.
Next, you want to prime your panel and pads, then work back and forth in a cross-hatch pattern. A good speed with light pressure should reveal the amount of paint correction you are getting. Clean the panel and see if it is good enough or if you need to modify the product, pad, or passes.
That is pretty much it, as Rupes makes it easy to get great results, even if it is your first time correcting your cars paint.
Cons of Rupes Polishers
The only real cons of Rupes polishers is that they are expensive. Rupes is an Italian company established in 1947 and has become synonymous with high-end tools for detailers and car enthusiasts alike. Many question whether the steep price tag attached to Rupes polishers is worth it. After all, other products on the market offer similar functions for a lower price.
When considering whether or not to invest in a Rupes polisher, it's important to consider the benefits of owning one. The construction of these tools is unparalleled compared to competitors; they use superior materials like aluminum alloy housing and ergonomic design features that make them more comfortable and efficient than other brands. Furthermore, expert craftsmanship ensures that each Rupes tool performs at its best level over time, making them suitable investments for anyone looking for reliable car detailing equipment.
We think they make a great product, and they got a decent rating in our top 10 dual-action polisher reviews, but in all honesty, we couldn't justify the price tag for the tool. If you polish a car once or twice a year, we can't say they are right for you. If you need to have the newest and best toys, then this might be right up your ally. But for a once-in-a-blue-moon use, their cost is just a lot to invest in something for your car detailing projects. If you want to look at our in depth lhr 15 es Rupes review , you can find it all right there.
Conclusion
When it comes down to performance, it is hard to beat a Rupes polisher. They are the high-end choice for paint correction, but with that comes the high price tag attached to them. Rupes' car polishers provide excellent results in paint correction, swirl removal, and even leveling out scratches. In all honesty, you really can't go wrong with Rupes as a choice for paint correction, but we just can't justify the price tag that comes with them.
If you are a pro detailer, and will be using your Rupes every day, then it might be worth it. But if you are just going to be correcting the paint on a car or two each year, we think that the value just isn't there.